The Women Gang Up On NeNe Leakes After Wild Bedroom Brawl: 'That's Not Ok!'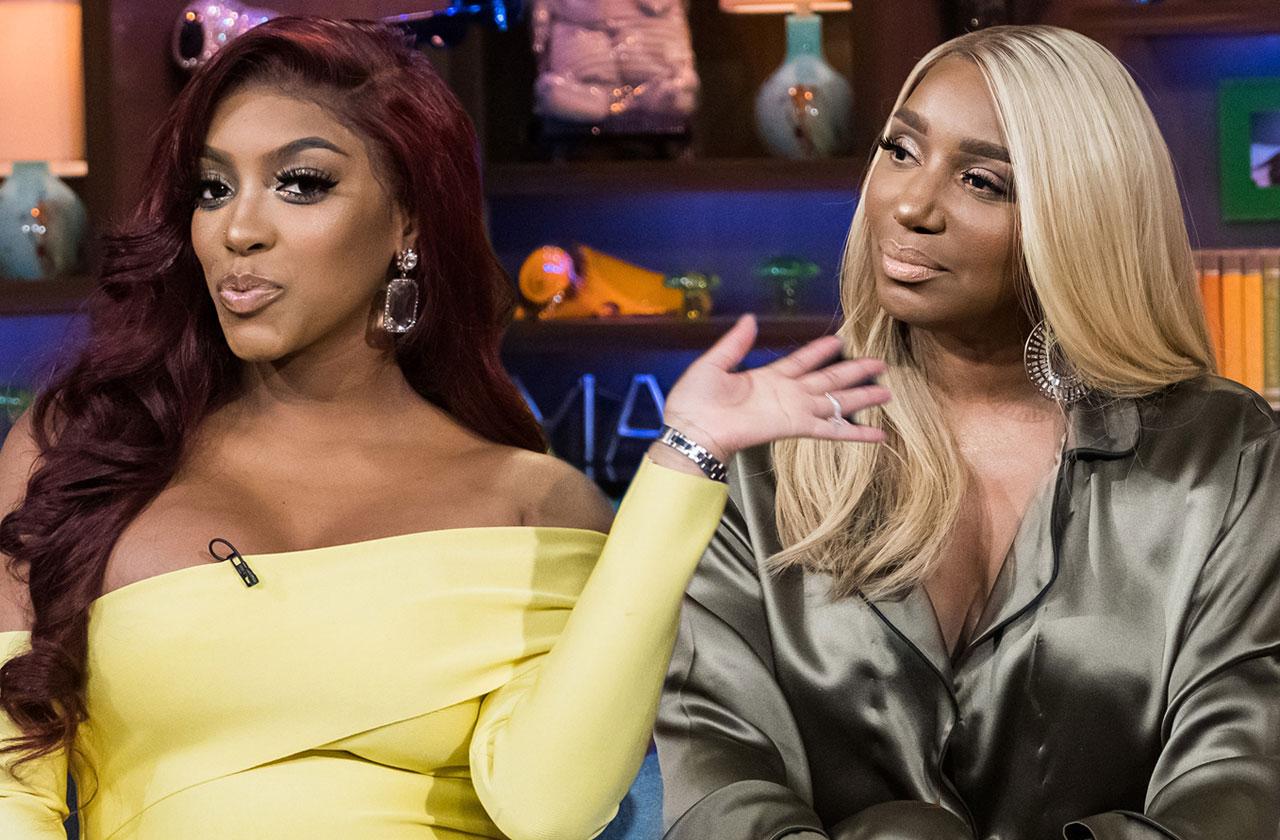 Article continues below advertisement
"I'm still confused as to when the laughter turned into rage," Kandi admitted. "NeNe did say, 'Don't go in there,' but then the camera men started to walk towards the closet, and she just started ripping shirts off."
"I don't think I've felt that type of anxiety and fear run through my body," Porsha told the ladies. "Maybe being pregnant I'm really kind of helpless."
In her confessional, Porsha explained how she was feeling. "I was shocked when I realized that NeNe had put her hands on the crew. I just didn't realize it was that deep of a situation, but apparently, to her, it was."
Article continues below advertisement
Kandi then described Porsha as "super frazzled," and recalled: "You were putting your belt on when you came out."
The belt situation seemed to be a secret Porsha wanted to keep.
"Nothing happened with the belt. I'm not really talking about that because our relationship will be ruined," she told the producer who asked her about it in her confessional.
While none of the RHOA ladies had seen NeNe, Kandi said she sent her a text saying: "I didn't mean to cause you any more hurt that you was already experiencing."
But Porsha hadn't reached out. "I just wanna talk to her, face to face," she said. "I'm her friend, and if she's our friend, we also have to be real. 'Girl, we are here for you, and we love you, but how you acted? That's not okay.'"
In her confessional Porsha explained how she felt. "I love NeNe, and I totally feel for her situation, but for me, the tables have definitely tuned. I just don't think that it's an excuse for her to put her hands on anybody or to treat her friends like that."
Article continues below advertisement
Kandi agreed, saying in her own confessional: "It was a very uncomfortable, scary moment that shouldn't have happened."
Eva Marcille, Tanya Smith and Shamari DeVoe were together discussing the situation as well. "Nobody thought it was going to go to that level so quickly," Tanya said.
"You can't strike a bear and tell it how to strike back," Eva said, defending NeNe.
With the brawl behind them, the ladies (minus NeNe) all turned out for Kandi's risqué burlesque show Welcome to the Dungeon .
Cynthia Bailey was the most glamorous that night and her on-stage performance with Kandi was over the top. "All I see is leather and whips and chains, pleasure and pain. Kandi might be on to something," Cynthia admitted.
"I see we got lots and lots of freaky mother**kers in the venue," Kandi said to the audience.
Shamri was supposed to perform but due to laryngitis had to lip sync her performance.
"I am not trying to have an Ashlee Simpson SNL moment, so I hope nobody can tell I'm lip synching," she said.
Article continues below advertisement
After the show, the ladies were all together backstage celebrating when Marlo ripped into Tanya and Shamari.
Tanya pushed Marlo off the sofa in a playful mood, but Marlo turned on her.
"You may not need to drink, either, like Shamari. You guys both need to take AA together," Marlo snapped.
"No, being serious, I love you to death," she said to Shamari. "I think you're fabulous. I do get worried when you drink, though. I just feel you get a little too out of hand. I just feel like you need someone to talk to because there may be something else there."
In her confessional Marlo said: "I don't care what anyone says, Shamari has a problem."
Because she lost her voice Shamari couldn't snap back, but she ripped into Marlo in her confessional.
"I don't know what the hell Marlo's problem is with me, but I don't have a drinking problem," she said.
"I am a mother of twins that every now and then likes to go out and let her hair down. Mar-ho, you wouldn't understand anything about that because you're not a mother. You may be a motherf**ker, but you're not a f**king mother."
Cynthia had the last word.
"Marlo, you're a lot girl, you make people drink. Just because they drink when they're around you doesn't mean they're an alcoholic."
Stay with RadarOnline.com for weekly recaps of The Real Housewives of Atlanta.
We pay for juicy info! Do you have a story for RadarOnline.com? Email us at tips@radaronline.com, or call us at (866) ON-RADAR (667-2327) any time, day or night.