Cruise Ship Horror! Passengers Rescued After Luxury Liner Engine Failure Off Norway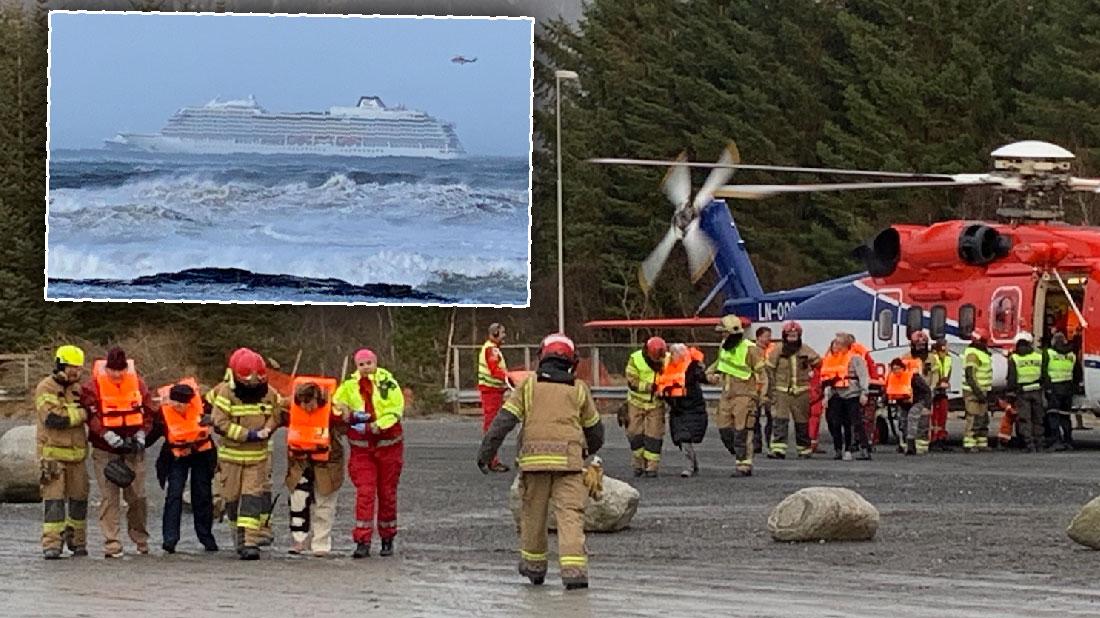 Passengers of a Viking Sky cruise ship were rescued off the coast of Norway after the luxury liner suffered engine failure during stormy seas on Saturday, March 23, 2019. In the shocking emergency, the ship was damaged due to severe winds and waves.
A mayday signal was sent out and hundreds of people had to be airlifted to the town of Molde. The ship regained engine power on Sunday morning and the remaining passengers and workers on board were towed safely to port.
Article continues below advertisement
Via Twitter, Norwegian Prime Minister Erna Solberg thanked rescue workers and volunteers who had helped respond, calling it a "dramatic day" for passengers aboard the Viking Sky cruise ship. Indeed it was, as passenger Alexus Sheppard posted video on her Twitter account of terrifying moments on board of chairs, tables, and large potted plants sliding around on the tipping ship. Ceiling material also appeared to fall down on top of another passenger.
Sheppard wrote at the time, "Still waiting for evacuation. #VikingSky #Mayday." According to CNN, after being evacuated to shore, American passenger Jan Terbruegen said, "Furniture would slide across the room, slide back and with it came people and glass. It was a very dangerous situation frankly."
Ryan Flynn tweeted, "It's miserable as the seas are still very high with strong winds. The ship continues to pitch and roll. Captain is hoping the winds and seas calm enough to bring ship into port."
Article continues below advertisement
Rescue teams airlifted 479 guests from the vessel after it had been stranded with 1,300 passengers and crew on board. Passenger Beth Clark described her nerve-wracking experience: "The guy came down from the helicopter -- one of the Coast Guards -- snapped my belt and said 'hold it' and shot me up about 100 feet in the air and onto the helicopter."
When the ship regained power, the remaining 436 passengers and 458 crew members on the Viking Sky cruise ship got towed to Molde, accompanied by two supply ships and one tug assist vessel.
Twenty people sustained injuries on the vessel, Viking Ocean Cruises said, and were treated at medical facilities in Norway. Passengers reportedly suffered bruising, cuts, and broken bones.
"Throughout all of this, our first priority was for the safety and well-being of our passengers and our crew," Viking Ocean Cruises said in a statement.
It's just the latest incident in a rash of cruise ship horror stories lately. There have been various incidents and freak accidents on board various liners, as RadarOnline.com has reported.