Ryan O'Neal & Family Write Desperate Letters To Docs About Felon Son Redmond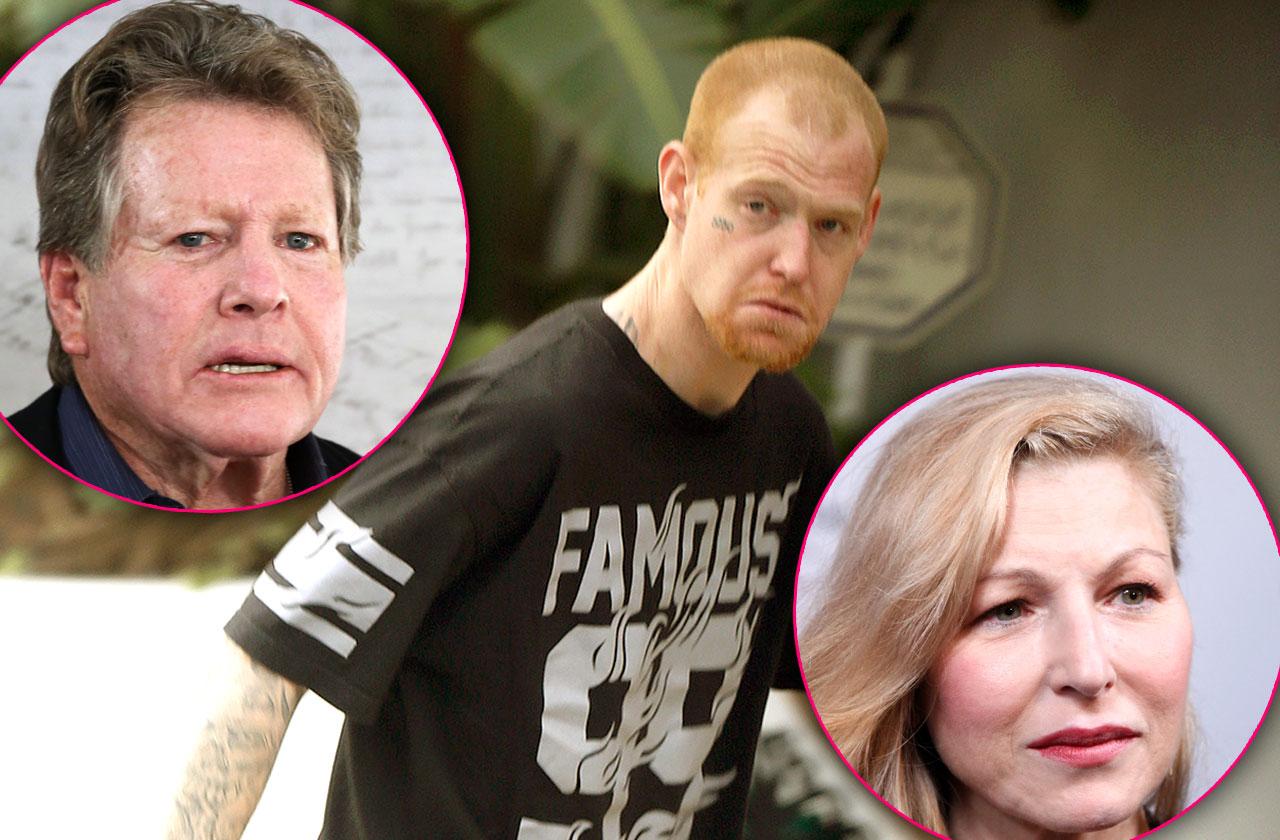 Redmond O'Neal's famous family — including father Ryan and sister Tatum —banned together and begged a judge to consider his worsening mental state, while psychologists pointed to years of trauma and neglect suffered by the jailed celebrity son, according to explosive court records obtained exclusively by RadarOnline.com.
Ryan O'Neal and his other children, Tatum, Griffin and Patrick, as well as family friends, wrote letters to a Los Angeles judge overseeing Redmond's case in Mental Health Court.
Article continues below advertisement
Redmond, the only son of tragic late star Farrah Fawcett, is facing serious prison time for allegedly plunging a knife into a main's head and injuring another man with a broken glass bottle during a week-long crime spree in Los Angeles on May 2018.
Redmond has been charged with attempted murder and other felony charges, but before his criminal case could move forward, Los Angeles Superior Court Judge Roberto Longoria has to first determine whether or not he is competent to stand trial.
Psychologists who reviewed his extensive mental health and criminal files said Redmond suffered trauma and neglect, and struggled under years of depression, mental health disorders and substance abuse.
According to a Nov. 14, 2018 report written by psychologist Anna Kafka, Redmond's history of trauma and neglect likely contributed to "characterological deficits" and his ongoing behavioral issues.
"A review of records reveals Mr. O'Neal to have an upbringing rife with trauma and neglect, as well as early onset of substance abuse," Kafka wrote in the November report. "Substances of abuse have included heroin, methamphetamine, alcohol, and marijuana, though he has endorsed use of additional substances, as well. Substance use continued in even in structured settings, such as the California Department of Corrections and Rehabilitation (CDCR). Mr. O'Neal also has a history of mental health treatment in correctional and outpatient settings and has previously been diagnosed with Adjustment Disorder, Major Depressive Disorder, Bipolar Disorder, and Schizoaffective Disorder, as well as substance use disorders. According to records, Mr.O'Neal has varied in terms of his symptom report, acknowledgement of mental health problems, and compliance with prescribed psychotropic medication. Observable symptoms have also varied, with irritability, agitation, poor attention to hygiene, insomnia, response to internal stimuli, and paranoia...He has a history of suicidal ideation and suicide attempts."
Article continues below advertisement
In a October 2, 2018 report, psychologist Dr. Sanjay Sahgal, who also reviewed Redmond's files, wrote that he spoke to Ryan and Redmond's godmother. Both said Redmond told them he was being targeted by deputies inside the jail, and that his cell was "bugged."
Redmond's half-siblings wrote to Judge Longoria and voiced their concerns for their troubled brother, who turned 34 on January 30.
"According to letters written to the Court, upon his discharge from prison, a number of family members observed drastic decline in his psychiatric functioning, compared to when he entered prison, specifically citing intense paranoia and auditory hallucination," Kafka wrote in her Nov. 14, 2018 report.
Both Sahgal and Kafka, however, believed Redmond's mental competency could be restored and maintained with psychotropic medication under the supervision of a trained psychiatrist. Kafka finally met Redmond face-to-face in December, where she determined he understood the severity of his charges and could assist his attorney in his defense.
Redmond's case is set for another hearing in Mental Health Court later this month.
We pay for juicy info! Do you have a story for RadarOnline.com? Email us at tips@radaronline.com, or call us at (866) ON-RADAR (667-2327) any time, day or night.