Redmond O'Neal Diagnosed With Schizophrenia As He Faces Attempted Murder Charges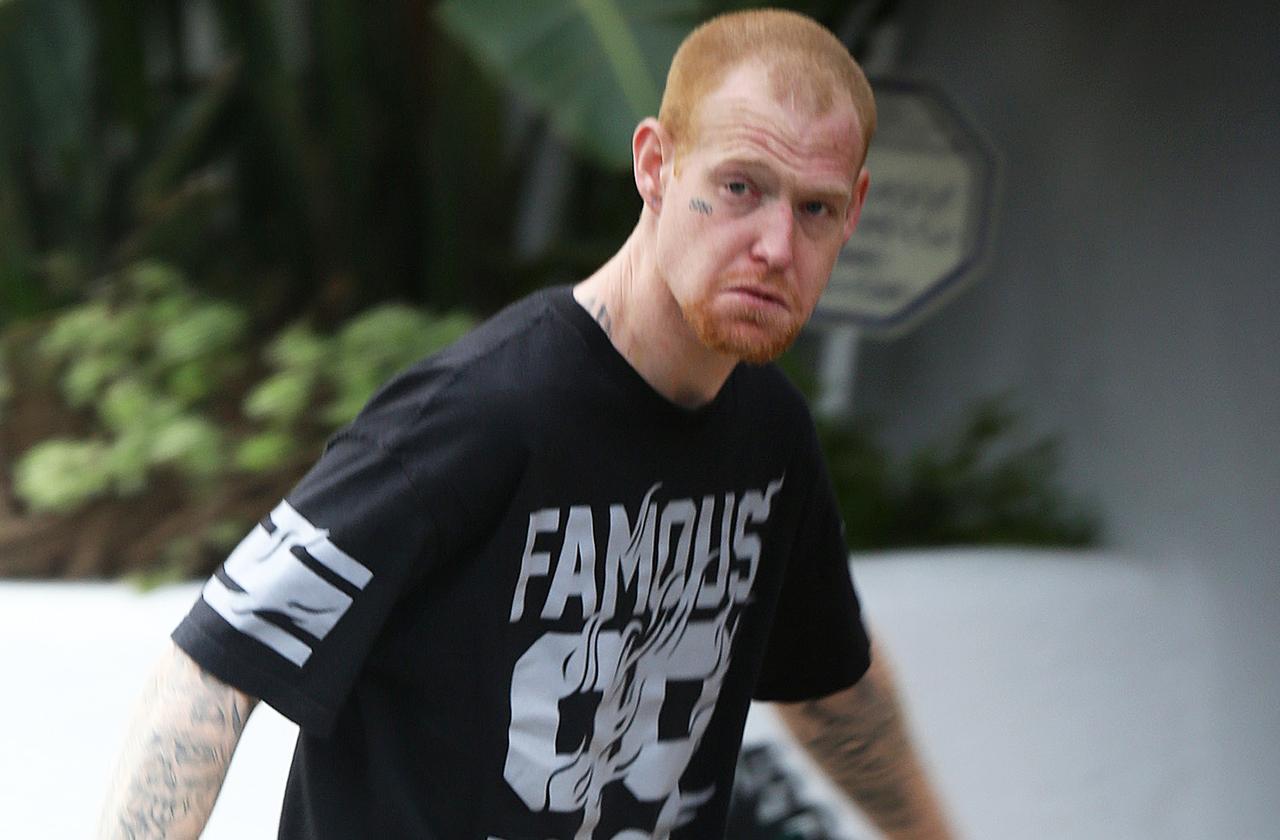 The troubled son of Ryan O'Neal and Farrah Fawcett was diagnosed with schizophrenia, bipolar disorder and abuse disorders of methamphetamine, cocaine and alcohol, according to bombshell records obtained exclusively by RadarOnline.com.
Redmond O'Neal, who says says he "hears voices" and blames his erratic behavior on his "heroin use for 16 years," was diagnosed with multiple chronic mental health problems by a court appointed psychiatrist, the documents reveal.
Article continues below advertisement
The troubled celebrity spawn is waiting for his day in Los Angeles court to face serious felony criminal charges, including attempted murder, but a judge has yet to decide whether or not the 34-year-old is competent to stand trial. Two psychologists already have reviewed O'Neal's extensive jail and psychiatric records.
According to a October 2018 report by psychiatrist Dr.Sanjay Sahgal, O'Neal has had a "litany" of psychiatric hospitalizations. In a April 2017 discharge summary from one of those facilities, O'Neal was diagnosed with multiple mental health problems.
In his report, Shagal said O'Neal hears voices, "indicating that his cell is bugged and at times, rather oddly telling his father that deputies had agreed to release him in exchange for cash payments. These bizarre perspectives have varied and are stirringly suggestive of a certain irrationality indicative of authentic untreated set of mental health problems."
Shagal did not interview O'Neal face-to-face, but reviewed hundreds of pages of medical and mental health records, as well as jail and prison records and determined O'Neal was not mentally competent to stand trial. Shagal also interviewed Ryan O'Neal and reviewed various letters written by half-siblings, Tatum, Griffin and Patrick on behalf of the troubled drifter.
Article continues below advertisement
The doctor, however, wrote in his October 2018 report that he believed O'Neal could be restored to a mentally competent state if he is treated with psychotropic medication.
Another psychologist, Anna Kafka, also reviewed O'Neal's extensive files and noted that a discharge report from a state psychiatric facility showed O'Neal was "fixed on a belief that L.A. County Sheriff's was persecuting him and sometimes poisoning his food."
Kafka said she spoke to jail officials who told her that O'Neal was placed in the general population when he arrived in Men's Central Jail on July 26, 2018. O'Neal refused mental health treatments because he "believed his behavior was due to his heroin use over a 15 to 16-year period."
Kafka, on her Nov.14, 2018 report, deemed Redmond incompetent to stand trial due to depressive symptoms. Kafka also noted that paranoia was "playing a role" in Redmond's behavior while in jail.
Article continues below advertisement
However, during her last face-to-face meeting on Dec. 4, 2018 at a holding area in Mental Health Court, Kafka determined Redmond was lucid and understood the gravity of his criminal charges.
"He believed some amount of prison time was inevitable and expressed a desire to start his sentence as soon as possible and put the ordeal of these proceedings behind him," Kafka wrote in the Dec. 4, 2018 report. "When asked, Mr.O'Neal acknowledged having previously felt hopeless about his situation and having asked to be sent to prison without care for the length of time to its impact on his life. He now expressed a desire to receive the best outcome for himself, but as mentioned, still believed that would likely involve a moderate to lengthy prison sentence."
Kafka noted O'Neal had a "5250" tattoo on his face, which is the code used when an individual is placed on a 72-hour mental health hold. O'Neal also had paper stuffed in his ears, and told Kafka that he used the paper to protect his ears from old cell door slamming. He apologized to the psychiatrist and then removed the paper from his ears.
O'Neal also told Kafka that the last time he used drugs was when he snorted another inmate's medication a few weeks prior. After her face-to-face meeting, Kafka said she believed Redmond was competent to stand trial.
Article continues below advertisement
"He does not, at this time, display the hopelessness formerly driving his incompetence," Kafka wrote in her Dec.4, 2018 report. "Furthermore, any paranoia, if perhaps pretense but not elicited in the current interview, does not impact his understanding of his case, his legal decision making, or his ability to cooperate with his attorney."
O'Neal is facing at least 20 years in state prison for a week-long crime spree in May 2018 where the 33-year old allegedly used a knife to rob a convenience store. Prosecutors also allege O'Neal plunged a three-and-a half inch knife into the head of one man and attacked another man with a broken glass bottle.
He has been charged with attempted murder, second-degree robbery, possession of methamphetamine, exhibiting a deadly weapon and other charges. O'Neal also faces a separate battery charge for an April 20, 2018 incident where he allegedly attacked a medical professional, who was trying to assist him.
Those criminal cases are on hold, however, until Los Angeles Superior Court Judge Roberto Longoria rules whether or not Redmond is competent to stand trial.
Under the law, a defendant who has a mental illness could still be deemed competent to stand trial. The judge has to determine whether O'Neal could understand the charges against him, and if he could assist his attorney in his own defense.
We pay for juicy info! Do you have a story for RadarOnline.com? Email us at tips@radaronline.com, or call us at (866) ON-RADAR (667-2327) any time, day or night.