JWoww's Ex Roger Mathews Slams Her For Making Him 'Monster' With Abuse Claims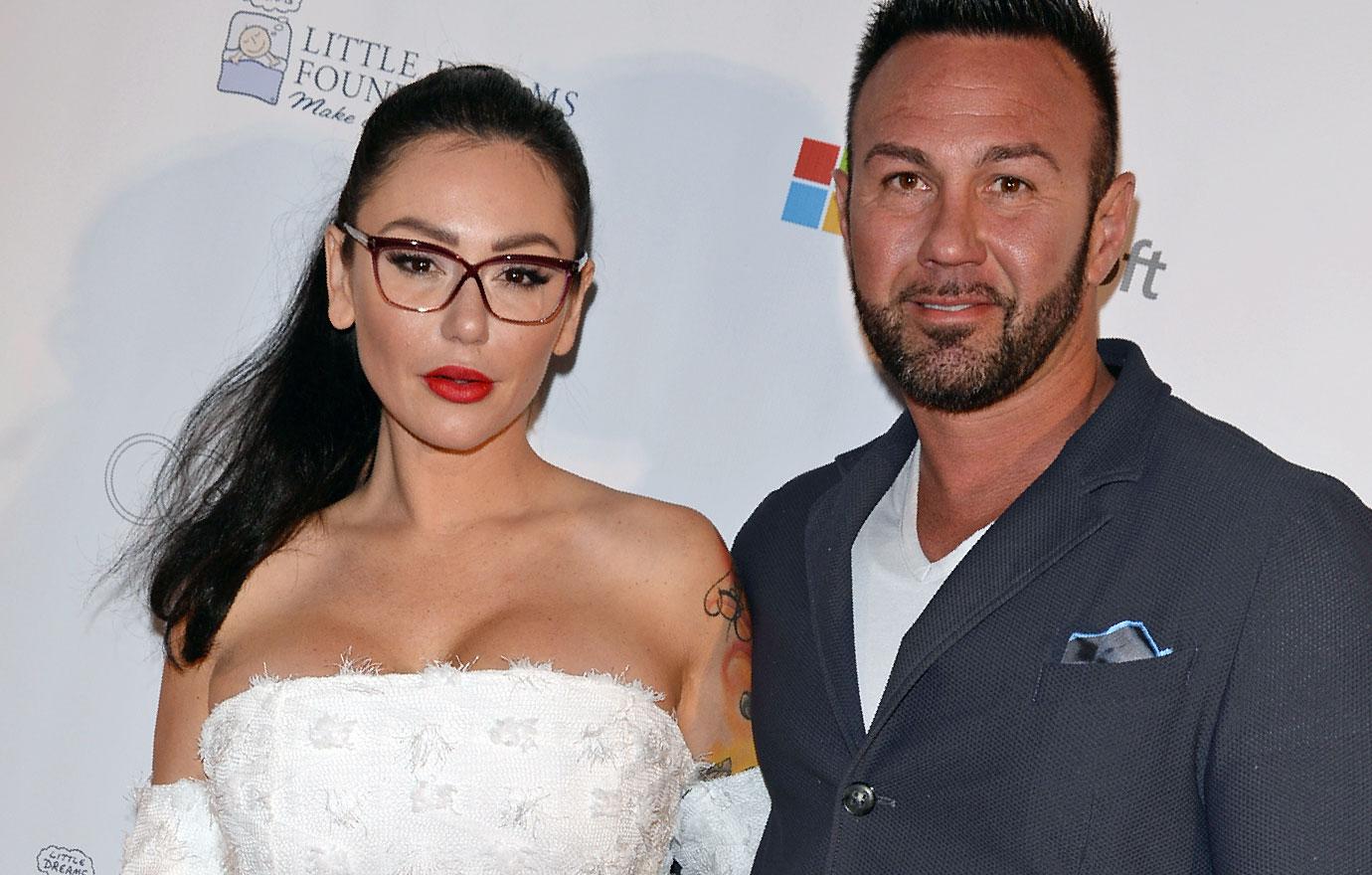 Jenni "JWoww" Farley's estranged husband Roger Mathews is fighting back against her abuse allegations with an explosive new Instagram statement that charges his wife with "violent behavior."
Mathews' bitter split from the Jersey Shore star was ramped up on Saturday morning, February 2, 2019 when he wrote "A MESSAGE TO JENNI" on his social media, accusing her of publicly making him into a "monster."
As RadarOnline.com readers know, Farley, 32, went on an online rant this week, accusing Mathews, 43, whom she married in 2015, of verbal and physical abuse, and putting their children, Meilani, 4, and Greyson, 2, in danger.
Article continues below advertisement
He is "an abuser to the core," alleged Farley, who filed for divorce last fall and for a restraining order against him in December 2018.
One day after Farley's social media claims against him, Mathews called her a "liar" in an emotional video.
But now, he's elaborating. Mathews wrote this weekend on his own Instagram account, "I am extremely saddened. Saddened, as I lay here next to both of our children that we could not have found a better way to handle our differences. You and your post have made me a monster. I took down my posts which was recommended by both of our councils, yet you leave yours up and bask in your glory of tearing down the father of your children."
He continued, "You painted me as a woman beater. The facts are these. No one, man or woman, husband or wife has the right to put their hands on each other."
However, Mathews appeared to confirm one of Farley's claims, writing, "I take responsibility for that night in question, and one other night that I can think of that, I pushed you. You edited out your actions and violent behavior prior to me pushing you which I knew you would do."
Article continues below advertisement
Mathews added in the long statement directed at his wife, "We spent eight years together Jenni. Eight years. Much of it was happy times, and yes some of it we lived a nightmare. You threatened to divorce me almost weekly from the day we were married, and it was I who tried to convince you we were not ready for marriage. In the end, it seems I was right."
Mathews, who had previously wanted to save their troubled marriage, also wrote, "We both now agree it is over. Let's start from the time you filed for divorce last September. I asked you at that time (not begged as you claim) to go to counseling because I believed we were salvageable and we owed it to each other and our kids to try one more time and to try another way. Try to learn to communicate better. You agreed. We went from September weekly to counseling until the Saturday after Thanksgiving, and every time we left there no matter how bad it got I kissed you and told you I loved you. The Saturday after Thanksgiving that our friends and family attended with no signs of splitting up we had dinner, and I asked you nicely to put down your phone because Meilani was trying to talk to you. You flipped out on me and told me you couldn't take it anymore and you were 'pushing the divorce through.' That was the point where I accepted it and knew it was over. Within days you were showing our daughter houses in another county and telling her you guys were moving there and never told me."
Mathews continued to air his dirty laundry, reminding Farley online that he made arrangements to move out on January 1, 2019.
He charged that Farley arranged daughter Meilani's schooling so that it would limit the amount of time he could spend with both of their kids.
"You told me in no uncertain terms (which is on tape) that you would 'suck my attorneys and me dry in court' if I fought you for custody," Mathews ranted.
Article continues below advertisement
He claimed that on Wednesday, December 12, 2018, Meilani became very ill, and he met Farley at the pediatrician's office where she was diagnosed with flu.
According to Mathews, Farley said she'd take two days off work to spend with the girl, but later, when he was at work, she "called me to say our nanny called out sick. Since I was already at work, I could not leave to come home, but I took the next day off work to take Greyson so that he would not get sick too."
Mathews went on to detail how he took care of both children on that Thursday, and Farley told him she wouldn't be around the next day, on Friday, either.
"I took umbrage to it and said that Meilani would be very disappointed because she was excited that you were going to be with her. That's where the nightmare began. You immediately became enraged and started cursing and swearing in front of our children and said 'Oh I know Roger, I know you think I'm a shitty mom.' "
Article continues below advertisement
Matthews wrote that when he tried to talk to Farley about it, she "became more enraged and then told our daughter that 'I wish I never had kids with your father' and 'Say goodbye to your dad because he is out of here.' "
The Jersey Shore husband then claimed he started filming Farley with his cell phone to protect himself--but has never released the footage or anything else damaging he has against her because "ethically, it's wrong."
Mathews accused Farley of "cherry picking" video from their home to use against him.
He said he called the police to protect himself, only to have Meilani say "Daddy Daddy, Mommy said you are having her arrested, bad daddy."
Mathews said he broke down in tears in trying to explain to his daughter that "the men were just here to help mommy and daddy."
The reality TV husband explained the couple's divorce wrangle in his post, alleging that Farley wrote her rant against him online after he asked for 50/50 custody of their kids.
Article continues below advertisement
Mathews addressed Farley in his open letter, "…you posted for the world to see and painted me as a monster and an abuser. You released it on your website knowing it would generate massive traffic and used it also as a promotional tool to promote several launches for youtube channels and products also released that day."
He refuted her physical abuse claims, saying "You have punched me in the face you have always been the aggressor."
Mathews also wrote that she'd thrown a vacuum cleaner and a candle at him.
He claimed to Farley, "you were the aggressor and the violent one. You are always the aggressor."
While he apologized in the statement for pushing her, he said she edits her cameras "to exclude your own rage and behavior."
"I am not this monster you paint me to be."
For more on Mathew's lengthy rant, check out his Instagram.
We pay for juicy info! Do you have a story for RadarOnline.com? Email us at tips@radaronline.com, or call us at (866) ON-RADAR (667-2327) any time, day or night.