Oh Woww! Jenni Farley Attacks Estranged Husband Roger Mathews In Scathing Online Rant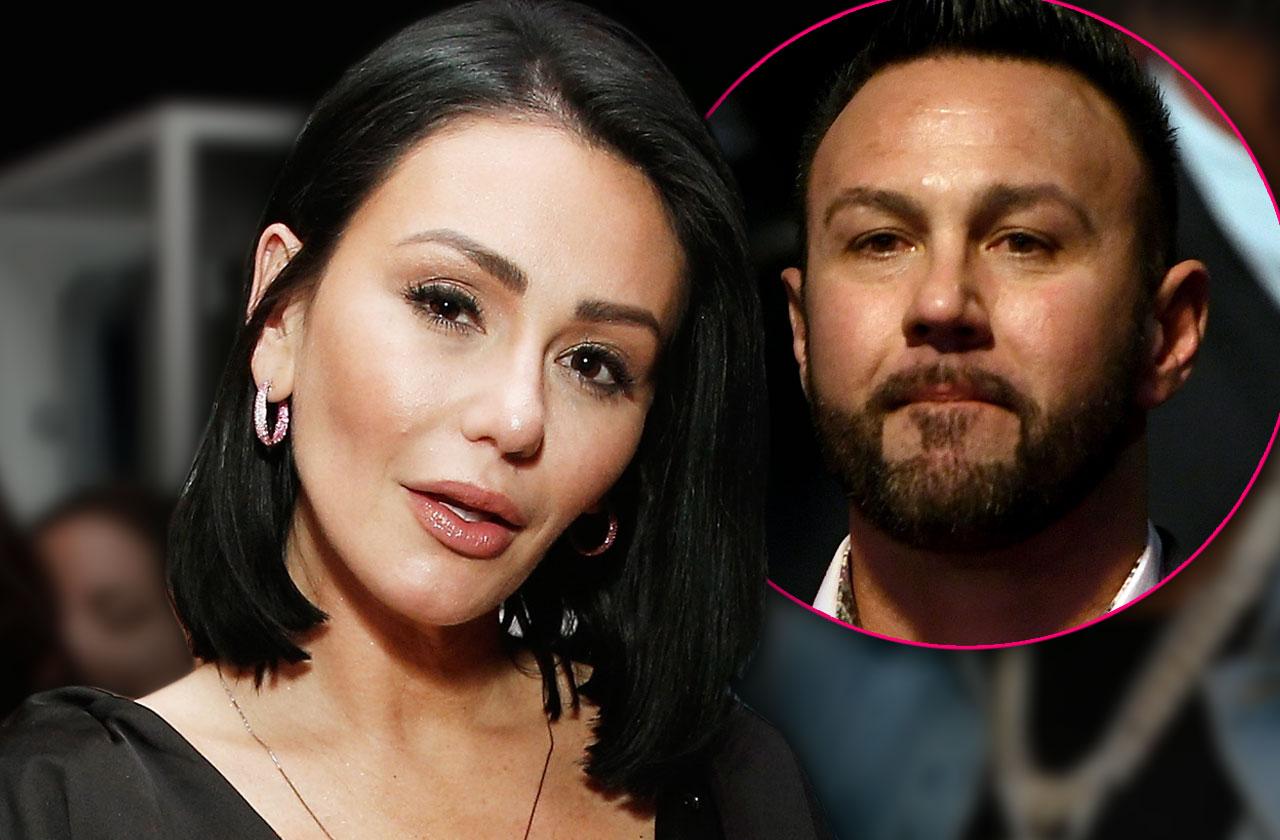 Jenni "JWoww" Farley has posted an explosive social media diatribe, attacking her estranged husband Roger Mathews, accusing him of verbal and physical abuse, and putting their children, Meilani and Greyson, in danger.
The Jersey Shore star, 32, wrote, in all caps, in her open letter to Mathews that appeared partly on Instagram and also on her site jennifarley.com, "I HAVE SPENT THE LAST FEW MONTHS TRYING TO PROTECT OUR CHILDREN FROM PUBLIC HUMILIATION, BECAUSE AS PARENTS, WE ARE SUPPOSED TO PROTECT THEM. I WANTED TO HANDLE THIS OUT OF THE SPOTLIGHT BECAUSE OUR SILENCE IS THEIR GREATER GOOD."
Article continues below advertisement
She continued, "I CAN NO LONGER SIT IDLY BY WHILE YOU MISTREAT AND MALIGN ME IN SUCH AN EGREGIOUS MANNER."
Farley then detailed several incidents where, according to her, Mathews has been an irresponsible parent, including chastising him for dangerously filming their children while driving, or feeding their son Greyson, 2, pizza, even though he is apparently highly allergic to gluten and dairy.
"YOU NEED TO LOOK OUT FOR THE BEST INTERESTS OF OUR CHILDREN, ROGER," she scolded. "THE CHILDREN ARE THE ONLY PRIORITY. YOUR ACTIONS HAVE AND CONTINUE TO PLACE THE CHILDREN IN HARM'S WAY.
"YOU HURT THE CHILDREN AND YOU HURT ME. WHEN WILL IT END?"
Farley was just warming up at that point, lashing out at Mathews for attempting to reach out to her ex-boyfriends in hopes of gaining the upper hand in their divorce proceedings. She claims he even tried to contact an ex who was physically violent against her in order to "intimidate" her.
"I CONFIDED IN YOU ABOUT MY PAINFUL PAST AS A SURVIVOR OF DOMESTIC VIOLENCE. HOW SHAMEFUL THAT YOU USED IT TO BEAT ME DOWN FARTHER. WHEN YOUR OWN ACTS OF DOMESTIC VIOLENCE AGAINST ME WERE QUESTIONED, YOU CHOSE TO REACH OUT TO THIS UNSPEAKABLE PERSON IN ORDER TO INTIMIDATE ME.
Article continues below advertisement
"YOUR ATTEMPT TO BRING THIS HEINOUS PERSON BACK INTO MY LIFE (THE MOTHER OF YOUR CHILDREN) AFTER HE NEARLY MURDERED ME SPEAK VOLUMES AS TO WHO YOU REALLY ARE."
As RadarOnline.com readers know, Farley and Mathew's divorce has become anything but civil, with each side accusing the other of abuse.
Farley never revealed what inspired her scathing letter. Instead, she attacked his parenting skills and even his manhood.
"YOU ARE AN ABUSER TO THE CORE, ROGER MATHEWS. IF THIS WAS NOT ENOUGH, YOU HAVE SPIT AT ME. YOU HAVE PUSHED ME. YOU HAVE SHOVED ME. YOU HAVE AGGRESSIVELY THROWN ME TO THE GROUND.
"YOU HAVE PREVENTED ME FROM CLOSING DOORS TO ESCAPE HAVING YOU COMING AT ME. YOU HAVE BELITTLED AND DISPARAGED ME. YOU HAVE THREATENED ME. YOU HAVE CONTACTED MY BOSSES TO ATTEMPT TO SMEAR MY NAME AND HURT MY PUBLIC IMAGE.
"YOU HAVE CALLED AUTHORITIES TO FALSELY ACCUSE ME OF HARMING OUR CHILDREN HOPING TO GET A LEG UP AS LEVERAGE IN A CUSTODY CASE, ONLY RESULTING IN OUR CHILDREN HAVING TO BE UNDRESSED AND PHYSICALLY EXAMINED, BEING HUMILIATED AND INVESTIGATED WITH NATURALLY NO SUBSTANTIATION OF ANY ABUSE ON MY PART.
Article continues below advertisement
The reality star ended her lengthy note by referring to her own strength and resiliency, and promising her ex that she will be justified.
"I HAVE BEEN BROKEN DOWN, BEATEN, HOSPITALIZED, TRAUMATIZED, THREATENED, DEGRADED, BATTERED, AND ABUSED. I GOT OUT. I STAND STRONG TODAY. FOR ME. FOR GREYSON. FOR MEILANI," she wrote. "THEY WILL NOT GROW UP WATCHING THEIR MOTHER BEING A VICTIM OF DOMESTIC VIOLENCE. I WILL BE A VICTIM NO LONGER. ROGER, KNOW THIS HERE AND FOR ALWAYS - MY KINDNESS SHOULD NEVER AGAIN MISTAKEN FOR WEAKNESS. REMEMBER THAT.
I WILL NOT BE THREATENED. I WILL NOT BE CONTROLLED. I WILL NOT BE BROKEN."
We pay for juicy info! Do you have a story for RadarOnline.com? Email us at tips@radaronline.com, or call us at 800-344-9598 any time, day or night.