Chelsea Houska Claims Adam Lind Is 'Back On Drugs,' Says Husband Will Adopt Daughter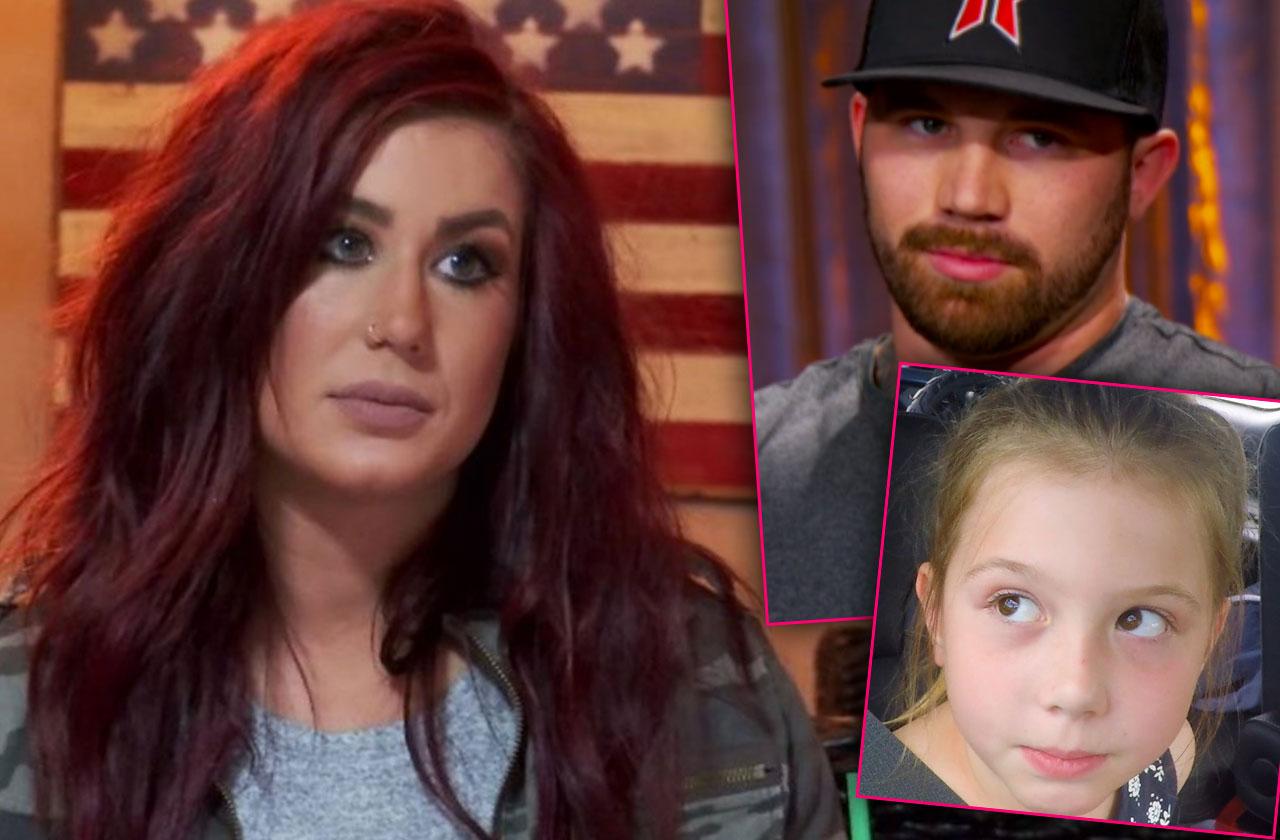 Chelsea Houska's baby daddy Adam Lind hasn't been in his daughter Aubree's life. And on this week's Teen Mom 2, she wants him out of the picture for good. Houska contemplates having her husband Cole DeBoer adopt the 9-year-old.
Houska explained how Lind gave up parental rights to his youngest daughter Paislee with ex Taylor Halbur, allowing her husband to adopt the little one.
DeBoer, who shares Watson, 2, and Layne, now 6 months, with Houska, said of the news, "That's rock bottom. How could you have this, watch them grow up and then be like f**k that."
Article continues below advertisement
Houska then said she is telling Aubree about the situation.
"She should know what's going on," she said. "You got to be careful the way you word it. It's going to be confusing to her. Technically that's not her sister."
She then suggested to her husband, "You could adopt her?"
He responded that he would "do it right now."
"She's older, I don't think it's as easy for us to make the decision for her," Houska said. "She's closer with his family than maybe Paislee was. It's totally different. I feel like the best would be if he was out of the picture instead of in and out hurting her."
When discussing the situation with her mom, she told her that she heard Lind is "back on drugs."
"That scares me," she said. "If he came to me and wanted to sign his rights over for Aubree, I would for sure do it. Obviously, Cole wants to adopt her. I don't want to hurt her. I don't want her to resent us one day."
Her mother responded, "God forbid something happens to you she'd be taken away right away and would have to go with Adam. It doesn't matter if you have it in a will. If something happens to you she's gone."
Article continues below advertisement
When she asked Aubree off camera, she said she doesn't want her father to give up his rights to her.
Her dad Randy said of Aubree's decision, "I don't think you should. She's already got your name. Just go with the flow. Do what you're doing. You can't push it. If you force it she might resent you."
Kailyn Lowry has been on good terms with baby daddy Jo Rivera — until now.
Lowry received a text from her lawyer that read, "Mr. Rivera thinks you're a pay day for him now that you have shared placement he thinks he can get over $1,000 a month from you. He is requesting your financial information and is moving forward on this. His new attorney is insistent on his client's rights and your obligation to pay."
Lowry told her friend that the filing blindsided her.
"Never once did he mention that he was in a situation where he needed financial support or that he was filing," she said. "I was getting child support since Isaac was 8 months old. He was paying $475. I told him to go f**k himself."
Rivera defended his decision, telling his wife Vee he's been paying child support since Isaac was 10 months old.
"I gave her a long time to drop the child support," he said. "I'm still paying today. I've warned her. I told her I shouldn't be, you're making hundreds of thousands of dollars every year. Five to ten grand coming in from advertisements. You got all these f**king book deals. Here I am trying to figure out how I'm going to fix the air conditioner."
Article continues below advertisement
He added that he's entitled to something for the past year of paying and that he needs help.
But his wife Vee disagreed, as she responded, "We're not broke. We're living normal lives compared to her. I don't feel comfortable taking her money. I don't want to."
When Lowry went to her attorney, she learned she could be forced to pay up $2,300 a month.
"Just because I make more and you can get it doesn't make it right," she said. "We have to prove expenses for Isaac to prove he doesn't need the $2,300 a month. Isaac doesn't live different lifestyles. He's asking for 9 months of back child support from January. You are looking for a payday you are not doing this in the benefit of Isaac. To me that's greedy and selfish. Go f**k yourself."
Also on the episode, Briana DeJesus returned home from the hospital after her daughter suffered an infection in her shoulder.
"I haven't heard from Luis," DeJesus said of her baby daddy. "He asked how she was doing one time."
She later learned that Stella could no longer go to daycare until the $970 bill is paid. Luis has been paying for their daughter's daycare.
DeJesus then filed for child support against him.
Article continues below advertisement
After Jenelle Evans declared this season is her last on last week's episode, she continued to film by going to yoga with her mom.
Barbara asked if her baby daddy Nathan Griffith still has supervised visits with their son Kaiser. She responded that he will have supervised visits until she is comfortable letting him take their 4-year-old son alone.
"He is a good dad, but he can't keep eyes on Kaiser 24/7, that's the problem," she said. "I rather him be somewhere where he's going to be stable. Who is he around? Is Nathan arguing with his girlfriend in front of Kaiser? Does he physically abuse his girlfriend like he did to his past girlfriend and like he did to me? I don't know."
And finally, Leah Messer's new boyfriend, Jason Jordan, met the father of her twins, Corey Simms, on this week's episode. Fortunately for Messer, the two got along well!
Teen Mom 2 airs Mondays at 9/8c on MTV.
We pay for juicy info! Do you have a story for RadarOnline.com? Email us at tips@radaronline.com, or call us at 800-344-9598 any time, day or night.
For the latest Teen Mom news subscribe to our podcast 'Teen Mom Time' below!