Jenelle Evans Quits 'Teen Mom 2:' 'This Is My Last Season'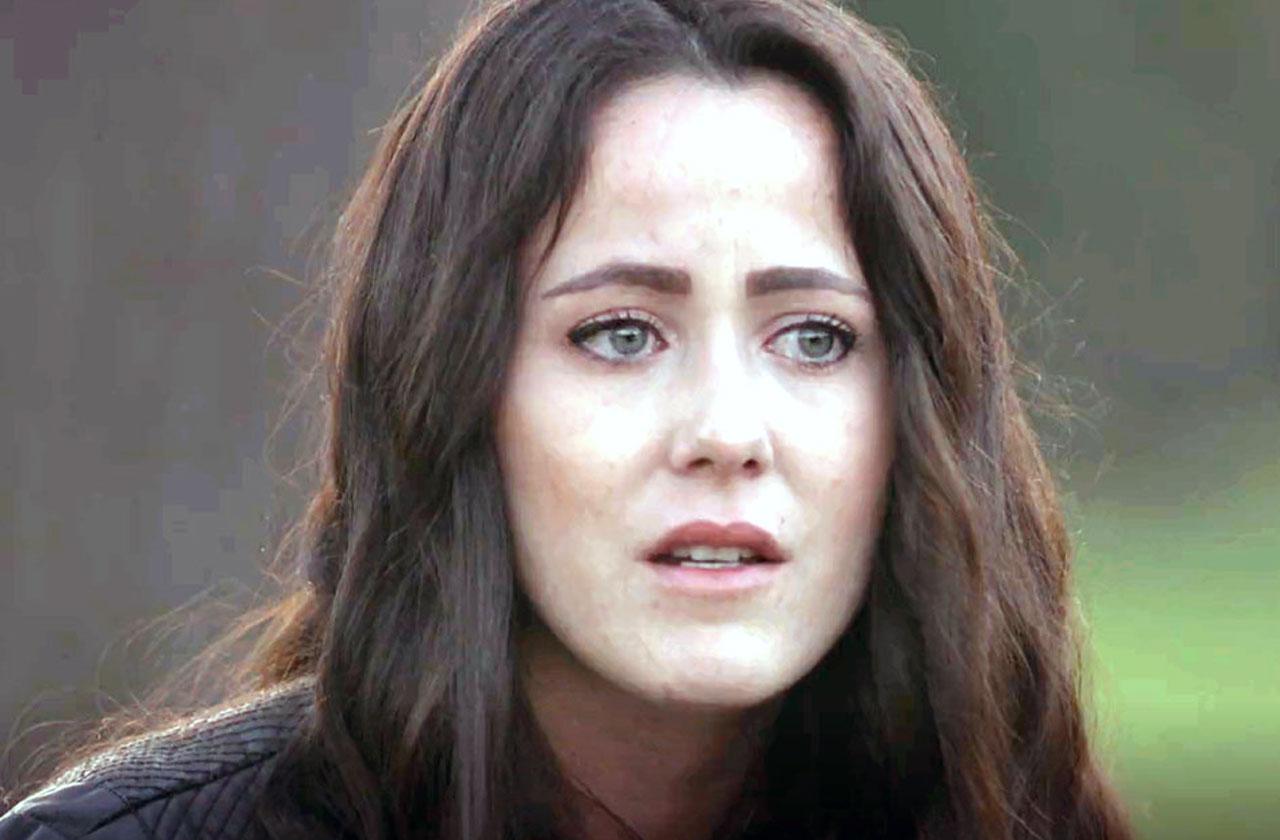 Jenelle Evans revealed on this week's Teen Mom 2 that this season will be her last. On the episode, Evans broke down over her husband David Eason's firing because of his homophobic comments.
On last week's episode, Evans refused to film. The decision came after RadarOnline.com broke a 911 call where Evans accused him of domestic abuse. She later denied the incident.
Filming was also shut down because her husband arrived to her son's sporting event with her.
Article continues below advertisement
"It's hard for her to film her life when her husband is not included," Evans' mom Barbara told producers. "Everything she does with her family, with her husband, can't be filmed. She said they don't understand how stressful that is."
When a producer asked if Eason is going to let Evans film, Barbara responded, "Jenelle has put her foot down on that. She told me she's going to continue to film. She knows this is her job and he's not working. She needs to have some type of income coming in."
When Evans finally filmed, she explained how the show has given her a bad reputation over the years.
"I want f**king respect," she told the producer. "Even if I'm never on TV again, that's fine. I have other s**t I'm working on. Once you push me away, I don't trust you again."
She said how MTV never believes her and always assumes she's lying.
"They don't know anything about me, what I do or how I act," she said of the network. "They don't know my favorite food. What's going on with me mentally, physically or my health issues."
Article continues below advertisement
She then said that this will "probably be my last season."
"I realized I don't need MTV, I need myself," she said. "I'm the only one that's important here. This show is not important. Everyone likes me, but they don't like the Jenelle they see on TV that's always mad, always angry and always yelling around kids. They don't see the real me."
She then yelled of her husband's firing, "I finally have someone that supports me and I can't bring them? You guys shut me out from everything. Don't talk to me. Stay the f**k away from me cause I'm done."
Also on the episode, Briana DeJesus noticed her daughter Stella, 1, had trouble moving her arm.
"I took her to the hospital. It turns out she had a serious bacterial infection," she said, adding that she had to undergo emergency surgery. "She's doing better now, but she has to stay in the hospital for a few days so they could monitor her."
DeJesus explained how she was lucky she brought her in when she did because the Septic Arthritis in her joint could've spread to her blood stream.
Article continues below advertisement
"It's scary and stressful," DeJsus told her mom. "I don't want her to get worse. She has all these wires on her. I'm here by myself. I don't have anybody. It's a lot."
Leah Messer's baby daddy Jeremy Calvert returned to town after months on the road for work. After seeing their daughter Adalynn, he had to go back for a month and a half.
"When can I see daddy?" Addie asked her mom. "He always has to go to work."
Messer opened up to boyfriend Jason Jordan how the distance is affecting her daughter.
"Addie really misses him when he's gone," she said. "He really hasn't seen her that much. She is so understanding that he has to go out of town for work, but she knows, why isn't he calling me? It breaks my heart."
Jordan, who has a son from a previous relationship, responded, "Being a dad, I could see to where in the future, there is going to be a resentment built up. Maybe he's unaware of what she says."
Article continues below advertisement
He continued, "I wouldn't want any father to feel like they're abandoning their child in some way. I'm not saying that's what he's doing, but he may be inadvertently doing it. Working, who cares! If it came between me and my child, I quit. There's jobs everywhere."
Messer replied, "Then FaceTime! I've said the same thing for five years. I'm over it."
"When do you get to the point to where you say enough is enough?" Jordan asked. "Something is going to have to happen."
Also on the episode, Chelsea Houska's son Watson, 2, underwent surgery.
"Watson has to get surgery to get tubes implanted in his ears tomorrow," Houska said. "I'm really worried about him."
Her husband Cole DeBoer added, "I don't like the fact he has to be put under."
But Houska comforted her husband, explaining how the procedure is going to prevent him from getting ear infections.
"I heard it's simple and fast," she said. "It's worth it in the end."
Article continues below advertisement
Although the surgery went well, Houska revealed DeBoer was "shaken up."
"Watching him, that was the biggest mistake," DeBoer said of when he was being put under anesthesia. "He was crying and they put a mask on him. Then he looked at me during it. He probably hates me now. It was all very fast."
Houska, who welcomed daughter Layne on the last episode, also experienced the reality of having two children.
"Yesterday both babies were crying in the car," she said. "It's hard with a toddler and a baby. They always cry at the same time!"
And finally, Kailyn Lowry continues to keep her distance from ex-husband Javi Marroquin's pregnant girlfriend Lauren at their son Lincoln's soccer games.
"We didn't say anything, which is fine," Lauren told Marroquin. "Eventually we'll get to a norm."
But Lowry didn't seem to agree, as she told a producer, "I don't talk to Lauren at practices and functions. They're pregnant and having a baby. It is what it is. I don't care to talk to her. Good luck!"
Teen Mom 2 airs Mondays at 9/8c on MTV.
We pay for juicy info! Do you have a story for RadarOnline.com? Email us at tips@radaronline.com, or call us at (866) ON-RADAR (667-2327) any time, day or night.
For the latest Teen Mom news subscribe to our podcast 'Teen Mom Time' below!