Exclusive
Lisa Marie's Drug-Fueled Obsession With Ex Husband Michael Jackson Exposed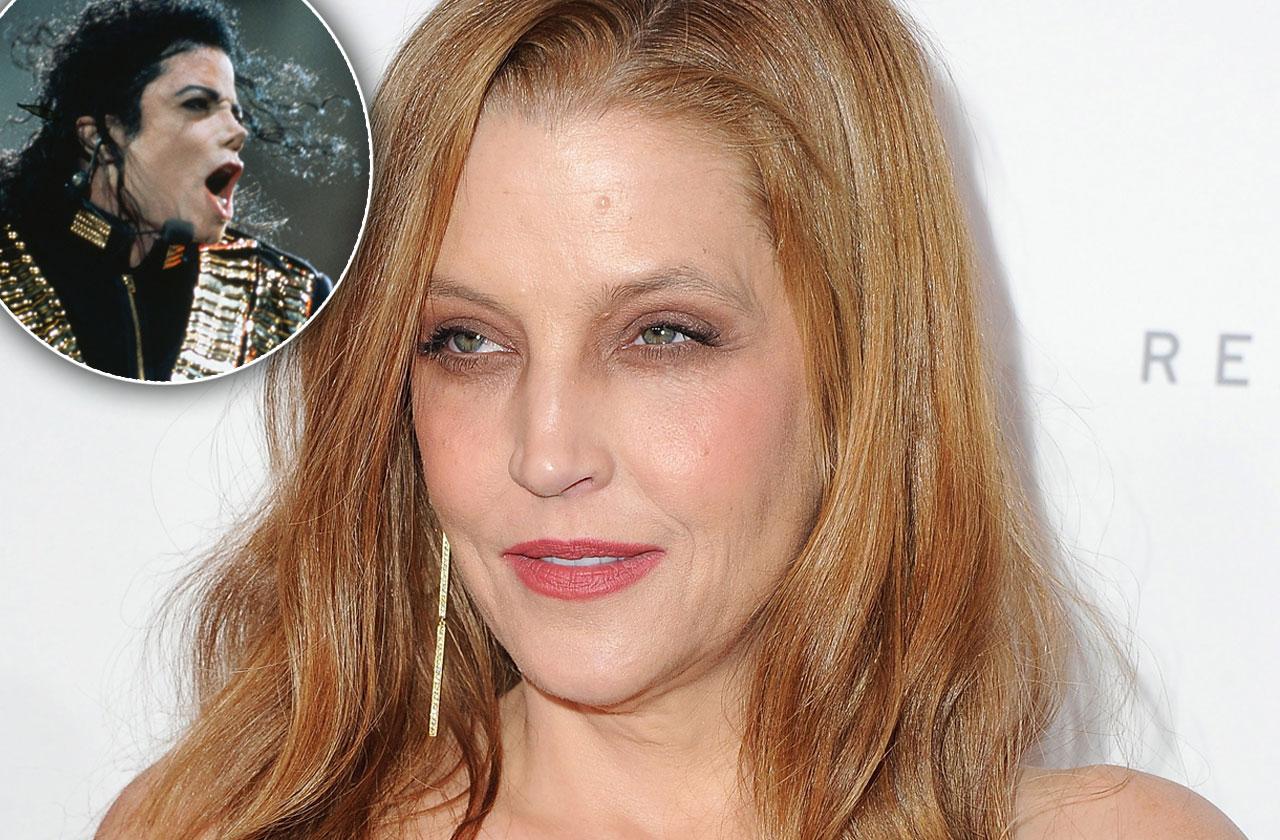 Drug-addled Lisa Marie Presley would lock herself in her room and obsessively trawl the internet watching videos of her ex husband Michael Jackson during her days-long binges between 2014 and 2016.
Aside from spending hours on end watching the King of Pop's most iconic live routines, Lisa Marie was also fixated with watching her father's drunken stage performances and would laugh maniacally, according to a source.
Article continues below advertisement
"Lisa Marie was a total wreck and had no grasp on reality," a source said. "She 
would wake up and pump her body with deadly chemicals and morph into a drug-raged zombie, obsessively watching videos of Elvis and Michael."
As fans know, Lisa Marie and the "Thriller" hitmaker were married from May 26, 1994 - August 20, 1996.
But while in her warped state, her ex husband Michael Lockwood claimed in court documents he waited on her hand and foot, cooking her meals and brushing her hair, while nannies looked after their ten-year-old twin daughters, Harper and Finley.
As RadarOnline.com previously reported exclusively, pals fear Lisa Marie will "die like her famous dad Elvis."
During her scary drug binges concerned friends and family were left to fear she was just one fix away from a fatal overdose.
"It is a miracle Lisa Marie is still alive," said an insider.
Meanwhile, Lisa Marie made headlines this week after RadarOnline.com exposed sensational photos which revealed the sleazy mayhem inside the private Tennessee mansion of Elvis' drug-ravaged daughter, where, according to allegations in court documents, she would lock herself away for days on self-destructive binges!
Article continues below advertisement
In the bombshell photos can be seen scattered pill bottles sitting on a mound of a white powder, believed to be cocaine, next to snorting paraphernalia — a cut straw and a plastic card to rack out lines of the lethal drug.
The troubled celebrity spawn would hole up in her bedroom amid piles of drugs, food and trash while ignoring her personal hygiene.
The 51-year-old mother would snort so much cocaine she would stay awake for 11 days straight, while enhancing her mind-bending high with a cocktail of prescription pills — popping up to 80 opioids every day — combined with liquor, according to Lockwood, who made the bombshell allegations in sealed court documents exclusively obtained by RadarOnline.com.
When she's high, according to the documents, Lisa Marie admitted to hallucinations and visions of cocaine flying toward her like shards of broken glass. On another occasion, she became convinced bugs were attacking her and crawling over her bed.
A live-in nanny during Lisa Marie's period of heavy drug use between 2014 and 2016 said, according to the eye-popping documents: "Lisa Marie stayed in her room most of the time either sleeping, watching TV or on the computer. If she were to come out of her room it was usually in a disheveled state."
Article continues below advertisement
A second live-in nanny said the only times Lisa Marie would leave her room was to eat.
Lisa Marie would also binge on Valium and diazepam, according to a source, used as muscle relaxants and anti-anxiety medicine, as well as the painkiller Vicodin, and hydrocodone syrup, which works as a narcotic painkiller when abused.
A tortured Lisa Marie herself admitted in a 2017 deposition she was "abusing cocaine terribly" in 2015 as well as being a heavy user of opioids, painkillers and alcohol. She also admitted she had been so whacked out she couldn't even remember how many times she had been to rehab, saying it was three, four or five times.
MORE ON:
Lisa Marie Presley
While she denied ever doing drugs in front of the twin daughters, Harper and Finley, Lisa Marie admitted she "had a serious substance abuse problem that started around 2012," documents reveal.
The report notes Lisa Marie said that from October 2015 until June 2016 she was "using a significant amount of drugs and staying in bed a lot."
She also confessed "she started using cocaine to counteract the effect of the pills," and as a result, she admitted she would "go for days without sleeping."
Article continues below advertisement
A source said Lisa Marie now claims she's been sober for two years, and in July 2017 she "expressed regret that her drug use interfered with her being a good mother … because she was in bed a lot and not fully functioning," according to records of her testimony.
But insiders fear Lisa Marie will always be at risk of relapsing because she's surrounded by enablers and has gone to great lengths to hide her drug abuse from perhaps the only person who could save her — her mother, Priscilla.
"Celebrities can bend the rules, use different names and different doctors and now she's in Hollywood, the U.S. capital for medical corruption. Just look at what happened to Michael Jackson!"
We pay for juicy info! Do you have a story for RadarOnline.com? Email us at tips@radaronline.com, or call us at (866) ON-RADAR (667-2327) any time, day or night.
For the biggest celebrity news stories of the day, controversies, crime, and other hot topics listen to our new podcast 'All Rise' below!