'I Did It!' Jayme Closs' Kidnapper Confesses To Gruesome Murder & Abduction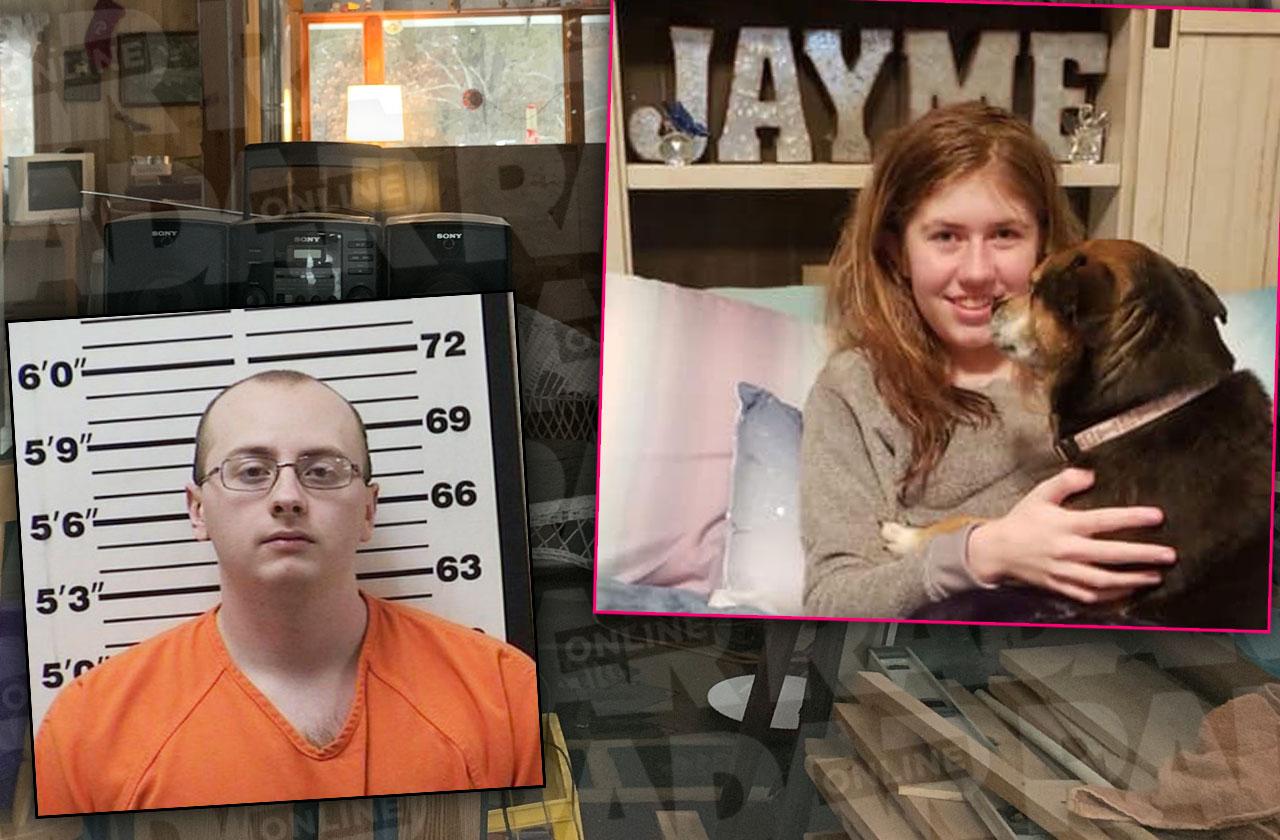 Jayme Closs' kidnapper admitted to the teen's abduction and the gruesome murder of her parents for the first time ever in a no-holds-barred interview with authorities, RadarOnline.com can exclusively report from new court documents.
According to the criminal complaint against suspect Jake Patterson filed in Wisconsin circuit court Monday, Jan. 14, the 21-year-old creep shot dad James Closs dead in the head in the entryway of his home before he tore down the door of a bathroom to find the teen and her mom Denise embracing each other in a tub, just moments before he restrained Jayme with duct tape and shot her mother in the head.
Article continues below advertisement
Patterson was then instructed to raise his hands in the air and to open his door before admitting, "I know what this is about, I did it."
According to court documents, Detective Nelson reported on Jan 10, 2019 the defendant confessed to killing James and Denise Closs, and kidnapping Jayme. The defendant (Patterson) stated in the report that he worked at Saputo Cheese Factory south of Almena for two days before quitting. On his drive to the cheese factory on one of the two mornings he worked there, he had stopped behind a school bus on U.S. Hwy 8 where he watched Jayme get on. Patterson stated he had no idea who she was nor did he know who lived at the house or how many people lived at the house.
Article continues below advertisement
The psycho admitted in his confession when he saw Jayme "he knew that was the girl he was going to take."
According to the police, in preparation of the horrific crime, he purchased a black colored balaclava type mask from Walmart as part of his plan to conceal his identity when he took the 13-year-old.
Patterson claims he had driven to the Closs home twice with intent to kidnap Jayme prior to Oct 15.
One week before he went through with his plans to kidnap Jayme, Patterson admitted he drove to to the Closs home, but "there were all kinds of cars in the driveway and it scared him off."
A day or two later Patterson claims he again drove to the Closs home and noticed the lights were on in the house and people were walking around inside so he decided not to do it then.
He told police he put "quite a bit of thought into the details of how" he was going to abduct the teen. "On one of the nights prior to his third trip to the Closs home on Oct 15, he stated he drove a few miles down the road and and stole license plates off of a vehicle parked in a yard." He said he stole the plates because "he did not want to get stopped or spotted with his own license plates on his car."
Article continues below advertisement
He also stated he disconnected the dome light in his vehicle so that when he exited or entered it would not illuminate his presence. He also removed the trunk light and what he described as a the glow in the dark kidnapping cord from the trunk so that no one could pull the trunk open once inside.
According to the criminal complaint, before the horrific murder and abduction, he said he took his father's 12 gauge Mossberg pump shotgun and said he selected this particular gun because he had done research and knew that the particular was one of the most heavily manufactured or owned shotguns and assumed it would be more difficult to trace.
Patterson said he felt that a 12 gauge slug would inflict the most damage on someone and would most likely be the best choice of shell and weapon to kill someone verses a rifle. He wiped down the shotgun and the shells while wearing gloves so there would be no fingerprints or DNA on either of them.
In a failed effort to never get caught for his horrific acts, Patterson claims in court documents he shaved his face and head and showered before leaving his house in order to not leave any DNA or hair at the scene.
Article continues below advertisement
Wearing a black colored jacket, brown colored leather steel toed work boots and regular blue jeans, Paterson arrived at the Closs residence and shut off his headlights before coasting into the end of the driveway. He then proceeded to parked near the end of driveway quietly exiting his vehicle and approached the house, Patterson said in court documents.
As he was walking up the sidewalk, Patterson stated he noticed Jayme's father James standing in the large picture window, which he indicated was to the left of the front door.
Patterson claims in the complaint James had a flashlight and was shining it outside before he hollered at James to get on the ground but James kept shining the light and looking outside.
Patterson says he then approached the front steps and opened the glass storm door and then pounded on the wooden entry door.
He said he saw James looking outside through a small glass decorative window and asked Patterson to show him his badge assuming he was a police. Patterson raised the shotgun purposely aimed at James' head and pulled the trigger and he immediately collapsed to the ground
Article continues below advertisement
He then used his shoulder and tried to break the door open but was unable to do so so he shot the doorknob in order to enter. After he entered the home he says he stepped over James body and "knew he was dead."
Upon entry into the home, according to court documents, Patterson says he then proceeded to a door in the house he noticed was shut but it was locked and barricaded so he kicked and shouldered it several times and estimated it took him about 10-15 hits before the door burst open and entered into a bathroom.
He reached up and ripped off the shower curtain where he found Denice and Jayme seated in the bathtub — "Denise with her arms wrapped around Jayme in a bear hug."
He then claims in docs he took duct tape and told Denise to tape it over Jayme's mouth which he states Denise was struggling to do so he set his shotgun down on the bathroom sink and wrapped the tape around Jayme's mouth and head.
Patterson forced Jayme to stand up so he could tape her wrists and palms together to restrain her hands and arms. He stated he then took the tape and wrapped it around Jayme's ankles and arms, according to the report obtained exclusively by Radar.
Article continues below advertisement
He then removed Jayme from the bathtub and as she stood next to her father's killer Patterson then proceeded to gun down her mother. Patterson says he aimed for Denise's head because he knew that headshots were the best way to kill a person.
He then dragged Jayme out of the house where he says he "nearly slipped in the blood that pooled on the floor," docs state.
Patterson then proceeded to drag Closs across the yard and into his trunk.
He told police in his confession that he was determined to take Jayme that night and "would kill anyone in the house because he could not leave any eyewitnesses behind."
Patterson estimated he was at the Closs home for about four minutes total.
Once he got to his house in Gordon, WI, he removed Jayme from the trunk and set her in his bedroom. He says he could tell she was "extremely scared and crying" and had urinated herself — thus forcing Jayme to take off all of her clothes and change into his "sister's pajamas," he stated in the complaint.
Article continues below advertisement
The kidnapped teen would be forced to stay under the bed for up to 12 hours at a time with no food, water or bathroom breaks, she told cops in her account of what happened.
According to court documents obtained exclusively by Radar, Jayme says Patterson hit her "really hard" on the back for an offense she could not recall.
Nearly three months later, Closs said she escaped in a pair of her captor's shoes after he told her he would be gone for five or six hours.
After her brave escape, the teen is safe with family — and Patterson has been charged with murder and kidnapping.
We pay for juicy info! Do you have a story for RadarOnline.com? Email us at tips@radaronline.com, or call us at 800-344-9598 any time, day or night.