Ex-RHONJ Star Jim Marchese Continues Hateful Rant: 'No One Is Born Gay!'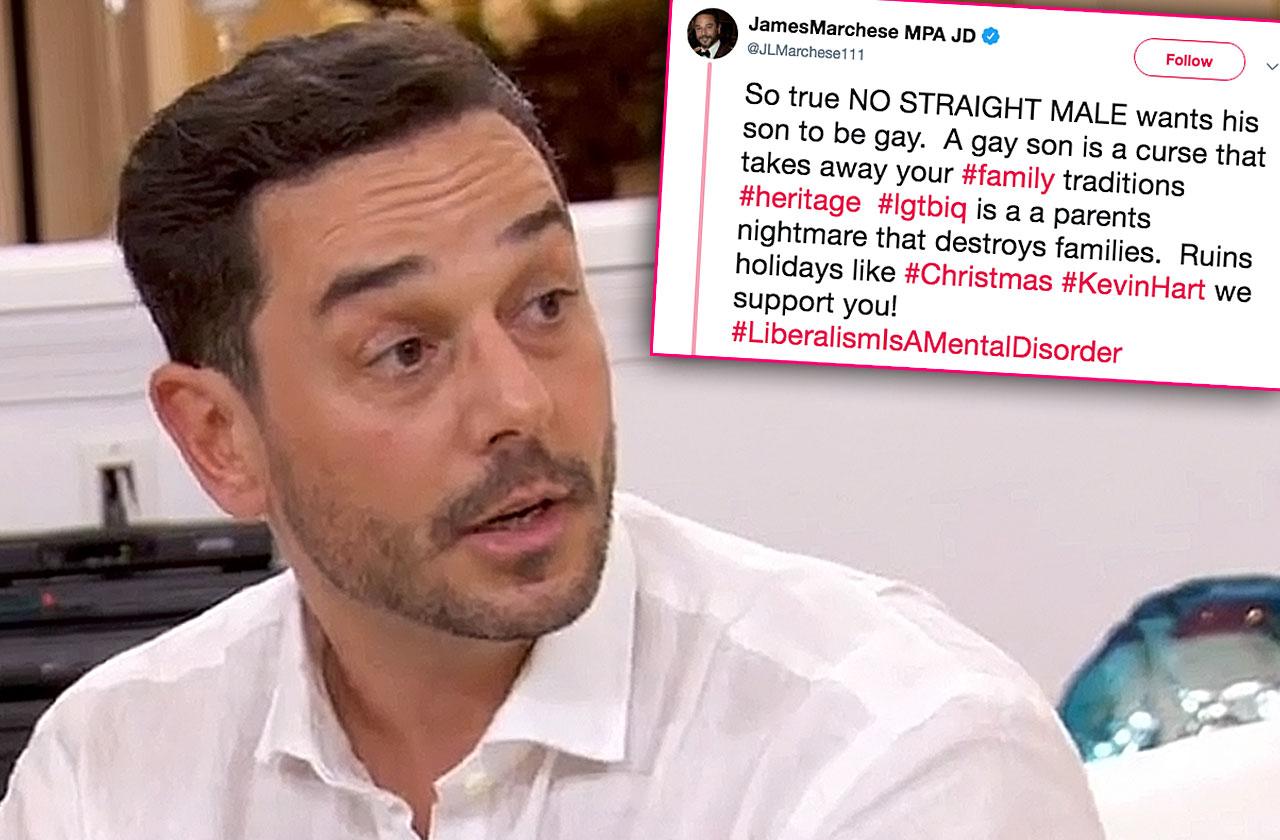 Ex Real Housewives of New Jersey star continued his hateful homophobic rant Tuesday when he tweeted that "no one is born gay."
The jarring statement comes just days after he first made controversial remarks about the LGBTIQ community following the scandal involving comedian Kevin Hart and the Oscars.
"For those pushing #LGTBIQ agenda show me a single credible study which links genetics. Being gay is a physical act derived in sexual deviance by definition. No one is born gay it is a lifestyle choice like being vegan. Get over it. You are," he said in a cringeworthy tweet Tuesday.
Article continues below advertisement
As readers know, Hart was slated to host the Academy Awards, but he lost the job when a controversial tweet surfaced from 2011 in which he said: "Yo if my son comes home & try's 2 play with my daughters doll house I'm going 2 break it over his head & say n my voice 'stop that's gay.'"
Over the weekend, Marchese quoted a tweet from someone who said "You would have a tough time finding straight men that would not agree. People are allowed to have opinions that offend you. Deal with it."
Marchese clapped back: "So true NO STRAIGHT MALE wants his son to be gay. A gay son is a curse that takes away your #family traditions #heritage #lgtbiq is a parents nightmare that destroys families. Ruins holidays like #Christmas #KevinHart we support you! #LiberalismIsAMentalDisorder."
Meanwhile, Bravo host Andy Cohen slammed Marchese for his shocking comments, tweeting his controversial statements were "perfectly on brand for him" and asked fans "to pray for his poor children."
Article continues below advertisement
"Domestic violence is not a joke, and having my husband be accused of such a heinous act is not only hurtful but damaging personally, emotionally and professionally," she said in a statement to RadarOnline.com at the time. " I would never let myself be a victim of anything or anyone."
Marchese was never charged for the incident.
We pay for juicy info! Do you have a story for RadarOnline.com? Email us at tips@radaronline.com, or call us at (866) ON-RADAR (667-2327) any time, day or night.