Amber Marchese Says Alleged Domestic Violence Incident Was 'Some Heavy PDA'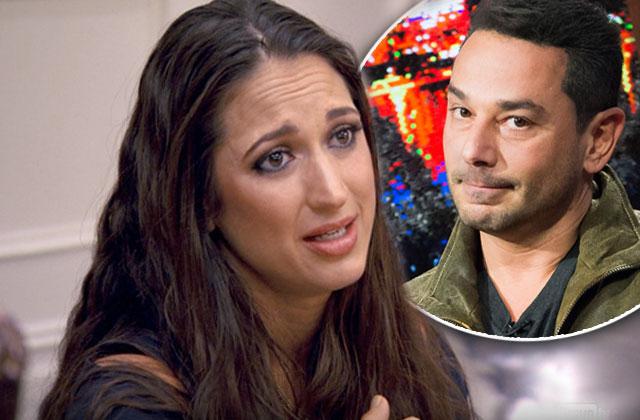 Two days after former Real Housewives of New Jersey star Amber Marchese's husband Jim was arrested for felony domestic violence, his wife is coming out swinging with her version of what went down. And RadarOnline.com has learned, her story is X-rated!
As RadarOnline.com reported, Jim was arrested on April 19 at LAX after he and Amber were removed from a flight. According to reports, he was seen choking her on board. But Amber said it's all a huge misunderstanding.
Article continues below advertisement
"Domestic violence is not a joke, and having my husband be accused of such a heinous act is not only hurtful but damaging personally, emotionally and professionally," she said in a statement to RadarOnline.com. " I would never let myself be a victim of anything or anyone."
Amber says the couple were returning to Jersey from L.A. after filming a new reality project. "We were actually talking about hooking up and joining the mile high club," she said. "Some heavy PDA was involved, just the opposite of what certain people reported they saw. After that brief bit of fun between us we prepared for takeoff and I ordered a glass of white wine. I was peacefully sipping my wine and Jim was sleeping when we were asked to leave the plane."
"Confused and scared, our first thoughts were 'Did something happen to our kids???'" she revealed. "No explanations or answers were given to our questions and we were immediately separated."
"All I wanted was my husband Jim, so we could figure out what happened and how to help the authorities by answering any questions," Amber said. "All Jim wanted was to make sure I was OK. We asked why we were being removed from the plane. We complied with everyone involved from the flight attendant to the authorities. Through this entire stressful situation, my husband was nothing but a gentleman and never once lost his composure."
Article continues below advertisement
She insisted, "To be crystal clear, there was no complaint of domestic violence, signs of distress or request for assistance made by myself and there was no wrongdoing by my husband. At no time did my husband ever choke me or threaten me in any way shape or form."
"Jim and I have been married for 10 years and he has always treated me like gold and we have a beautiful relationship and a wonderful life," she said. "Every relationship has flaws and we are not perfect BUT these reports are undeniably false and disgusting."
Indeed, it was Amber who picked Jim up at the police statement after the incident unfolded.
Story developing.