Farrah Fawcett's Son Redmond Called Gay Man F-Word In Vicious Attack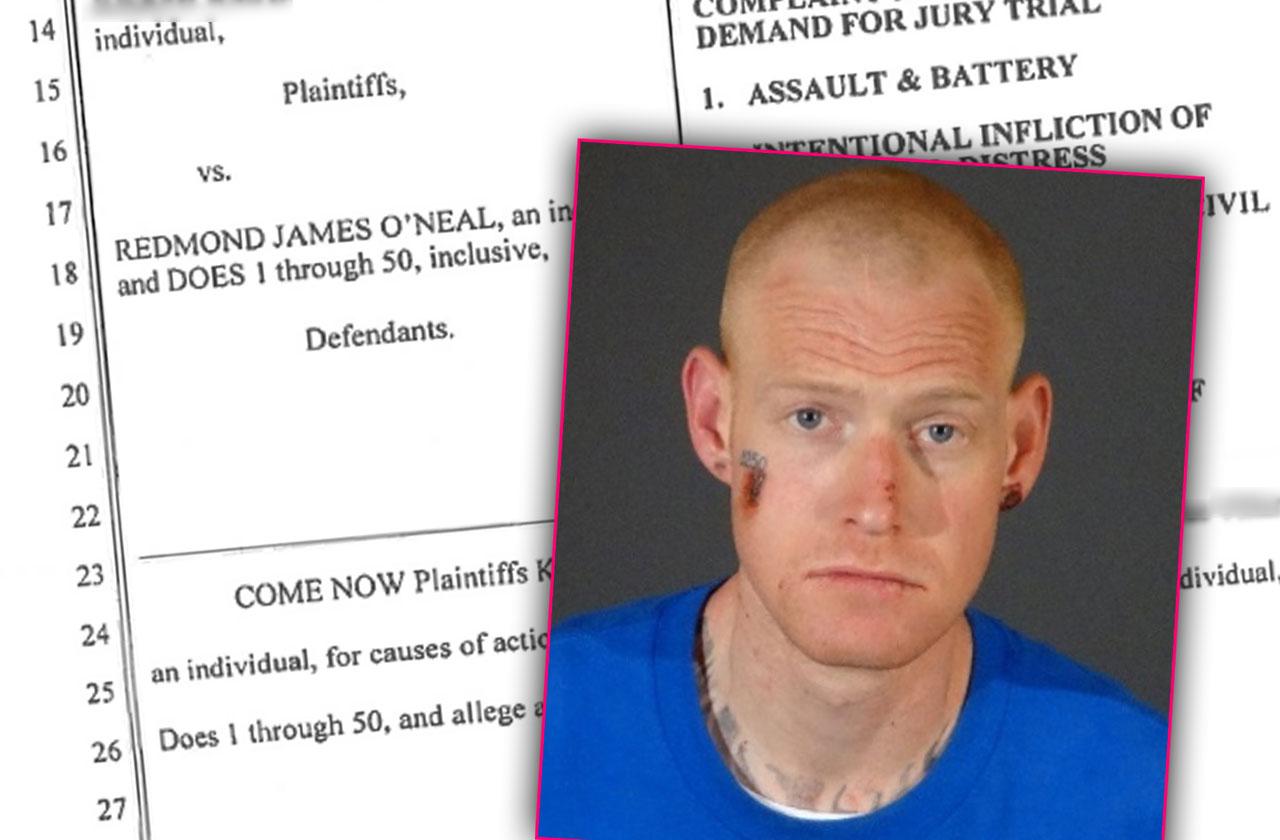 Farrah Fawcett's son Redmond O'Neal called a gay man a "f*****" while attacking him with a beer bottle in a vicious assault the alleged victim, claimed a shocking new lawsuit obtained by RadarOnline.com.
Kenneth Paul Fox filed a lawsuit in Los Angeles County Superior Court on September 6, 2018 and held a press conference with his high-powered lawyer, Gloria Allred, to reveal the details of the beat downinflicted upon him by O'Neal.
Article continues below advertisement
Fox claimed on May 2, 2018, he was walking near his house when he saw O'Neal make eye contact with him.
"What are you looking at, f*****?" Fox claimed O'Neal said to him in the court documents obtained by RadarOnline.com.
"Plaintiff Fox's sexual orientation is gay," the documents noted.
"Defendant O'Neal then, unprovoked and without consent, intentionally and unlawfully struck Plaintiff Fox in the head with a bottle or other hard object, causing Plaintiff Fox to fall to the ground and suffer injuries, including a broken nose and injured right knee," the documents stated about being allegedly attacked during O'Neal's May crime spree.
O'Neal then continued to assault Fox while he was lying on the ground, the documents alleged.
Allred filed the lawsuit, claiming: "Assault and battery, intentional infliction of emotional distress, violation of the Ralph Civil Rights Act, negligence and loss of consortium/ negligent infliction of emotional distress."
During a press conference, Allred revealed more details about her client's claims.
"Ken also alleges that while he was down on the ground injured and bleeding from the sudden attack, Redmond continued to throw punches at him and threaten him while shouting expletives at him including, 'You fucking f*****, crying like a f**king baby.'"
Article continues below advertisement
Fox recalled the harrowing alleged attack.
"I have spent the last four months recovering from what Redmond O'Neal did to me," he said. "I am speaking out today because I need to do what I can to make sure that this man never injures or hurts another defenseless 'f*****' ever again. That's what Mr. O'Neal called me right before he sucker punched me. The word f***** is hate speech and just one of many offensive terms used to make gay men feel ashamed of themselves. That's what Mr. O'Neal screamed at me as he rushed me and sucker punched me on the nose with a beer bottle in his fist that hit me. As I lay on the ground, he stood over me, taunting me, throwing punches and swinging that beer bottle inches from my face, preventing me from getting up to defend myself. I literally thought I was going to die."
Fox detailed the devastation the alleged attack caused.
"Mr. O'Neal https://radaronline.com/photos/ryan-oneal-confronted-son-redmond-stabbing-victim-hospital-photos/ broke my nose and gave me a whiplash concussion," he said. "He smashed my glasses into my face, cutting and bruising me. After three weeks of intense pain, I had to have my nose re-broken and reset by a doctor. I am seeing a neurologist for headaches, cognitive issues and nerve damage. I am being treated by an orthopedic surgeon for neck and back pain."
Article continues below advertisement
He continued: "Hopefully I will get justice. I am not from privilege. I have worked hard to have a good life. I am passionate about making sure he doesn't do this to anyone else."
This was the second civil suit filed against O'Neal. Another victim from his alleged crime spree, Seth Cooper Folkerson, aka Anton Troy, also filed a complaint on June 26, 2018, alleging assault, battery and negligence. A hearing on that case was scheduled for December 10, 2019.
Folkerson alleged in his complaint that O'Neal attacked him while he was walking in the City of Venice, Calif. on May 4, 2018. Folkerson said O'Neal "plunged a knife three and one-half inches" into his brain and split his throat along the carotid artery.
We pay for juicy info! Do you have a story for RadarOnline.com? Email us at tips@radaronline.com, or call us at (866) ON-RADAR (667-2327) any time, day or night.