Inside The Secret Dinner When President Trump Demanded James Comey's Loyalty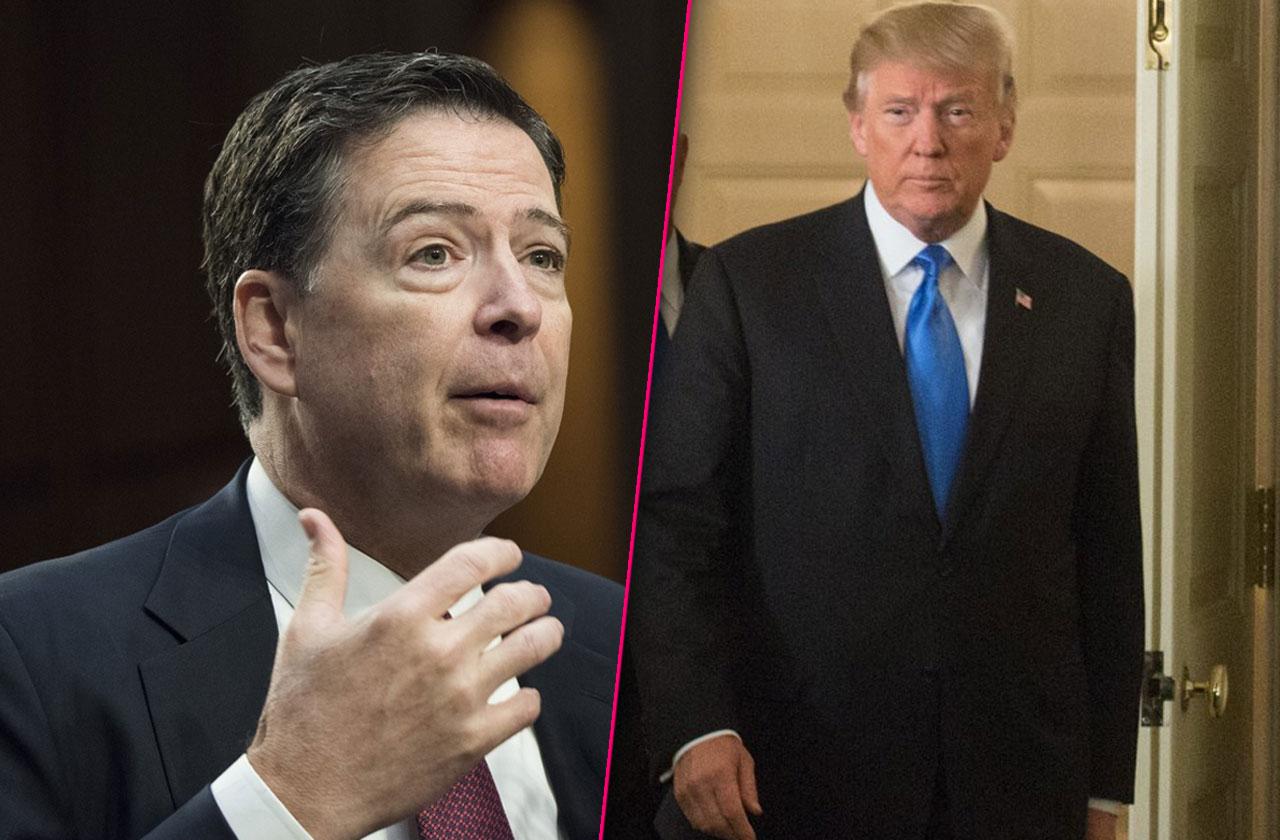 In an explosive account, fired FBI director James Comey describes his mono-e-mono dinner with President Donald Trump at the White House — the one in which he famously claims Trump demanded his "loyalty!"
Comey writes in his new book, A Higher Loyalty, which was exclusively obtained ahead of publication on April 17 by RadarOnline.com, that the meeting began in bizarre fashion.
"On my plate, I had found a large cream-colored card describing the entire four-course menu in cursive script," he writes. "Salad, shrimp scampi, chicken Parmesan with pasta, and vanilla ice cream."
Article continues below advertisement
"The president began by admiring his own menu card, which he held up," he pens. "'They write these things out one at a time, by hand,'' he marveled, referring to the White House staff.
"'A calligrapher,' I replied, nodding.
"He looked quizzical. 'They write them by hand,' he repeated."
Comey continued: "At some point early on, maybe by the time the navy stewards brought us the shrimp scampi, Trump asked bluntly, 'So what do you want to do?'
"It was an odd question that I didn't entirely understand at first, but without waiting for an answer, he launched into a monologue that made it crystal clear what he was referring to: whether I wanted to keep my job.
"He said lots of people wanted to be director of the FBI, but that he thought very highly of me. He said he had heard great things about me and knew the people of the FBI thought very highly of me as well.
Article continues below advertisement
"He said despite that, he would understand if I wanted to 'walk away' given all I had been through, although then he noted that that would be bad for me personally because it would like I had one something wrong.
"He finished by saying that he knew he could 'make a change at FBI' if he wanted to, but that he wanted to know what I thought.
"Now it was pretty clear to me what was happening. The setup of the dinner, both the physical layout of a private meal and Trump's pretense that he had not already asked me to stay on multiple occasions, convinced me this was an effort to establish a patronage relationship.
"Somebody probably had told him, or maybe it just occurred to him at random, that he'd given 'given' me the job for 'free' and that he needed to get something in return.
"This only added to the strangeness of the experience. The president of the United States had invited me to dinner and decided my job security was on the menu."
We pay for juicy info! Do you have a story for RadarOnline.com? Email us at tips@radaronline.com, or call us at (866) ON-RADAR (667-2327) any time, day or night.