James Comey Tells All On Explosive Decision To Reopen Hillary Clinton Email Probe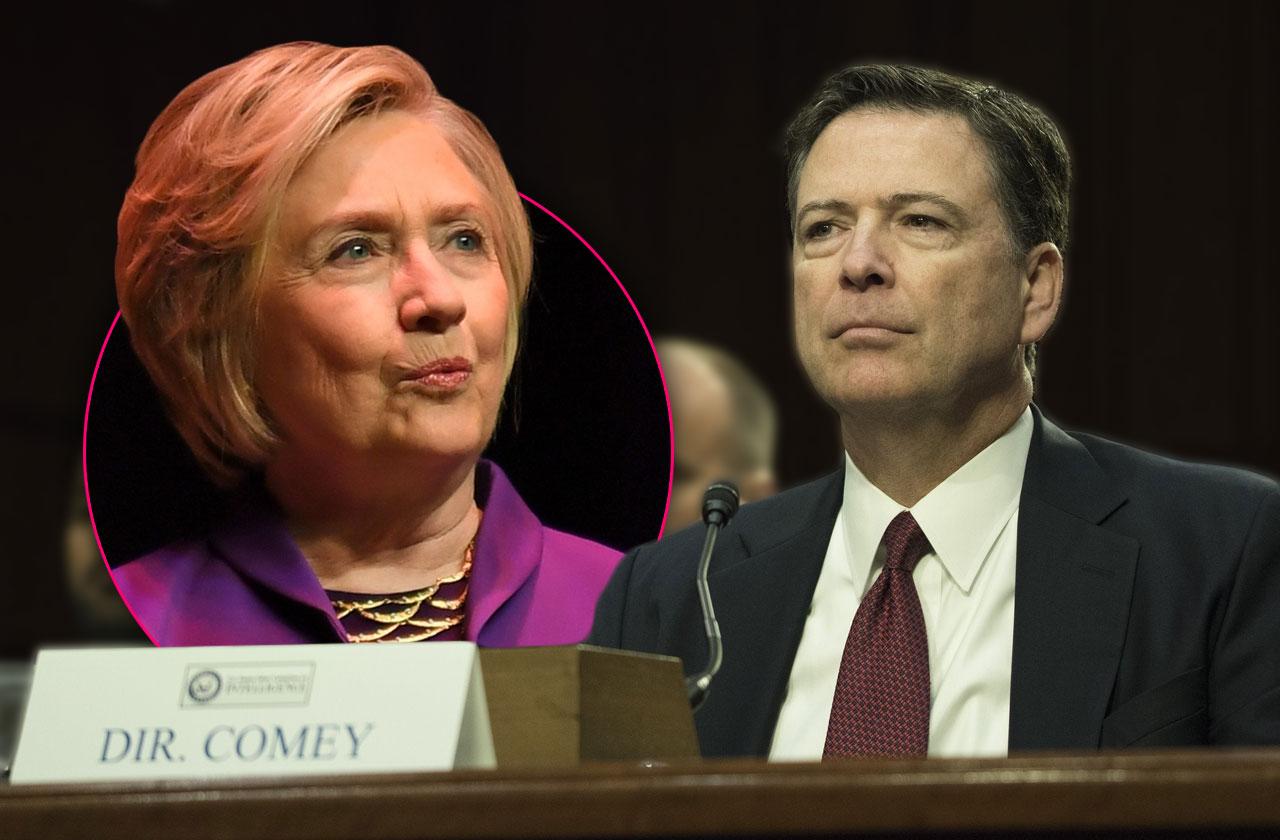 Ousted FBI Director James Comey described his choice of whether or not to go public with a renewed FBI probe of Hillary Clinton's private email server just two weeks before the 2016 president election.
"In July, and in the period since, I had repeatedly told the country and Congress that the FBI had done an honest, competent, and independent investigation and we were finished," he writes in his new tell-all autobiography, A Higher Loyalty.
Article continues below advertisement
The book is not due to hit bookshelves until April 17— but was exclusively obtained ahead of publication by Radar.
"There was no case here," he continued. "People could take that to the bank."
Yet, on October 27, the FBI and the Department of Justice had just decided to seek a search warrant to review a huge trove of Hillary Clinton's emails, including information that conceivably could change our view of the investigation.
"And, as I was assured by top investigators at the Bureau, there was no prospect of finishing the review before the election. What was our responsibility? Our long-standing tradition,"Comey added, "Is to avoid, if at all possible, taking any action that might have an impact on an election."
"That tradition, that norm, was part of my identity. It was why the FBI hadn't signed the October Obama administration statement about Russian election interference. If this was a brand-new investigation, doing nothing would have been an option."
Article continues below advertisement
"But in the Clinton email case, I saw only two choices, only two doors, and they were both actions.
"One door was marked 'Speak,'" Comey writes. "By speaking, I could tell Congress that the FBI's prior statements about the investigation being over were no longer true. That would be really, really bad.
"It would put the Bureau, and me, in a place where we might have an impact on an election. Really bad, nauseating even. To be avoided if humanly possible.
"What was that other door? 'Conceal,' is what it read to my eyes. On behalf of the Federal Bureau of Investigation, an organization whose success relies on the public trust, I had testified under oath in public hearings to Congress and the American people that this case was finished.
"Now I knew that was no longer true. To remain silent at this point, while taking the step of getting a search warrant to review thousands of Hillary Clinton's emails, including possibility the missing early emails, would be an affirmative act of concealment, which would mean the director of the FBI had misled – and was continuing to mislead – Congress and the American people.
Article continues below advertisement
"Speak or conceal – both terrible options. The Midyear senior team debated them both. We talked, then broke so people could think, then we talked again. We sat around my conference table and looked at it from every direction we could think of.
Comey continued: "We made arguments against arguments, but even with a dozen perspectives, we kept coming back to the same place: the credibility of the institutions of justice was at stake."
Ultimately, the team decided to inform Congress – but Comey states that, at this point, "one of the lawyers on the team asked a searing question.
"She was a brilliant and quiet person, whom I sometimes had to invite into the conversation.
'Should you consider that what you are about to do may help elect Donald Trump president?' she asked.
"I paused for several seconds. It was of course the question that was on everyone's mind, whether they expressed it out loud or not.
"I began my reply by thanking her for asking that question. 'It is a great question,' I said, 'but not for a moment can I consider it because down that path likes the death of the FBI as an independent force in American life.
"If we start making decisions based on whose political fortunes will be affected, we are lost," he writes.
We pay for juicy info! Do you have a story for RadarOnline.com? Email us at tips@radaronline.com, or call us at 800-344-9598 any time, day or night.