James Comey Tells All On Briefing President Trump About Dirty Steele Dossier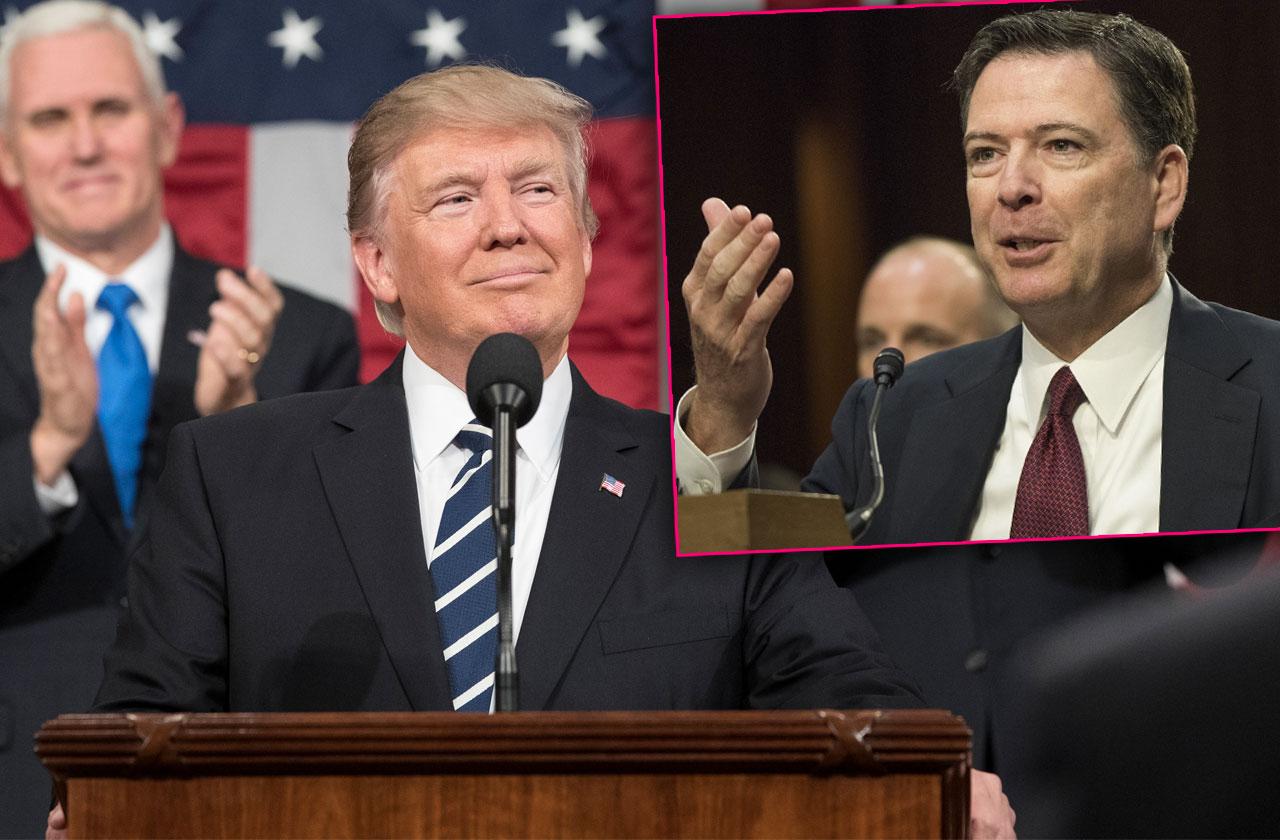 Ousted FBI chief James Comey has finally told all about the explosive moment he briefed President-elect Donald Trump on Russian meddling in the 2016 presidential election — and the dirty dossier compiled by ex-British spy Christopher Steele!
In his new book, A Higher Loyalty, which was exclusively obtained ahead of its April 17 publication by RadarOnline.com, Comey writes that it was their first face-to-face meeting.
Article continues below advertisement
He said then-Director of National Intelligence James Clapper handled the Russian meddling aspect of the briefing — at which Trump's senior staffers were present, including Vice President Mike Pence.
"There were just a few questions and comments," Comey writes of the moment immediately after Clapper had finished.
"During the discussion of Russia's involvement in the election, I recall Trump listening without interrupting, and asking only one question, which was really more of a statement: 'But you found there was no impact on the result, right?'
"Clapper replied that we had done no such analysis, which was not our business or expertise. What we could say is that we found no evidence of alteration of the vote count.
"What I found telling was what Trump and his team didn't ask. They were about to lead a country that had been attacked by a foreign adversary, yet they had no questions about what the future Russian threat might be.
"Nor did they ask how the United States might prepare itself to meet that threat.
Article continues below advertisement
"Instead, with the four or us still in our seats – including tow outgoing Obama appointees – the president-elect and his team shifted immediately into a strategy session about messaging on Russia.
"About how they could spin what we'd just told them. Speaking as if we weren't there, Reince Preibus began describing what a press statement about this meeting might look like.
"The Trump team – lead by Priebus, with Pence, Sean Spicer, and Trump jumping in – debated how to position these findings for maximum political advantage.
"They were keen to emphasize that there was no impact on the vote, meaning that the Russians hadn't elected Trump. Clapper interjected to remind them of what he had said about sixty seconds earlier: the intelligence community did not analyze American politics, and we had not offered a view on that."
Afterward, Comey said he briefed Trump one-on-one about Steele's findings, leaving out the part about Russian hookers peeing on the same bed in which Barack and Michelle Obama had slept when they were in Russia.
Article continues below advertisement
"He again strongly denied the allegations, asking – rhetorically, I assumed – whether he seemed like a guy who needed the services of prostitutes," Comey writes.
"He then began discussing cases where women had accused him of sexual assault, a subject I had not raised. He mentioned a number of women, and seemed to have memorized their allegations.
"As he began to grow more defensive and the conversation teetered toward disaster, on instinct, I pulled the tool from my bag: 'We are not investigating you, sir,' he wrote. "That seemed to quiet him."
We pay for juicy info! Do you have a story for RadarOnline.com? Email us at tips@radaronline.com, or call us at (866) ON-RADAR (667-2327) any time, day or night.