Party Over! How Channing's Drinking & Flirting Led To Split From Jenna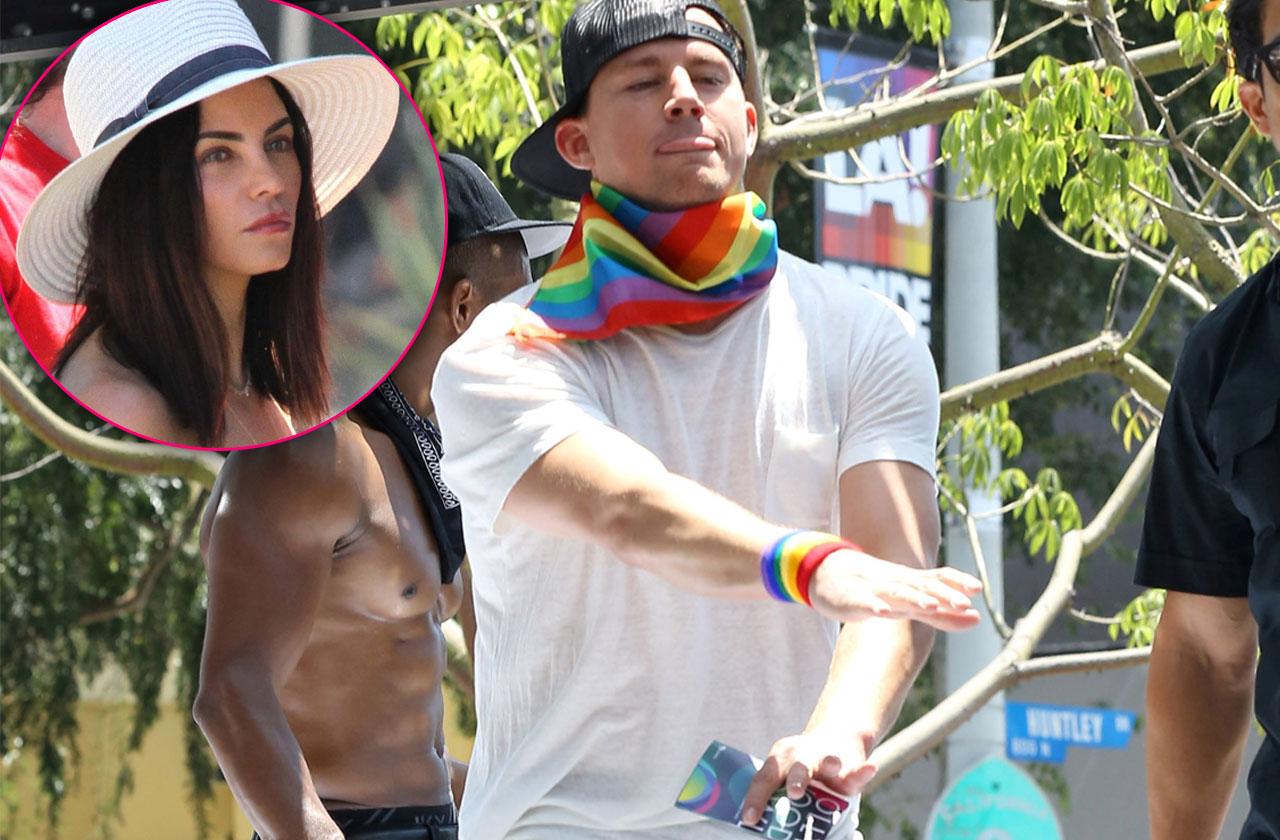 Channing Tatum and Jenna Dewan shocked fans when they announced that they were separating after nearly nine years of marriage, but RadarOnline.com can reveal the actor and his soon-to-be ex-wife constantly fought over his party-boy lifestyle, often leaving her feeling alone and abandoned.
"I probably drink too much," Channing said in a 2014 interview with Star Magazine. "My wife, that's what she bought into."
Article continues below advertisement
Channing and Jenna got married in 2009, and lived a fairtytale romance, but after Channing skyrocketed to success on the heels of his star-making performance in Magic Mike, things began to change. Especially once Jenna put her career aside after she became pregnant with the couple's first child.
As RadarOnline.com previously reported, the couple has fought over Tatum's flirting with other women and exploding career as Dewan remained a less in-demand actress. Shortly after learning they were expecting, Channing went to Pittsburgh to shoot Foxcatcher, and sources who saw him there at the time told Star he was acting like a single man. One eyewitness on the set said he got incredibly flirty with one of his female costars.
"After they filmed a scene together, he began singing 'Total Eclipse of the Heart' to her and grinding up against her. Their faces were touching while they danced and he sang," the eyewitness reported. "At first it seemed like a joke, but then Channing took it further. He twirled the girl around and kept dipping her. I was in complete shock."
Months later, at the Cannes premiere of Foxcatcher, Channing hit up his film's after party at a trendy nightclub, while his wife was half a world away, and alone.
Article continues below advertisement
"Before the party, Chan had promised he'd call Jenna to tell her how the premiere went, but then he got consumed by everything and forgot," explained a source close to the couple. "Jenna called him over and over that night, and he ignored the calls. He finally answered and asked if he could call her back. She was not happy."
Channing went on to shoot four movies in a mere 18 months, throughout most of Jenna's pregnancy and baby Everly's infancy — and during all that time away from home, his partying escalated too.
One night, he went on a drunken bender at a local Pittsburgh bar, Star reported in 2014.
"Chan bought round after round of shots for tons of adoring girls, and then he let them do body shots off his stomach," another eyewitness said. "One girl, a pretty, busty blonde who looked like she was in her early 20s, asked about Jenna. She said something like, 'Where's your wife?' and Chan smiled and said, 'She's not here.' "
Article continues below advertisement
Jenna and Channing reportedly fought about his partying non-stop. She kept reminding him that he's a married father who has no business hanging out with drunk women.
But some sources close to the couple suggest that Channing's wild ways may have been a reaction to the tensions already present in his marriage.
"The truth is that Chan's career has taken off since he and Jenna got together, and all the attention he gets just drives her insane," the insider said years ago. "When they're not together, she is constantly texting or calling him to find out where he is and who he's with. He feels suffocated.
"It's like she's pushing him away."
As RadarOnline.com readers know, the couple announced their shocking split on Monday April 2, 2018.
"We have lovingly chosen to separate as a couple. We fell deeply in love so many years ago and have had a magical journey together," they said in a joint statement. "Absolutely nothing has changed about how much we love one another, but love is a beautiful adventure that is taking us on different paths for now."
Article continues below advertisement
The former couple often gushed about each other on social media during their hot-and-heavy romance, but ignited breakup rumors when they stopped appearing together in public in recent months.
As RadarOnline.com previously reported exclusively, Dewan was reluctant to have another child with Tatum, which also caused a rift in their marriage.
Close friends of the couple were "not surprised at all" by the split!
"Honestly, Channing was bored with his marriage. He constantly complained about her, and said that it felt like they were at best friends and nothing more lately," a source who worked directly with Tatum told RadarOnline.com.
In addition, Tatum told his pal that the pair fought — and the once fiery, passionate romance had lost its spark.
"He said he was not getting any action at home," the source added.
Dewan and Tatum met on the set of Step Up, and began dating in 2006, after casually hooking up during filming. They wed in 2009 and welcomed daughter Everly, 4, in 2013.
Do you think Jenna "suffocated" Channing, or did he just refuse to give up his party lifestyle? Let us know in the comments section.
We pay for juicy info! Do you have a story for RadarOnline.com? Email us at tips@radaronline.com, or call us at 800-344-9598 any time, day or night.