#OscarsFail! The 12 Oddest, Most Booed & Worst Oscar Speeches Ever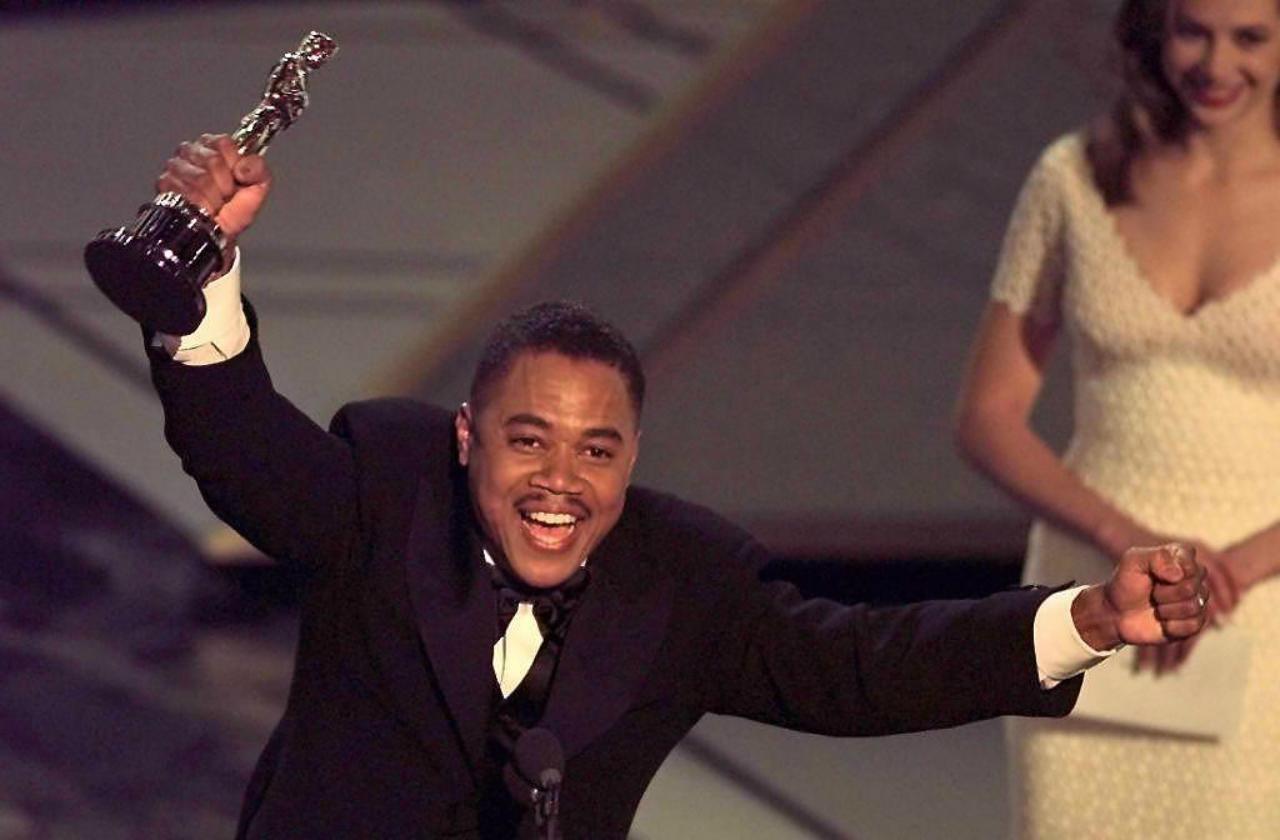 There have been just the worst Oscar speeches throughout the show's history. Not all celebrities can be eloquent, with pearls of wisdom and inspiration at the tip of their tongues. Sometimes a star wins an award, gets up to the podium and just can't deliver the right words. Giving a great acceptance speech can be daunting, and no other award show is more intimidating than the Oscars.
More: The Best, Worst, & Wackiest Stars Hit The 2017 Academy Awards
Article continues below advertisement
Besides the excitement, winning an Academy Award also has to be a little nerve-wracking. There are all the people that need to be thanked while trying not to get too emotional. The winner wants to genuinely express their gratefulness but maybe also say something so profound, everyone will be singing their praises for years to come. Or they might want to make a statement about world affairs but in a meaningful way. Bottom line, it's not as easy as it looks, and Oscar speech fails happen.
Article continues below advertisement
1. ANGELINA JOLIE'S CREEPY CLOSENESS TO HER BROTHER
What did she win for? Angelina Jolie picked up her Best Supporting Actress Oscar for her turn in Girl, Interrupted, playing a sociopath in a 1960s mental hospital.
Why her speech was creepy: Jolie took her brother James with her to the 2000 Oscars, and the two displayed some eyebrow-raising affection. Then, when she won, the actress came up to the podium, genuinely happy about her win, and made a very weird statement that she was "so in love with her brother." The Oscar speech gaffe just made everyone uncomfortable right from the start.
Article continues below advertisement
2. SALLY FIELD THOUGHT YOU REALLY LIKED HER
What did she win for? This was Sally Field's second win for Best Actress in 1985 for her performance in Places in the Heart as a Depression-era widow trying to keep her farm. Her first Best Actress Oscar was five years before for Norma Rae.
Why her speech was awful: The actress certainly didn't mean to come off sounding a bit chirpy and dimwitted, but her breathless proclamation that the Academy voters must really, really like her because they awarded her with another Oscar just made everyone cringe. Poor Field has had to live this moment down for years.
Article continues below advertisement
3. SHIRLEY MACLAINE'S PAST LIVES
What did she win for? The always entertaining Shirley MacLaine had been nominated five times before she finally won her Best Actress Oscar in 1984 for her portrayal of an overbearing mother in Terms of Endearment.
Why her speech was strange: At the time, the actress was known for her beliefs in reincarnation and other out-there spiritual notions. While her acceptance speech—with its long pauses and musings about following what's in your heart in order to succeed—didn't surprise many, it did drag on. Still, it's pure Shirley MacLaine.
Article continues below advertisement
4. GEORGE C. SCOTT DIDN'T BOTHER TO SHOW UP
What did he win for? The gruff George C. Scott picked up the Best Actor Oscar in 1971 for his sterling performance as WWII General George S. Patton in Patton. With four nominations, this was Scott's one and only win.
Why the speech still sucked: The actor chose to boycott the Academy Awards because he didn't believe in the institution—and he didn't send anyone in his stead to give some a political statement or whatever like Marlon Brando did a few years later. So what did the Academy do? They had someone accept the award on his behalf and talk about how great the Academy is. D'oh!
Article continues below advertisement
5. VANESSA REDGRAVE'S POLITICAL SLANT
What did she win for? The talented Vanessa Redgrave has been nominated for six Academy Awards but won only once in 1978 for Best Supporting Actress for her tragic performance in Julia.
Why her speech was poorly received: At the time, Redgrave was producing a documentary called The Palestinian and was immersed in the political turmoil between Israel and Palestine. Plus, Julia centers on two old friends reuniting to fight against Nazi Germany, so some political speech was bound to happen. Were boos and jeers necessary, though?
Article continues below advertisement
6. MICHAEL MOORE'S POLITICS ALSO BOOED
What did he win for? When documentary filmmaker Michael Moore didn't even get nominated for his excellent first film Roger and Me, he finally got his due in 2003 when he won the Best Documentary Feature Oscar for Bowling for Columbine, a searing, disturbing look at this country's love of guns.
Why his speech didn't go over so well...then: No one could have been that surprised Moore would go on a slight anti-George W. Bush rant. It was all the talk in 2003 when Bush won the presidency after a narrow race with Al Gore. "We live in fictitious times," Moore said, "With fictitious election results and a fictitious president." Ironic, right? At that time, his speech was met with some cheers but mostly jeers. Today? The whole place would have stood up to thundering applause. The guy was ahead of his time.
Article continues below advertisement
7. JOE PESCI KEPT IT TOO BRIEF
What did he win for? Regular Joe Pesci was certainly able to channel some of Martin Scorsese's best work, and none more so than in Scorsese's masterpiece Goodfellas. Pesci actor won the Best Supporting Actor Oscar in 1990 for his turn as the trigger-happy mobster, Tommy. By the way, Pesci's win was the only Oscar Goodfellas took home that night. Can you believe that?
Why his speech fell, er, short: When the Academy Awards first handed out their Oscars, more than a few actors and actresses didn't say much when they accepted their awards. When the ceremony started being televised, however, it became kind of obligatory to give a speech thanking everyone who worked on the film, family, etc. etc. It's a nice thing to do and honors those who helped the actor along with way. Joe Pesci wasn't feeling it and uttered just five words.
Article continues below advertisement
8. MATTHEW MCCONAUGHEY'S HERO WAS...HIMSELF?
What did he win for? The cool Matthew McConaughey turned in some of his best work in Dallas Buyers Club, playing a real-life hustler-turned-AIDS activist upon contracting the disease. The actor was rewarded with the Best Actor Oscar in 2014.
Why his speech was a head-scratcher: One thing about award seasons that might be tough. If you're the favorite and have been winning all the awards, by the time you get to the Oscars, you might run out of fresh ways to say thank you. Not McConaughey. In his narcissistic acceptance speech, the Texan drawled on more than he had previously and talked about how his hero at 15 was himself at 25. Huh? Definite Oscars speech fail.
Article continues below advertisement
9. MELISSA LEO'S WEIRD RAMBLE
What did she win for? Character actress Melissa Leo finally had her moment to shine when she won Best Supporting Actress in 2011 for her performance as a tough-as-nails, opportunistic mom in The Fighter.
Why her speech made no sense: Leo had one of the worst Oscar speeches ever. Let's just start off with her very strange interaction with presenter Kirk Douglas, who was flirting with her, but Leo took one weird step too far. Then she actually dropped an F-bomb (which we're thinking many winners might want to do) but continued talking and talking and talking. The icing on the cake was yet another "run-in" with Douglas as she walked off stage, taking his cane and acting like an old lady. Just so awkward!
Article continues below advertisement
10. GEORGE CLOONEY'S ODDLY CHARMING SMUGNESS
What did he win for? George Clooney has had his fair share of Oscar nods, but his win for Best Supporting Actor in 2006 for his portrayal of a compromised CIA agent in Syriana was much deserved. He was also nominated that same year for Best Director for Good Night, and Good Luck, along with the film's nod for Best Picture.
Why his speech struck an odd chord: Clooney is known for his self-depreciation. In his opening moment of the acceptance speech, he mused, "Well, I guess I'm not winning for Best Director..." His good-humorousness shined through until it started to go the other way when he talked about how Hollywood has solved many of the world's problems—or at least tackled them head-on. Okay, Clooney, we get it. Movies are awesome, you won, get off the stage.
Article continues below advertisement
11. CUBA GOODING JR.'S HYPERACTIVITY
What did he win for? Everyone loved Cuba Gooding Jr.'s over-the-top NFL player in Jerry Maguire, so it made sense for him to win the Best Supporting Actor Oscar in 1997 for the role.
Why his speech was annoying: Clearly, Gooding didn't have to stretch all that much to play Rod Tidwell in the film, judging from his over-exuberance, overly emotional acceptance speech. He gushed about all the love he felt for everyone on the planet until the loud music begged him to get off the freaking stage. He ignored it...sigh.
Article continues below advertisement
12. JAMES CAMERON BEING SO HUMBLE INSERT SARCASTIC SMIRK HERE
What did he win for? Well, unless you have lived with your life with your head in the sand, you know the answer to this. James Cameron's 1997 Titanic, an epic romantic drama set against the sinking of the famous luxury liner after it struck an iceberg in 1912, just about swept up the Oscars in 1998, including winning Best Picture and Best Director for Cameron.
Why his speech was just too much: Cameron's acceptance speech actually started off pretty par for the course, with all the thank-yous and whatnot. But how it ended just made everyone sort of shrink in their seats, as he yelled he was "KING OF THE WORLD!!" hooping and hollering as he held up the Oscar. Yes, he was paying homage to Leonardo DiCaprio's line in Titanic, but even in the film, it was cringe-worthy. Not a good idea to repeat it.
We pay for juicy info! Do you have a story for RadarOnline.com? Email us at tips@radaronline.com, or call us at (866) ON-RADAR (667-2327) any time, day or night.