Michelle Carter Sobs As Judge Says 'Her Conduct Caused The Death Of Conrad Roy'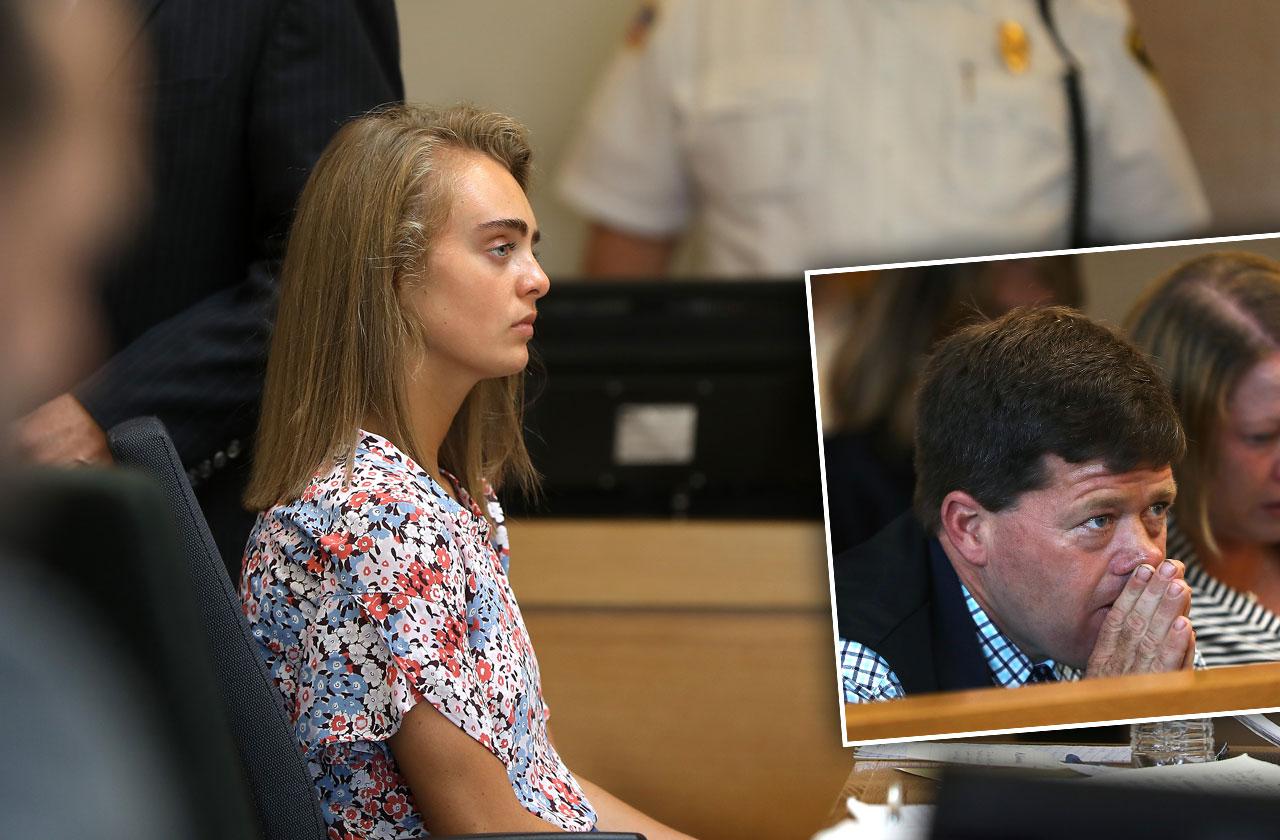 Michelle Carter has been found guilty for the death of her boyfriend, Conrad Roy III, who killed himself after receiving thousands of text messages from her encouraging him to commit suicide.
Judge Lawrence Moniz read the verdict in the Massachusetts court on Friday, June 16, 2017, as Carter broke down alongside her attorneys.
"The court finds that instructing Mr. Roy to get back into the truck, which constitutes wanton and reckless conduct by Miss Cartersic," he said as Carter sobbed in the courtroom.
Article continues below advertisement
Carter notoriously texted Roy to "get back in" when he was attempting to gas himself in his truck and had second thoughts. He ultimately died inside the vehicle.
"When Miss Carter realized Roy exited the truck she instructed him to reenter the truck," the judge noted.
"She is mindful that the process of killing himself in the truck will take approximately 15 minutes," he said.
"She instructed Mr. Roy to get back into the truck, well knowing all of the feelings he has exchanged about suicide."
Carter will be sentenced at a later date as a juvenile, but will be allowed to remain free on bail. In the meantime, she is prohibited from contact the Roy family.
"She did not issue a simple additional instruction to get out of the truck," the judge said.
"The court now finds you guilty on the indictment charging."
He told the court that prosecutors had "proven their case. Her actions and her failure to act ... constituted each and all wanton and reckless conduct. Her conduct caused the death of Mr. Roy."
Article continues below advertisement
The trial exposed the full extent of the chilling messages exchanged between the troubled pair.
Pushing him to commit the horrible act, Carter wrote at one point in texts entered into evidence, "You're gonna have to prove me wrong because I just don't think you really want to commit suicide. You just keeps pushing it off to another night and say you'll do it but you never do."
Another text message she sent to her boyfriend before his death read, "You are ready and prepared, all you need to do is turn on the generator inside his truck to gas himself and you will be free and happy."
Carter also wrote to Roy, "I thought you wanted to do this. The time is right and you're ready, you just need to do it! You can't keep living this way. You just need to do it like you did last time and not think about it and just do it babe. You can't keep doing this every day."
The sentencing recommendation will be issued in July.
Stay with RadarOnline.com for updates to the story.
We pay for juicy info! Do you have a story for RadarOnline.com? Email us at tips@radaronline.com, or call us at (866) ON-RADAR (667-2327) any time, day or night.