Aid Worker Claims He 'Signed Papers' That He Was Dad Of Angelina's Boy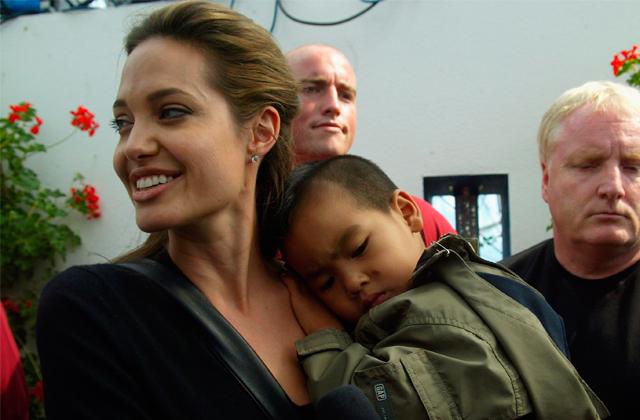 Angelina Jolie is embroiled in a battle over "fake" documentation in the adoption of one of her children according to The Sun on Sunday.
A local aid charity worker in Cambodia claims he signed official papers in that country saying he was the father of her eldest son Maddox.
According to Mounh Sarath, 51, he also still officially has power of attorney over the boy, now 15.
Sarath boldly said of Jolie, 41, "I would be happy if Cambodia didn't see her again."
Article continues below advertisement
In an interview with The Sun on Sunday, he showed an alleged adoption document filed with a court in Cambodia in August 2003.
The legal paper states the court considered him the father, and Sarath asserted, "Maddox is still my son. She never cleared this up."
Angelina adopted Maddox when she was married to Billy Bob Thornton.
According to Sarath, who met Angelina through charity work, Jolie "had to change his name, so the only way was for me to do it. I said he's my son."
The Sun said that "there is no suggestion that Angelina or Thornton were aware of Mr Sarath's actions."
The Tomb Raider star split from Brad Pitt, with whom she raises five other kids in addition to Maddox.
Jolie is treated like royalty in Cambodia, where she adopted Maddox in 2003. During her recent trip to Cambodia with all six children, Jolie took them to a meet and greet with the country's king!
However, the new report raised questions about Maddox's adoption. His adoption agent Lauryn Galindo, was later sentenced to 18 months after falsifying names, birth dates and places of birth of Cambodian children she helped to place with US parents, The Sun reported.