Adoption Nightmare! Inside Angelina & Brad's Fight To Avoid Losing Sons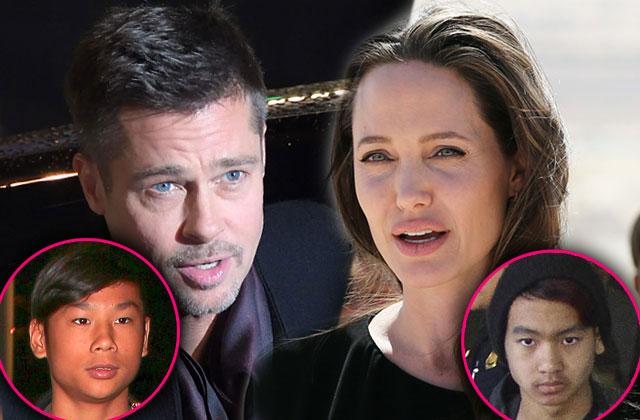 In a horrific twist to their already ugly custody battle, Angelina Jolie and Brad Pitt could see both their adopted sons, Pax and Maddox, torn away from them!
RadarOnline.com has learned Pax's birth mom will soon be released from prison, and wants to be reunited with her son — and the parents of "orphan" Maddox may still be alive!
"I'm sure both Brad and Angie are freaking out over this. It's been a fear from day one that the biological parents of their adopted kids would resurface," said an insider.
Article continues below advertisement
The Mr. & Mrs. Smith co-stars are already battling over custody of their six children, so the shocker they could both lose Pax, 13, and Maddox, 15, couldn't come at a worse time.
Pax was just 3 when Jolie adopted him from an orphanage in Vietnam in 2007. But now a volunteer there has claimed Pax's biological mom, Pham Thu Dung, is due to be sprung from jail, and wants him back!
"Most of the normal children are kids of prisoners," said Nguyen Kim Xuyen, adding freed parents rarely fail to reclaim their offspring. "There are some cases where economic conditions mean they are not able to raise the child when they're released, so they leave them here, but it's very seldom."
What's more, Jolie, 41, and 52-year-old Pitt also face the prospect that Maddox's birth Jolie has always believed her son's Cambodian parents are dead, but Radar can reveal that may not be true!
Maddox's adoption was brokered by a crooked agent who was later jailed in the U.S. for visa fraud and money laundering involving more than 800 adoptions.
Shockingly, the culprit, Lauryn Galindo, arranged for many families to adopt "orphans" whose parents were still alive.
Article continues below advertisement
Children's rights groups investigating Galindo said they believed Maddox's destitute mother sold her son for $100.
"I'm sure this child was not a real orphan and was not abandoned," said Dr. Kek Galabru of the human rights agency Licadho.
When contacted by Radar, Galindo refused to comment.
Meanwhile, the FBI has closed its investigation into the child abuse allegations Pitt was facing. He won't face any charges stemming from an incident on a plane in which he was alleged to have lost his temper in front of his kids.
"In response to allegations made following a flight within the special aircraft jurisdiction of the United States which landed in Los Angeles carrying Mr. Brad Pitt and his children, the FBI has conducted a review of the circumstances and will not pursue further investigation," said FBI spokeswoman Laura Eimiller.
Despite that, "the situation with Pax, and the increased fear over Maddox, is terrifying to Brad and Angie," the insider confided.
Article continues below advertisement
"All they know about Pax is that he came to the orphanage at 2 days old after his mother, Pham, ran away from the hospital. With Maddox, they had to rely on Galindo's word.
""If Pham makes a bid to win Pax back — and everyone expects she will — it could lead Maddox's parents to come forward. Taking a child from a parent with no apparent say in the matter won't look good for Jolie's UN status. "No doubt Angie'll be praying this can all be fixed with a blank check, but the trauma of possibly losing any of their children is both Angie and Brad's worst nightmare come true."
We pay for juicy info! Do you have a story for RadarOnline.com? Email us at tips@radaronline.com, or call us at 800-344-9598 any time, day or night.