Exclusive
'Overdose!' Obama Crony Janet Napolitano Hospitalized After Drug Blackout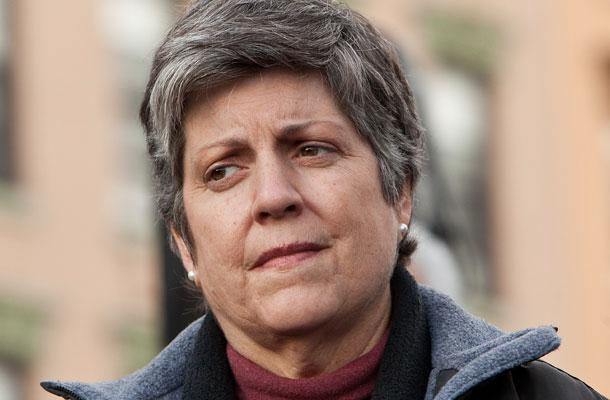 Former Homeland Security Secretary Janet Napolitano was hospitalized after a near-fatal "accidental overdose" of cancer medication, RadarOnline.com has exclusively learned.
The University of California previously announced that 59-year-old, who has been serving as President, was hospitalized Jan. 18. Citing her privacy, the UC refused to reveal any details about the terrifying event, which occurred at the school's President's House in Alameda, CA., and called it a "complication" of her cancer battle.
Article continues below advertisement
But a RadarOnline.com investigation can reveal that Napolitano was unconscious for hours before a staffer discovered her body — and that an accidental overdose of her cancer medications was the culprit.
"People didn't realize what had happened until she didn't wake up," an insider told RadarOnline.com. "She normally sleeps four or five hours a night because she is always working, but this time it was like 13 hours and no one had heard from her."
"When a friend couldn't wake her, the paramedics came. The doctors were worried about brain damage but they now are hoping she will be discharged."
"Her friends say it's more than a complication," the insider claimed. "She is being prescribed a high dose medication — they believe for pain — and she accidentally overdosed, possibly by taking it with a sip of wine."
Indeed, the sherriff's office attorney for Oakland, California, told RadarOnline.com that it was cancer drugs and NOT Napolitano's illness itself that led to her hospitalization.
Article continues below advertisement
Dr. Stuart Fischer, a renowned New York internist, told RadarOnline.com that overdosing is common for cancer patients taking the powerful medications because they are "notoriously unpredictable."
"One of the problems with cancer medicines is that they are always a two-edged sword," he said. "Mainly, they help by fighting the diseased cells but unfortunately the medicine disperses throughout the entire body and affects the normal cells."
"It is very easy to overdose on the medication. It is the worst type because it can have immediate and disastrous repercussion."
The controversial University of California president — who faced harsh criticism from students for earning a whooping $570,000 a year — has been suffering complications from the side-effects of cancer treatment drugs she's been undergoing for five months, a school spokesperson previously confirmed.
Article continues below advertisement
"UC President Janet Napolitano is currently undergoing treatment for cancer, which was diagnosed at the end of August of last year," according to University officials. The University has not revealed the type of cancer she is battling.
Once ranked by Forbes as the world's most powerful woman in 2012, Napolitano had her right breast removed in 2000 after being diagnosed with cancer. Four years later, she had surgery to remove her right ovary and an ovarian cyst, which was benign.
We pay for juicy info! Do you have a story for RadarOnline.com? Email us at tips@radaronline.com, or call us at 800-344-9598 any time, day or night.