Exclusive
Neo-Nazi Nerds Recruiting Students At Top Universities To Carry Out ISIS Attacks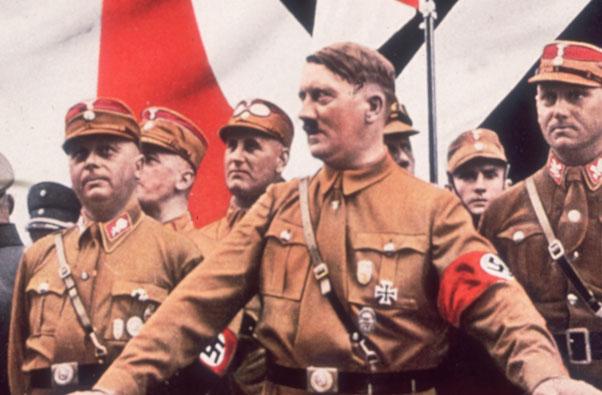 A group of neo-Nazi nerds have been recruiting new members at top tier American universities, a world exclusive five-month investigation by RadarOnline.com has revealed.
The hate-mongering eggheads, known as the Atomwaffen Division, are considered a potential threat because they're aligned with Islamic terrorists and are encouraging attacks on the United States.
The racist geeks have glorified the perpetrators of the deadly nightclub shooting in Orlando, Fla., that claimed 49 lives in June 2016, and the Oklahoma City truck bombing that killed 168 people in 1995.
Article continues below advertisement
"Atomwaffen Division has used the slogan 'Osama was Right,' and its leader has praised Orlando ISIS terrorist, Omar Mateen, as a 'hero,'" a source familiar with the group told RadarOnline.com.
The group's leader is reportedly a young nuclear physics student that's trying to encourage members to conduct an attack similar to Timothy McVeigh's strike in Oklahoma City.
"Timothy McVeigh is true hero and freedom fighter," a member posted on the group's social media, which sometimes uses McVeigh's image on its propaganda fliers.
The Anti-Defamation League (ADL) recently posted an "extremism and terrorism" advisory warning about groups like the Atomwaffen Division, which uses fliers to recruit brainiacs at some of the nation's most prestigious colleges.
"The fliers try to appeal to white college students by focusing on the alleged dangers facing white Americans," the advisory stated.
"Since the beginning of 2016, the alt-right adherents have been responsible for dozens of episodes of racist flier placement at universities and colleges across the country."
Article continues below advertisement
Other white supremacist groups aggressively recruiting college dorks are Identity Evropa, American Vanguard and The Right Stuff, according to the ADL.
The AMCHA Initiative, a non-profit organization that investigates anti-Semitism against Jewish college students, has identified more than 160 Nazi-related incidents over the past two years across the U.S.
Atomwaffen, which translates as "to go nuclear" in German, is also linked to the secretive and violent National Action group, a neo-Nazi white supremacist organization in Great Britain.
The British government recently branded National Action as a terrorist organization under the Terrorism Act 2000, making it illegal to be a member of the group or to support it.
Unlike National Action, Atomwaffen's social media glorifies Islamic terrorists — and lets its followers know Hitler would have "supported the Palestinians."
In another message on Twitter, the group stated, "Hezbollah and Hamas are doing God's work by attacking Israel."
We pay for juicy info! Do you have a story for RadarOnline.com? Email us at tips@radaronline.com, or call us at (866) ON-RADAR (667-2327) any time, day or night.