Bizarre Behavior! Did Lindsay Lohan Convert To Islam?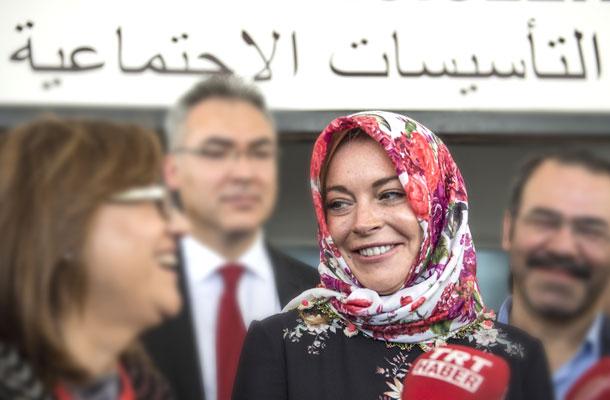 Lindsay Lohan is up to her old tricks and strange behavior again!
The 30-year-old actress took drastic measures on her Instagram this week, deleting every photo from her account and leaving an Arabic message of peace in her bio section.
"Alaikum salam," or, "peace be unto you," the message read, citing a greeting used both socially and in Islamic ceremony.
Soon after, Twitter erupted with fan theories.
Article continues below advertisement
"Is it true Lindsay Lohan may be converting to Islam? Alhamdulillah! :') welcome to Islam," Zarith Sofea tweeted of the former child star.
Though Lohan's rep didn't address her possible conversion to Islam, the starlet did tell Us Weekly in her most recent interview, "I am so excited for this new chapter in my life!"
Later, Lindsay's dad, Michael Lohan, weighed in on the situation, denying rumors that she converted in a lengthy Facebook rant.
"GIVE ME A BREAK...IS IT SO WRONG TO SPEAK IN THE NATIVE TONGUE OF THE COUNTRY YOU ARE IN? IF YOU'RE IN ISRAEL AND YOU SAY SHALOM DOES IT MEAN YOU CONVERTED TO JUDAISM? GOOD FOR YOU LINDS, "PEACE BE UNTO YOU" AS WELL........," he wrote in all caps. "'As-salam alaikum' sweetheart. I GUESS THEY'LL SAY I CONVERTED TOO!"
"My very close friends, who have been there for me a lot, in London are Saudi and they gave me the Quran and I brought it to New York because I was learning," Lohan once said in an interview. "It opened doors for me to experience spiritually, to find another true meaning. This is who I am."
We pay for juicy info! Do you have a story for RadarOnline.com? Email us at tips@radaronline.com, or call us at (866) ON-RADAR (667-2327) any time, day or night.