Deathbed Bombshell! Elvis' Closest Pal REVEALS King Of Pop Was Covert Narcotics Agent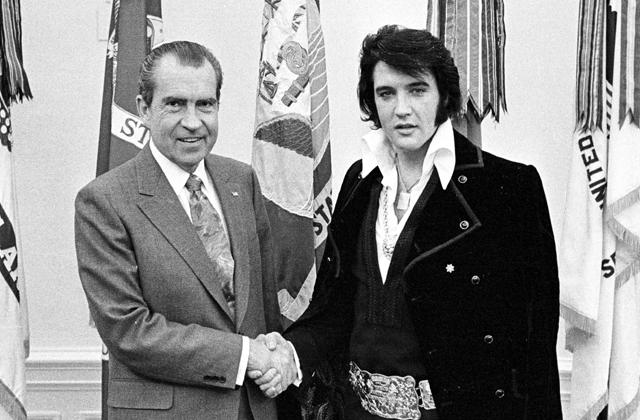 Elvis Presley died a secret hero!
The King of Rock 'n' Roll tragically became a doomed pill-popping junkie while trying to penetrate the narcotics underworld as a covert federal agent working for President Richard Nixon.
That's the myth-busting, deathbed bombshell dropped by Elvis' closest pal and road manager Joe Esposito!
In an exclusive interview just before his death at age 78, Joe told RadarOnline.com Elvis was an undercover federal drug enforcement agent, but tragically became hooked on prescription meds while secretly passing information about narcotics peddlers and dirty pharmacists to the FBI.
Article continues below advertisement
"Everybody thinks Elvis was just a spoiled, zonked-out rocker, but that's what he and Nixon wanted people to believe," Esposito told RadarOnline.com.
"In reality, Elvis was trying to infiltrate the illegal drug business. What better way to meet the men behind the drug trade than to act like a hard-partying rocker.
"Sadly, he got hooked and the drugs ended up killing him. But to the few people who knew the real story, Elvis was a hero who risked his life to stamp out drugs that were killing thousands of young people."
Says an FBI source, "Joe Esposito's dying revelations shatter the myth Elvis was just a junkie — and reveal the REAL story that's been hidden in our files for more than 40 years!
"The singer was a true American hero. He was secretly working for Nixon and passing on information about the illegal drug trade to our agents, who used it to make a ton of busts."
Elvis' Dec. 21, 1970, White House meeting with Nixon was one of the most highly publicized events of the time.
Article continues below advertisement
"The public just thought the president wanted a social get-together with the most popular singer in the world, but there was a serious secret side to the meeting," says the FBI source.
Elvis got the invite by writing a note to Nixon expressing his concern about "the drug culture" that had taken over America's youth and the hippie, anti–Vietnam War movement.
The rocker blasted pop groups like the Beatles for urging American kids to use psychedelic drugs and fight against the war.
"According to a transcript of the meeting, Presley indicated he thought the Beatles were trying to destroy the U.S. government's credibility around the world," the G-man says. "The president nodded in agreement, then indicated those who use drugs are in the vanguard of anti-American protests."
Nixon gave Elvis a Bureau of Narcotics badge, making him an agent.
"While publicly telling the world the badge was 'honorary,' the president sent Elvis on a secret mission to infiltrate the drug world and collect evidence for the FBI," says the source.
Article continues below advertisement
"Sadly, Elvis did his job too well. He ended up addicted to pills he was taking to convince people he was just another pleasure-seeking musician."
Elvis, who would have turned 82 on Jan. 8, was supplied thousands of pills by his physician Dr. George Nichopoulos in the months before his death at age 42 on Aug. 16, 1977.
An autopsy revealed the Love Me Tender singer had 14 drugs in his system when he died — and his organs were damaged by his pill use.
Esposito, who was The King's best man at his marriage to Priscilla, was one of the first to find Elvis lying facedown on the carpet with his pants around his ankles in his Graceland bathroom and tried in vain to revive him.
When hospital doctors were unable to save Elvis, Esposito admitted he hurried back to Graceland and hid the pill bottles to save his friend's reputation.
"I went up there and got them all out of the bathroom, put them in a box. I had to get them out of there," he said. "He took a lot of different medicines. He took more than he should be taking. That's what happened."
Says the FBI source, "It's doubly tragic that Elvis ended up taking the drugs in an attempt to destroy the drug trade.
"Elvis died a hero and all his millions of fans never knew it. It was a tale that just couldn't be told — until now."
We pay for juicy info! Do you have a story for RadarOnline.com? Email us at tips@radaronline.com, or call us at (866) ON-RADAR (667-2327) any time, day or night.