Exclusive
Shocking Court Papers: Broke & Dying Cher Accused Of $5 Million Swindle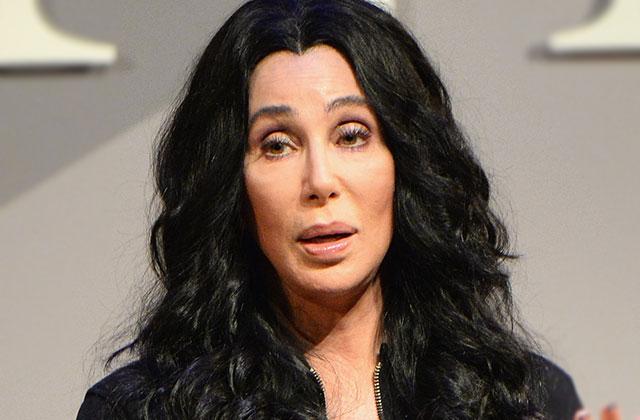 Superstar Cher has been slapped with a devastating new multimillion dollar lawsuit that could push the dying diva into bankruptcy — and her grave!
"Cher is on her last legs. This could be the final straw for her," an insider dished to RadarOnline.com.
Already stricken by a debilitating virus that forced her to abandon her 2014 Dressed To Kill tour, and financially strapped by bad investments, the 70-year-old icon has been hit with a $5 million lawsuit by an artist who's accused her of profiting off his work!
Article continues below advertisement
The artist, graphic designer Moshik Nadav, claims the "Turn Back Time" singer and Warner Bros. Records stole the innovative typeface, called "Paris," that he created and trademarked in 2011, and used for such high-profile clients as Vogue and Estee Lauder.
"This unique work won international accolades from both critics and peers and many customers associate the 'Paris' typeface to be a cornerstone of Nadav's business, branding and advertising," according to the court filing.
But Cher's smash 2013 album, Closer to the Truth, which sold more than 500,000 copies worldwide, features two logos with a typeface that looks nearly IDENTICAL to Nadav's trademarked type!
The logos have been used to promote the album and tour, and Nadav says Cher has made millions off HIS designs.
The furious artist fired off a cease and desist order to the pop singer, but Cher's refused to comply with his demands!
Article continues below advertisement
The suit couldn't come at a worst time for the "I Got You Babe" singer who is ALREADY in dire economic straits.
"Cher's lost her vast fortune, which at one time had been pegged at a whopping $305 million," a source told RadarOnline.com last summer.
"She's lost millions on bad investments, and she's fighting back furiously. But it may be too little, too late!" said another insider.
"Her medical bills have mounted over the years, and I've heard her financial situation has gotten so bad she may not have enough to cover her own funeral! It's really sad."
Even more troubling, numerous loans to family and friends have gone unpaid, and lavish living expenses, plus the astronomical cost of experimental medical treatments have drained her finances, according to insiders close to the singer.
Cher's also suffered emotional agony over her transgender son Chaz's weight woes, and her rocky relationship with son, Elijah Blue Allman.
To add insult to injury, last spring the Oscar-winning Moonstruck star believed she was duped into blowing her life savings on bad investments!
Article continues below advertisement
On June 8, Cher slapped Sail Venture Partners with a lawsuit, accusing the firm of defrauding her out of $800,000 after she invested more than $1 million in what she called "risky and unsound" investments.
"Cher's scrambling to replenish her bank account!" tattled a source.
"Despite her fragile physical state, she's going back on the road during the spring and summer in a last-ditch attempt to beef up her bottom line!"
The Emmy, Grammy and Golden Globe winner is bringing her latest show, Classic Cher, to the new Theater at MGM National Harbor in Maryland for two six-date residencies this spring and summer.
Her 2017 schedule also includes residencies at the Monte Carlo in Las Vegas.
"This is NOT what Cher expected to be doing in her golden years. But she may have no choice!" said the source. "And given her already fragile physical condition — it may kill her!"
We pay for juicy info! Do you have a story for RadarOnline.com? Email us at tips@radaronline.com, or call us at (866) ON-RADAR (667-2327) any time, day or night.