Inside Priscilla Presley's 'Potentially Fatal' Plastic Surgery Hell!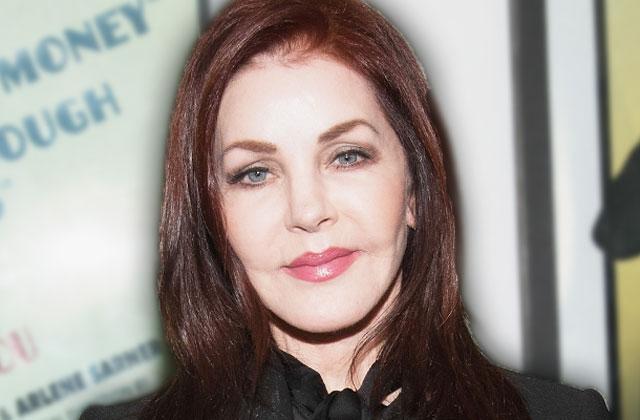 Toxic injections from a medical quack may be killing Priscilla Presley — and friends fear Elvis' ex-wife has just six months to live!
"Priscilla may well have put her life on the line by overdoing it with all the plastic surgery," said a friend. "She wanted to look younger and instead the fix has doomed her."
"It's tragic, but she may not have much longer to live — six months at the most," added the concerned pal.
Article continues below advertisement
Ravaged by toxic plastic surgery, Presley, 71, once considered one of the most beautiful women on the planet, looks positively skeletal these days — with sunken cheeks, grotesque puckered lips and scarring on the sides of her mouth.
Sources fear the Naked Gun actress and mom of Elvis' daughter, Lisa Marie, 48, is wasting away from the
cosmetic procedures by a quack who pumped a banned substance into her face.
Presley reportedly took injections of a "miracle anti-wrinkle serum" that turned out to be a car parts
lubricant banned by the Food and Drug Administration.
The unlicensed "doctor" who disfigured her gorgeous face, Daniel Serrano, was tabbed "Dr. Jiffy Lube" and booted back to his native Argentina.
"I've seen patients who've been nearly killed by these kinds of injections," said noted New York internist Dr. Stuart Fischer, adding treatments from a non-licensed practitioner can result in deadly infections.
Article continues below advertisement
"You can become septic and die! They don't have the proper
sterilization and techniques," warned the expert, who has not treated Presley.
"And facial injections are the most dangerous. You have to be a skilled dermatologist to give injections like that. It is potentially fatal."
Presley claims she's fully recovered, but plastic surgeon Dr. Richard Fleming said the actress may have been
"permanently damaged" by the filler.
"You can never remove it all," said Dr. Fleming, who has not treated Priscilla.
Another top plastic
surgeon, Michigan-based Dr. Tony Youn, believes Presley most likely suffered scarring, inflammation, infection and skin bumps as a result of Dr. Jiffy Lube's deception.
"These would cause her face to move abnormally and look stiff and unnatural," said Dr. Youn, who has not treated Priscilla.
"Also, too much Botox can cause the muscles of the face to move too little and, in the worst case, make the person look like he or she had a stroke!"
Tragically, Presley believed the injections were safe, said her pal, adding: "She didn't realize it but she was playing Russian roulette with her life!"
We pay for juicy info! Do you have a story for RadarOnline.com? Email us at tips@radaronline.com, or call us at (866) ON-RADAR (667-2327) any time, day or night.