Exclusive
What Would Elvis Think?! Priscilla Presley's Dramatic Transformation Due To 'Chin Implant, Fillers & Botox EVERYWHERE,' Declares Doc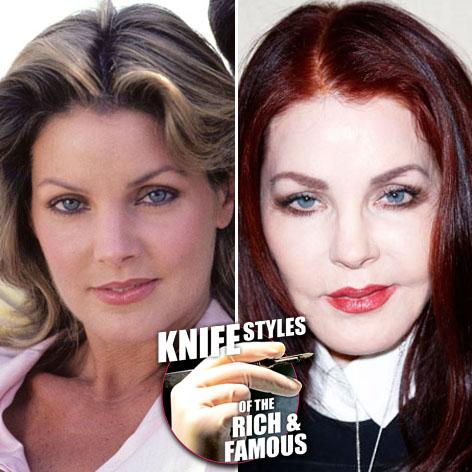 Article continues below advertisement
"She looks like she's had a chin implant," Dr. Pescatore, author of The Hampton's Diet and whom has not treated Presley, explained in an exclusive interview with RadarOnline.com.
"Priscilla looks like she's had fillers around the nose and filler in the upper lip."
It doesn't end there, either: The mother-of-two has had "Botox everywhere," Dr. Pescatore added, suggesting the Naked Gun star also submitted to a "skin procedure, like Fraxel."
Fraxel is "the original fractional laser treatment that works below the skin's surface from the top down, addressing imperfections like fine lines, visible photo aging, wrinkles, scarring and age spots," according to the product's official website.
Hollywood Plastic Surgeons Tell All: 42 Stars Who've Had Lipo, Face Lifts & Tummy Tucks
"It's a laser procedure to the face that eliminates one layer of skin at a time," Dr. Pescatore explained.
"Consider it a super super peel. It takes a few weeks but the skin looks amazing. It appears as if she's had it because her skin looks really good. Honestly, she could have had better work."
What do you think about Priscilla Presley's look? Sound off in comments!