Exclusive
Simone Biles Confesses Dark Secrets Of Her Childhood Hell: 'We Were Being Neglected'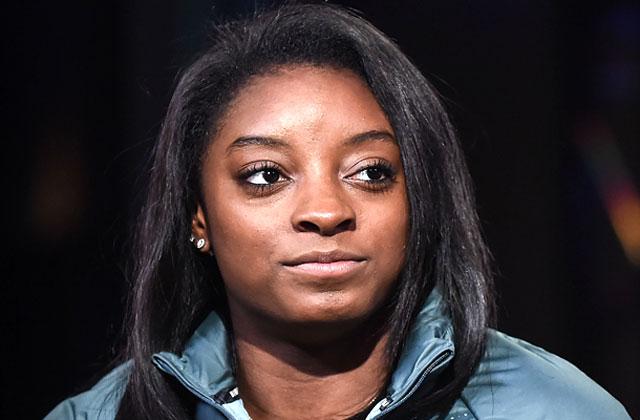 Just months after winning gold in Rio, Simone Biles revealed that her path to the Olympics wasn't as flawless as her routines.
Simone detailed her rough childhood in her memoir, Courage to Soar, and finally exposed the truth behind her biological mom Shanon Biles' substance abuse problems. The 19-year-old explained that her grandparents are truly the only parents she's ever known, as Shanon never truly took care of her.
Article continues below advertisement
"Life ended up being a little rocky for Shanon, because as she grew older, she got caught up in drinking and drugs," the gymnast wrote. "When I came along on March 14, 1997, my older sister, Ashley, had just turned seven and my brother, Tevin, was almost three. Two years later, on January 27, 1999, my little sister Adria was born. By then, our life with Shanon had started to become difficult."
"I don't recall much about living with Shanon, but for some weird reason I do remember playing with a cat," she explained. "I don't think it was our cat….anyway, this cat was always being fed — and at the time, we were hungry a lot, so I was always kind of mad at this cat."
Article continues below advertisement
Simone explained that her neighbors called social services on her mom "and said we were being neglected because they saw the four of us were often alone, little kids playing out in the street with no supervision." The siblings were placed in foster care until their grandparents were notified of their situation, and Ron Biles immediately flew to Ohio to bring them to Texas where he was living with his second wife, Nellie. Nellie was initially opposed to taking them in, as her two children Ron II and Adam were 16 and 14, respectively.
"My grandparents were almost done raising their boys, and now here we were, four young children who needed the kind of attention and care that Grandma Nellie thought she was about to retire from," Simone wrote, noting that her grandmother didn't want to put her plans to travel on hold.
But, the Biles children lived with their grandparents for a few months until Shanon decided to come see them. Ashley and Tevin wanted to go back to Columbus with their mom, so Ron and Nellie reluctantly agreed to fly all the siblings back to Ohio to be together. CPS put them back in foster care while they oversaw their transition back to Shanon.
Article continues below advertisement
The children never moved back in with Shanon, as her parental rights were terminated after a year of failed drug tests. The older siblings wanted to stay in Ohio, so the siblings separated. Their grandpa's sister adopted Ashley and Tevin, and Nellie and Ron formally adopted Simone and Adria.
Simone's adoption became finalized on November 7, 2003, and her relationship with her mom remains strained.
"Shanon still calls Adria and me on birthdays and holidays, but we don't have much contact beyond that," Simone confessed in her book. "Some days, I feel a little bit sad for her. It's not that I ever wanted to go back to live in Ohio, but I do wish she'd been able to make better decisions when she was younger. I'm glad that she's now working so hard to stay clean."
We pay for juicy info! Do you have a story for RadarOnline.com? Email us at tips@radaronline.com, or call us at (866) ON-RADAR (667-2327) any time, day or night.