Exclusive
Triumph Over Tragedy — Team USA Gymnast Simone Biles' Childhood Hell Uncovered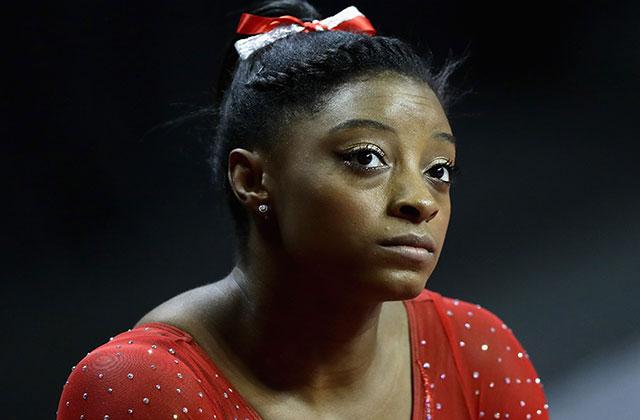 Olympic gold medal hopeful Simone Biles, widely considered the world's greatest gymnast, has said she owes her success in no small part to her loving, supportive parents, Ron and Nellie Biles.
But the U.S. Women's Gymnastics Team standout wasn't born into the stable environment that helped propel her to Olympic glory . The 19-year-old's biological mother, Shanon Biles, reportedly struggled with drugs and alcohol, and subsequently signed away parental rights to Simone and her little sister, Adria, in 2000. Maternal grandparents Ron and Nellie promptly adopted the young sisters, then just 3 years and a newborn, and have cared for them ever since.
Article continues below advertisement
Sadly, Simone's life as a little girl was more chaotic than any fans could have thought possible.
Shanon, now 44, has been arrested at least 20 times over the past 20 years for crimes including assault, theft, disorderly conduct, driving under the influence and drug paraphernalia possession, RadarOnline.com can exclusively report.
According to Ohio's Franklin County Municipal Court records, Shanon was first arrested for disorderly conduct and falsification in 1993. She was sentenced to 30 days in jail, but it was just the beginning of her long, painful criminal career.
While Shanon was pregnant with Simone, who was born in March 1997, she was arrested several times.
On August 17, 1996, she was arrested for petty theft (the case was ultimately dismissed), and on December 12 of that year, she was arrested for theft again (she was sentenced to 180 days in jail.)
Just nine days later, she was arrested for theft a third time, along with criminal trespassing, and was sentenced to 180 days in jail on the theft charge.
Article continues below advertisement
Shanon was last arrested for DUI in 2013, the year her daughter became a world champion gymnast. (She was ordered to serve just nine days in jail this time.)
Despite her mother's serious troubles, Simone has said she occasionally speaks with Shanon.