Exclusive
'Rehab Addict' Custody War Explodes: Nicole's Baby Daddy Demands Psych Evaluation!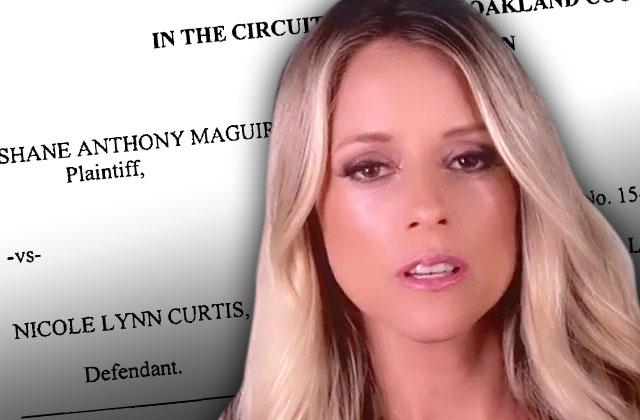 Nicole Curtis' mental health is being called into question, RadarOnline.com has learned.
Shane Maguire requested for the judge in his bitter custody battle with the Rehab Addict star to order her to "submit to a complete psychological evaluation at her sole expense, with copies of the written report provided to the Friend of the Court family counselor and to Plaintiff's counsel," according to bombshell court documents obtained by RadarOnline.com.
Article continues below advertisement
The explosive motion came after Curtis, 40, allegedly violated a court order for the fifth time over the Halloween weekend. Maguire, 54, reported in his filing that he made a verbal deal with her to modify their time with Harper, 1, but she went against it to benefit herself again.
"Plaintiff sent a confirmation email regarding the agreement; however, Plaintiff inadvertently stated a return date of Saturday, instead of Sunday," the papers explained. "Despite knowing full well that it was agreed for Plaintiff to have Harper from Tuesday through Sunday to accommodate Defendant's requests for Halloween and Florida travel, Defendant adopted the position that because it was in writing for a return date of 'Saturday,' it was therefore an enforceable contract."
He immediately followed up to correct his error, but it was too late for Curtis. He detailed that he attempted to accommodate her request, and even submitted a heartbreaking email conversation between them reading: "Please Nikki, you asked that we discuss things like adult parents. I am simply attempting to do just that, so there is less room for the misunderstanding."
"At that point, Plaintiff simply stated that because they could not agree, they should follow the existing court order," the papers continued. "Defendant did not follow this Court's order. Defendant did not take Harper to see his father and Plaintiff was not able to exercise his parenting time....although Defendant did not take Harper to Minnesota in accordance with this Court's order, Defendant did travel from Michigan to New York, to Cincinatti, to Florida, and then to California — all in one week during this time."
Article continues below advertisement
Maguire claimed that her nanny could have transported their son, as she had done so in the past.
As a result, he also asked for the court to revoke its provision allowing Curtis to live in California with Harper. He claimed it would "only serve to increase the dysfunction and interference created by Mother."
Maguire also wanted the court to prohibit Curtis from attending a family reunion with him and Harper in New Zealand.
"Defendant insisted on being permitted to travel to New Zealand for purpose of transportation only of Harper," the documents read. "The intent of this provision was that upon landing, Harper would be with Father, and that Mother would not travel on the mainland with Father and son.There is no purpose or benefit in Defendant Mother traveling for transportation only to New Zealand in January 2017."
"Based on Defendant's past behavior, since the entry of the last order, it is predictable that Defendant Mother will be disruptive and create havoc for Father and son while in New Zealand," they continued.
Article continues below advertisement
Finally, Maguire asked the court to "order that either party may use their best judgment in sharing photographs of Harper" after Curtis published photos of him in a book and magazine.
He claims the photos violate an order that she insisted on, and that prohibits him from sharing photos of Harper with his mother in New Zealand on Facebook.
A hearing will be held next week in the matter.
Story developing.
We pay for juicy info! Do you have a story for RadarOnline.com? Email us at tips@radaronline.com, or call us at (866) ON-RADAR (667-2327) any time, day or night.