Exclusive
Nicole Curtis Faces Off Against Estranged Baby Daddy In Bitter Custody Battle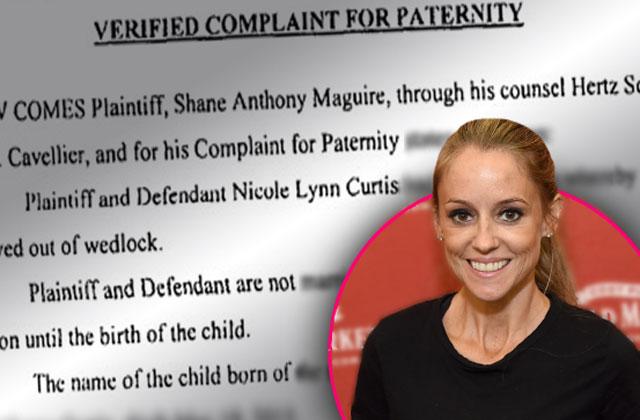 Nicole Curtis fixes homes for a living, but she can't fix her family, RadarOnline.com has learned.
Curtis, 40, is currently battling her ex-boyfriend Shane Maguire for custody of their 1-year-old son Harper after a bitter breakup. She detailed their relationship's demise in her memoir, Better Than New, but now RadarOnline.com can reveal exclusive details of their war.
Maguire, 54, filed a complaint for paternity shortly after Harper was born in 2015 and a paternity test revealed he was the father. The HGTV star had sole custody of the time, and filed for interim child support, child care costs and birthing expenses in retaliation.
Article continues below advertisement
She alleged that the wealthy businessman brought in $20,000 per week, rather than the $3,744 he reported to the court. The court ruled that he would pay appropriate support, and later added that he would have to reimburse her for his half of her birthing expenses not covered by insurance.
He was granted parenting time — on weekends only — starting the day after Christmas in 2015 as well.
Then, the Rehab Addict star filed to keep their case sealed due to her celebrity status and having an alleged stalker. She also claimed that he was a bad parent who took Harper outside in 29 degree weather in just a blanket — and alleged that he was driven without a car seat.
Maguire retaliated that that her "followers on social media" are not stalkers, and the case should remain open. He submitted press clippings as proof that Curtis was only seeking publicity for her show in the case, and that their baby wasn't at risk.
"Defendant is seeking to have the case file sealed based upon her celebrity status and social media following," he claimed in court documents obtained by RadarOnline.com. "However, during her pregnancy, Defendant herself actively generated public interest in her pregnancy."
Article continues below advertisement
"Defendant has provided no evidence that the safety and welfare of the minor is at risk, other than the fact that Defendant has a social media following," he claimed.
Curtis followed up with asking the court to let her move to California with Harper, and the court responded that she would need to continue to co-parent while on the west coast. A judge granted joint custody of their son shortly before his first birthday.
Part of the ruling was that each party was responsible for half of Harper's traveling expenses between Minnesota and California, and that Maguire would have weekend overnights. They would also divide time with Harper on holidays — and were ordered to refrain from posting pictures of him as well.
The court also stated that Curtis would accompany Maguire on a trip to New Zealand in January 2017 with Harper.
Article continues below advertisement
However, Maguire filed paperwork shortly after their agreement, alleging that she was interfering with their custody arrangement. He claimed he wasn't allowed to see Harper one weekend because he needed to be breastfed, but she later testified that Harper couldn't travel because of an ear infection — and that her grandma was dying.
She testified that she gave him make-up opportunities, but he refused. She also claimed he didn't want to spend time with Harper on Father's Day, as he already made plans with his older son.
"Mr. Maguire — is very belligerent — um — he's very threatening, since this has transpired — we've been together about four years — everything is always, 'wait until I get you in front of the judge, wait 'til we see what goes on and that's how it occurred on June 11th," she told the judge. "It's all about making a scene. It's all about embarrassing me, humiliating me."
She also testified that they had been intimate again after a visit to Florida with Harper — and local outlets reported that her mother asked the judge for an order of protection. The order was not granted, and the case is still ongoing.
"Parenting in the public eye is very difficult," Curtis told PEOPLE.
"I had no idea this stuff went on in family courts," she said of her legal battle. "Our courts are seeing children as possessions. It's ridiculous."
Maguire's lawyer declined to comment to RadarOnline.com on the case.
Story developing.
We pay for juicy info! Do you have a story for RadarOnline.com? Email us at tips@radaronline.com, or call us at (866) ON-RADAR (667-2327) any time, day or night.