Jake Steinfeld Delivers 12 'Don't Quit!' Fitness Centers To Schools In 4 States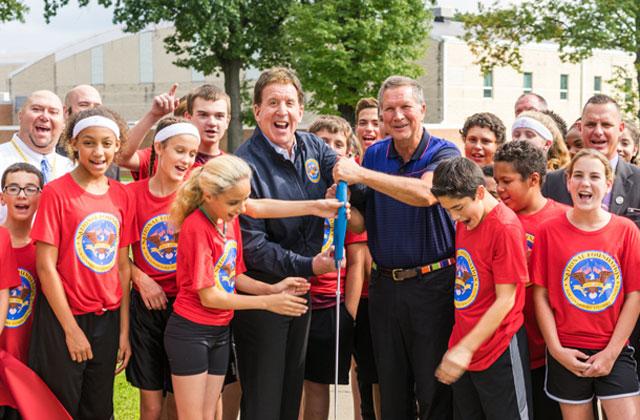 Jake Steinfeld, Chairman of the National Foundation for Governors' Fitness Councils (NFGFC), pledged to deliver fitness centers to schools in every state in the nation — and he's well on his way!
In October, the fitness icon cut the ribbon on Don't Quit! Fitness Centers awarded to elementary and middle schools in four states. Governor John Kasich helped kick things off at W.S. Guy Middle School in Youngstown, Ohio, above.
Article continues below advertisement
From there, Steinfeld travelled to Toledo and Cleveland to open centers, before heading to meet up with Governor Scott Walker in Wisconsin. Governor Jay Inslee laid out the welcome mat for Steinfeld's Washington stops, and Governor Doug Ducey oversaw the celebrations in Arizona. In total, Steinfeld visited a dozen schools across the country!
"I've delivered fitness centers to other states around the country and have witnessed firsthand what happens when a school receives a brand new fitness center — the results are pretty amazing," Steinfeld said of the exciting news. "Fitness among kids is contagious and I am confident these new centers will provide generations of students with the necessary tools to make physical activities part their daily routine."
"By the close of this year's tour, NFGFC delivered 57 fitness centers to schools in 19 states," he added. "And we're not done yet — our goal is to bring our program to all 50 states!"
According to Steinfeld, the National Foundation hopes to build a nation of the fittest, healthiest kids in the world.
Physical activity and exercise are shown to help prevent and treat more than 40 chronic diseases, enhance individual health and quality of life, and reduce health care costs. In schools, studies show that physical activity improves academic achievement, increases confidence and self-esteem, reduces discipline problems, cuts absenteeism and fosters better interpersonal relationships.
"I've always said that academics and fitness go hand-in-hand and I firmly believe that if you provide the schools with the tools, students will excel beyond their wildest dreams," Steinfeld said. "Not only will they be healthier, but they'll be more confident, have greater self-esteem and ultimately achieve greater academic success."
For more information about the NFGFC, visit www.natgovfit.org.