Jake Steinfeld Joins Governors Across The Country To Open Live Positively Fitness Centers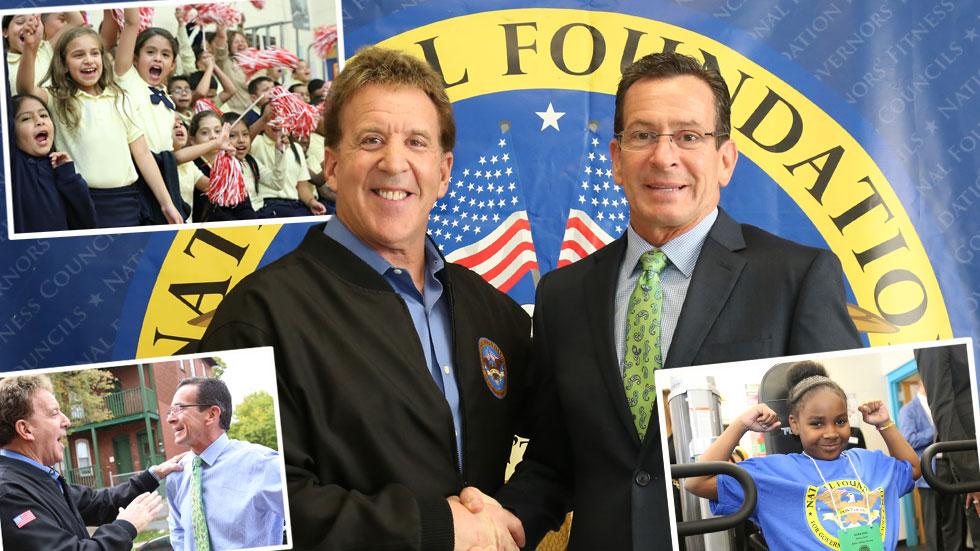 Fitness guru Jake Steinfeld is bringing joy to kids as he cuts the ribbon on brand new Live Positively Fitness Centers across the country.
Throughout the month Steinfeld awarded schools for demonstrating innovative ways in promoting physical activity and wellness to their students.
During a visit with Connecticut's Governor Dannel P. Malloy, Steinfeld praised Maria Sanchez Elementary, Derby Middle and Washington Middle schools as students they welcomed the new fitness center.
Article continues below advertisement
"We know that healthy children are productive children," said Gov. Malloy. "By encouraging participation in physical activities, we promote overall health and lay a foundation for student achievement. I was proud to have partnered with Jake Steinfeld to bring this National Champion Schools campaign to Connecticut and applaud the administrators and educators at the winning schools in Derby, Hartford and Meriden for developing innovative plans to improve physical activity and wellness."
Steinfeld, the chairman of the National Foundation for Governors' Fitness Councils, said, "This new fitness center will provide generations of students with the necessary tools to make physical fitness activities part their daily routine."
During a trip to Newport News, Virginia, Steinfeld met with Gov. Terry McAuliffe and First Lady Dorothy McAuliffe to reward Huntington Middle, Chesterfield Academy, and Fairfield Middle School their fitness centers. "Building a new Virginia economy where all children have the opportunity to succeed starts with healthy and productive livelihoods, both at home and at school," said Governor McAuliffe. "
Article continues below advertisement
Steinfeld also made the rounds in Albuquerque, New Mexico where Gov. Susana Martinez said,"Since 2010 we've seen a 12 percent decrease in childhood obesity among New Mexico third-graders. Fighting childhood obesity is a battle we can and need to win. That's why I'm proud to join with Jake and all our partners to build on this success and help our students get and stay fit."
As RadarOnline reported, Steinfeld visited San Jose, California where he hailed the efforts of Gov. Jerry Brown at Katherine Smith Elementary School. The governor "immediately jumped on board and embraced our vision of building a nation with the fittest kids in the world - one school at a time" Steinfeld said.
The National Foundation for Governors' Fitness Councils program plans to bring its challenge to all 50 states in the coming years. The Live Positively Fitness Centers are fully funded through public/private partnerships with companies like Coca-Cola and AOL and does not rely on taxpayer dollars or state funding. Live Positively is part of Coca-Cola's commitment to bring people together to make a positive difference, which includes supporting physical activity programs. For more information, visit www.natgovfit.org.