Exclusive
Dig Them Up: Whitney Houston & Bobbi Kristina Brown's Bodies Must Be Exhumed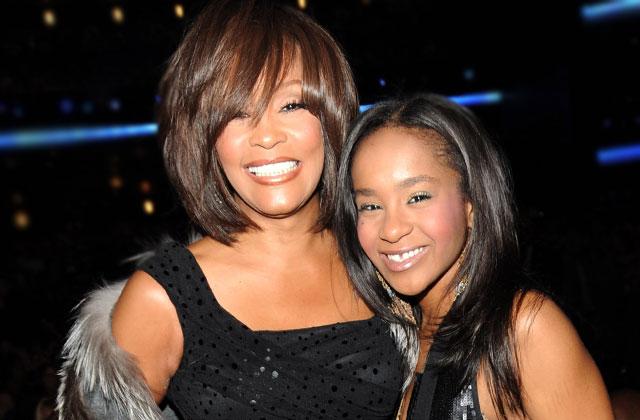 Whitney Houston and her troubled daughter, Bobbi Kristina Brown, must be exhumed for new autopsies as part of a chilling investigation to prove they both were murdered, legal experts have told RadarOnline.com.
Houston's family is demanding a new police probe into the singer's 2012 death in a Beverly Hills hotel as Brown's accused killer Nick Gordon is put in the crosshairs.
A notoriously hot-tempered Romeo, Gordon was recently found responsible for Brown's 2015 death in a Georgia Superior Court civil case.
Article continues below advertisement
Shockingly, the 26-year-old hunk was also on hand for Houston's passing — and there are shocking similarities between the two women's final minutes.
Both mother and daughter were found badly bruised and — either dead or comatose — in bathtubs. Both had drugs in their systems when they expired.
After the "I Will Always Love You" diva's demise, her former sister-in-law Leolah Brown charged Houston's death was no accident.
Leolah also warned she feared for her niece's safety.
Now sources say the seemingly copycat nature of the twin tragedies — plus Gordon's presence at both death scenes — mandates digging up their bodies, conducting new autopsies and re-investigating the cases.
"Nick was there when Whitney was found in a bathtub, covered with bruises," a source told RadarOnline.com. "When I heard Nick was also there when bruised Bobbi Kristina was found in a bathtub, I immediately became extremely suspicious!"
Article continues below advertisement
The source insisted that authorities need to "exhume both bodies and conduct a full scale investigation into the deaths."
Former Chicago cop Paul Huebl, now a Hollywood private eye, is also calling for the bodies to be dug up and re-examined.
He said, "Gordon is my top suspect. There is no way around it."
"You got a guy who hangs around — and he's not letting go of Whitney or Bobbi Kristina. I am absolutely convinced he is the usual suspect and deserves a lot more scrutiny than he is getting."
Brown, then 21, was still mourning the death of her mom when she was found facedown in a bathtub in her Roswell, Ga., home on Jan. 31, 2015 — after Gordon brutally beat her in two separate attacks, knocking out two of her teeth.
She survived in a coma until her July 26, 2015, death at age 22. Her passing was, in part, caused by pneumonia complicated by a deadly cocktail of drugs, according to the Fulton County Medical Examiner's report.
MORE ON:
Bobbi Kristina Brown
Article continues below advertisement
An autopsy ruled her manner of death as "undetermined," but only because "the circumstances under which Ms. Brown entered the bathtub are unknown."
In a chillingly similar scenario, Houston's bruised and beaten body was found facedown in the tub at her suite at the Beverly Hills Hilton on Feb. 11, 2012.
An autopsy determined the 48-year-old superstar died from an "accidental drowning with cocaine as a contributing factor."
Gordon was also present at the hotel that night.
Then less than two months ago, on Sept. 16, Gordon was found civilly liable for Brown's death in a $10 million wrongful death lawsuit filed by her estate — claiming he abused the music heiress and stole thousands of dollars.
Gordon has repeatedly denied any wrongdoing in Brown's death and claimed he desperately administered CPR after she was pulled from the bathtub.
Article continues below advertisement
"Do I wish I could've done more? Of course. My God, the guilt is horrible," Gordon said. "But to say I was the cause of their deaths just because I was there simply isn't fair."
The criminal case against Gordon for Brown's death remains open with the Fulton County District Attorney's Office.
Meanwhile, Beverly Hills cops have dropped their investigation into Houston's death.
But Bobbi Kristina's aunt Leolah, who is her father Bobby Brown's sister, is certain a new probe will nail the guilty party.