'The Debate Was Rigged!' New Claims Hillary Secretly Swayed Trump Showdown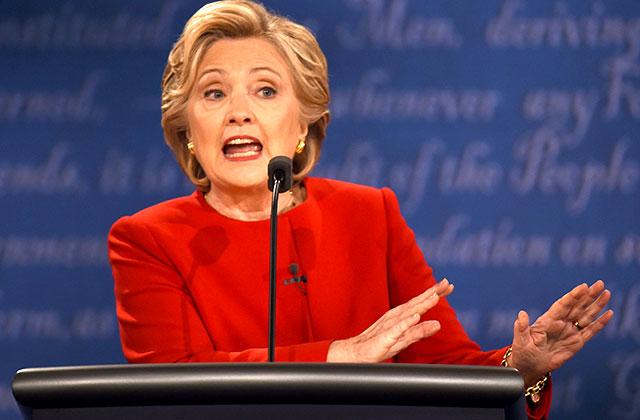 Hillary Clinton rigged the debate! That's the bombshell claim of political insiders, who say she used secret signals to manipulate moderator Lester Holt and gain an edge over Donald Trump.
"A comprehensive video has surfaced that rather convincingly shows Hillary using hand signals like a third-base baseball coach to prompt Lester to quickly call on her to counter comments made by Donald Trump," one source said. "In a move lifted right out of a 'Cheating for Dummies' book, Hillary Clinton is seen scratching her nose and face to signal Lester Holt several times."
Article continues below advertisement
When Clinton, 68, scratched, it was a signal for Holt to begin "the process of interrupting or 'fact checking' using liberal talking points" to counter a remark from Trump, the source claimed.
The insider pointed out that when she was debating Barack Obama during the 2008 presidential campaign, Clinton was never seen to use such scratching motions.
What's more, this time around Clinton knew the debate questions prior to walking out on the stage, insiders claim.
An arrangement was "negotiated" between her campaign and the debate organizers that Holt would "not redirect Clinton or cross-examine her original answer to a question, regardless of her answer," a source said.
Another political insider insisted, "Holt was about as biased as could be. Proof that the debate was rigged in favor of Hillary Clinton abounds!"
For example, Holt, 57, asked Trump an astounding 15 direct questions. Clinton got only two. Trump was asked four tough "hit" questions "while Hillary was asked zero such questions," said the source.
Article continues below advertisement
Donald's "hit" questions included those about his tax returns, and the allegation he "perpetuated a false claim" that Obama was not a natural-born citizen.
Another source said Holt interrupted Trump 41 times — "and yet avoided questioning Hillary about Benghazi or her FBI criminal investigation!"
Clinton was also "free to pontificate without being called on her verbal nonsense," a source claimed.
A political insider said, "Hillary's lawyers hammered out her ground rules before the debate questions were even formed. It was a stacked deck!"
Do you think the debated could have been rigged? Let us know in the comments!
We pay for juicy info! Do you have a story for RadarOnline.com? Email us at tips@radaronline.com, or call us at (866) ON-RADAR (667-2327) any time, day or night.