Presidential Election 2016
Exclusive
Hillary's Secret: Clinton Rallied To Defense Of Black Panthers In Torture Murder Case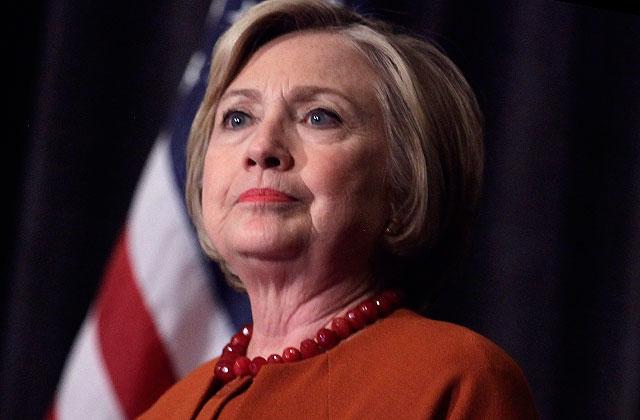 Here's a shameful fact you WON'T find in Hillary Clinton's campaign leaflets: In her law school days, she was a militant supporter of a group of Black Panthers who tortured and killed a fellow Panther!
A RadarOnline.com probe can reveal that at Yale Law School in the early 1970s, the future presidential candidate rallied other students to demonstrate in favor of a Connecticut branch of the national revolutionary group, which called for the killing of white leaders — including President Nixon.
Article continues below advertisement
One Panther was convicted of killing a white Omaha, Nebr., police officer in 1970 — the same year as the student demonstrations. And a Black Panthers member was convicted of murdering a white policeman in Philadelphia.
Hillary also monitored the trial of the Connecticut Panthers accused in the torture murder, and worked as an intern for Panthers lawyer Robert Treuhaft, a one-time Communist Party attorney.
Hillary even helped edit an issue of the Yale Review of Law and Social Action that published a strong defense of the accused Panthers. In the article, policemen were described as "pigs" — and one illustration gruesomely depicted a decapitated officer with a Black Panthers slogan: "Seize the time!"
"Hillary never talks about her days as a radical because she's ashamed of her misplaced allegiance to a group of militant thugs," veteran White House correspondent Sarah McClendon told Radar. "If the voters of Arkansas had been educated to the fact Hillary was an ardent supporter of a group that called for the killing of white leaders, Bill might not have been elected governor — the road that led him and Hillary to the White House."
Article continues below advertisement
"Now it will be interesting to see how the voters in New York, where she's a candidate for the Senate, feel about her past."
The mutilated body of Black Panther Alex Rackley was found floating in a river about 25 miles from the Yale campus in New Haven, Conn., in May 1969.
Panther members, who suspected that Rackley was a traitor, had tied him to a chair, tortured him for hours — even pouring boiling water on him — then shot him in the head.
By the time Hillary arrived at Yale, Panthers leader Bobby Seale and other Panthers involved in the case were on trial.
According to biographer Joyce Milton, Hillary "volunteered for a project organized by one of her professors, Thomas Emerson, affectionately known as 'Tommie the commie.'"
"Students were assigned to monitor civil rights abuses by the prosecutors of the New Haven Panthers."
Hillary set up a schedule so there would always be a student present in court.
Article continues below advertisement
She also took part in a May Day, 1970, demonstration when 15,000 students held a huge rally on the Yale campus — forcing a call-up of the National Guard.
"Hillary's group was a bunch of revolutionary law students who were trying to obstruct justice," author David Horowitz, head of the Center for the Study of Popular Culture, told Radar.
"Hillary was defending people who thought it was O.K. to torture and murder somebody. Hillary adored the Panthers."
Former Yale classmate Peter Harvey said, "I remember Hillary taking a prominent role at rallies on campus concerning both the Black Panthers and the Vietnam War. I looked at what she was doing from afar and said, 'I don't want anything to do with this person.'"
Several of the 14 Panthers arrested in connection with the Rackley murder were convicted or pleaded guilty to various charges, but the charges against leader Bobby Seale were dropped. None of these Panthers were connected to any cop killings.
Article continues below advertisement
Barbara Olson, chief investigative counsel for the congressional committee that probed Hillary's "Travelgate" scandal, told Radar,
"Hillary's never done anything as an elected official, so we have to look at her political past. We have to look at what she did with the Black Panthers."
But Hillary told a Washington insider, "The Black Panther involvement was over the top in terms of where I stand today.
"I feel ashamed when I think how that poor man was tortured and shot."
"It was a very ugly event. I didn't realize just how ugly it was … years ago. I do now."
We pay for juicy info! Do you have a story for RadarOnline.com? Email us at tips@radaronline.com, or call us at (866) ON-RADAR (667-2327) any time, day or night.