Russell Crowe 'Is A Racist, Misogynist Pig!'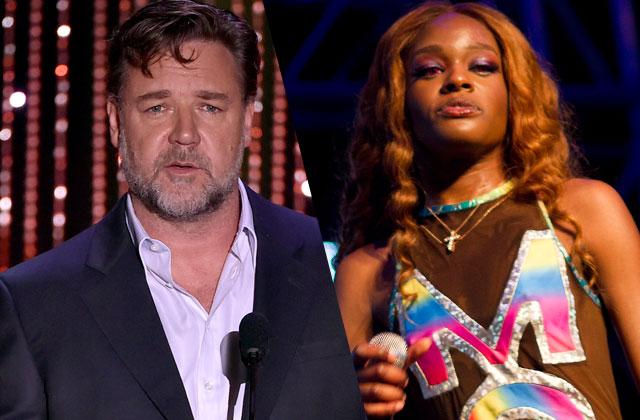 Azealia Banks says Russell Crowe is "a racist, misogynist pig" who has no problem using the N word!
The rapper, 25, made the bombshell claim in a new interview with Britain's The Sun newspaper, regarding her altercation with Crowe, 52, at the Beverly Hills Hotel on October 15.
Banks said she was invited to a party in The Gladiator actor's hotel room by RZA, the Wu-Tang Clan rapper.
At the party, "Russell had moonshine on the table, and then Russell calls for whisky, so then they just start mixing them up ... and smoking weed," she claimed.
Article continues below advertisement
"Russell and I get next to each other. He's talking to me, I'm talking to him, and we start flirting. We're having a really good time. He's got his knee on my knee, he's touching my leg, I'm playing him my music ..." she said. "He's like, 'I love this, you're ­beautiful, this is great.'"
But before long, that all changed. Banks admitted she mocked another guest, and said that Crowe "just kind of switched" after that.
"He was like, 'Well you know what? You're young and you've never done anything in your career so you don't know what you're ­talking about,'" she said.
"I'm a little offended but I was still keeping it light. I was like, 'Your best days are behind you.'"
"I said, 'Girl, this is not the right time or place for us to be fighting, like what would happen if I got up and I slapped the s*** out of you, or I took a glass and f***ing threw it at you and you were bleeding all over the place? I would be wrong and we'd all be wrong, and the party would be done.'"
Article continues below advertisement
"Then Russell turns to me and he goes, 'Well, you wouldn't even get close enough to get the chance, n****r.'"
"And he says the word n****r so, like, quietly, under his breath."
"He calls me a n****r, and then grabs me, picks me up, he chokes me by the throat, picks me up, throws me out of the room and then spits on me," she claimed.
Crowe has denied using the racist slur or doing anything violent.
A source close to him reportedly said: "Azealia's behavior that night was abrasive, shocking, rude, offensive, abusive and erratic."
"She used the N-word repeatedly and hurled that insult at others repeatedly. Russell never used that word."
"Azealia's shocking and erratic behavior culminated in her lunging toward ­Russell and one of his guests and threatening to slice their throats."
"It was at that time that Russell put her in a bear hug and removed her from the suite, in protection of himself and his guests. Hotel security was called and she was escorted from the ­premises."
Story Developing.
We pay for juicy info! Do you have a story for RadarOnline.com? Email us at tips@radaronline.com, or call us at (866) ON-RADAR (667-2327) any time, day or night.