Exclusive
Secrets Safe! Will Smith BFF Duane Martin Strikes Hush-Hush Deal To Settle Messy Bankruptcy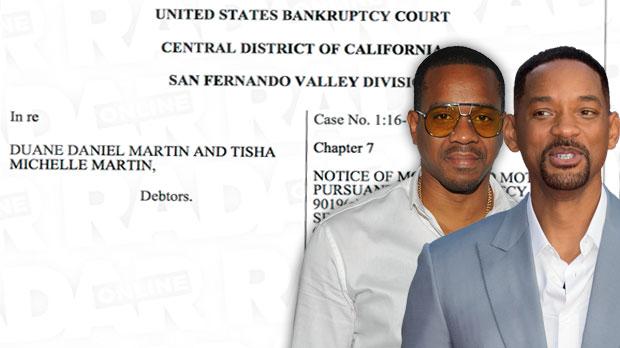 The true extent of Will Smith's relationship with Duane Martin will remain a secret, RadarOnline.com has learned, since Martin and his wife Tisha have settled the messy bankruptcy case that had threatened to expose his A-list pal.
As RadarOnline.com reported, Duane and Tisha filed for bankruptcy in January, claiming they owed more than $15,145,387. And in documents filed in the case, the trustee of the proceedings claimed that Smith and his wife, Jada Pinkett-Smith, paid big bucks to help the Martins save their home. According to the trustee, information about that shady deal and others was hidden away on Martin's personal laptop — along with photos and videos that the actor didn't want the world to see!
Article continues below advertisement
Martin initially refused to turn over the laptop, claiming it was full of secrets he needed to prevent from being leaked to the media. But they finally figured out how to transfer the info, and reached a quickie settlement deal after a day-long secret mediation session on July 21.
According to the terms of the deal, filed in court on September 1 and obtained by RadarOnline.com, Tisha and Duane agreed to pay $338,000 to the trustee of the bankruptcy, which will be dished out to their creditors.
They also agreed that any future residuals from their acting gigs will go towards paying off their debts. (But if they can come up with $125,000 in cash before the final bankruptcy hearing, they can skip that option.)
Once the court approves of the settlement, and the Martins pay in full, the bankruptcy will be discharged, and they'll get back full possession of their other assets.
According to court documents obtained by RadarOnline.com, that includes: a 2014 Range Rover, a 1999 Kawasaki Drifter, a 2004 Yamaha Scooter, a 2016 Range Rover Sport, a 2016 Jeep Wrangler, $15,000 in furniture and appliances, $2,500 in electronics, $1,000 in guns, $1,000 in clothing, $200 in cash and $173 in a Disney credit union account.