Exclusive
$2M Cover-Up Scandal! Will Smith's Secret Payment To Rumored Gay Lover EXPOSED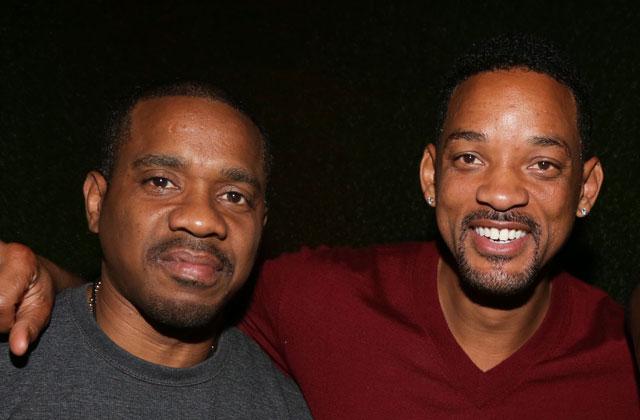 It's a humiliating bombshell that could destroy Will Smith's fractured marriage: The Suicide Squad actor has been drawn into a secret hush money and cover-up scandal with his rumored gay lover! The explosive allegations about Smith's scheme with actor and longtime friend Duane Martin were uncovered in scandalous court documents obtained by RadarOnline.com.
Martin filed for Chapter 7 bankruptcy with his wife of 20 years, Tisha Campbell-Martin, on January 7, claiming they owed more than $15,145,387. And in documents filed in the case, the trustee of the proceedings claims that Smith and his wife, Jada Pinkett-Smith, paid big bucks to help the Martins protect their assets. What's more, the trustee said that information about the secret deal was hidden away on Martin's personal laptop — along with photos and videos that the actor doesn't want the world to see!
Article continues below advertisement
It all started on May 16, when the trustee filed paperwork requesting the court to order that Martin turn over his laptop. The trustee claimed to have a "strong impression" that the Martins had "not been honest and forthcoming in this case," and were "seeking to divert property and assets that could prove to be valuable to creditors." (The Daily Mail first reported on this filing.)
The trustee claimed he wanted an "imaging expert" to review the computer and make sure "that certain files have not been deleted, wiping software or applications have not been used, or that financial data has not been tampered with."
However, the trustee said that the Martins "raised every excuse in the book" not to turn it over, and for weeks were "refusing to have any information on the laptop delivered to the trustee" unless he signed an air-tight NDA!
"Only Duane Martin knows what is exactly on his laptop computer," the trustee said, insisting that nevertheless "there should be no reason for him to refuse" to turn it over.
Article continues below advertisement
In a filing on May 26, the Martins responded, admitting they "have interests in various types of businesses" and "that financial information is contained on a laptop computer."
But in addition, they revealed, "The laptop also contains … personal photos… which are confidential, privileged, and unrelated to any legitimate interest" of the court, including "confidential communications with other public figures regarding private, non-financial matters."
They said they feared "the risk of disclosing private information not pertinent to the instant case that is highly sought after by tabloid publications"!
The Martins gave the trustee a thumb drive containing what they said was a comprehensive record of their finances, but in a court filing on June 2, the trustee was still fighting to get on to the computer to find out the truth about the Martins' money — and how the Smiths could be handing them cash.
Article continues below advertisement
According to the trustee, the Martins "had been engaged in a large number of businesses and transactions … involving significant amounts of money, loans and transfers" before filing for bankruptcy.
Just one example surrounded the sale of their Chatsworth, Calif., home, reported to be worth up to $2 million. "In late 2014, the Debtors orchestrated a short sale with their mortgage lender whereby a newly created LLC known as Roxe, LLC," owned by his brother, Michael Martin, and his tax guy Derek Folk "took title to the property," the trustee claimed.
MORE ON:
Jada Pinkett Smith
According to the documents, "100% of the short sale price" was "funded by another third party/lender known as 'Treyball,' which appears to be owned by Will and Jada Smith."
Indeed, Radar has viewed California Secretary of State records that show that the agent for Treyball is the Smiths' trusted financial manager, Todd Gelfand!
The terms of that deal — as well as the photos and videos on the laptop, which the court said Duane personally "maintained" — might never come to light, thanks to the Martins' legal maneuverings.
Article continues below advertisement
On June 9, the Martins filed paperwork that showed they have finally come to a deal, allowing a computer security firm to give the trustee a copy of the hard drive.
However, they noted that they still wouldn't let the trustee get his hands or his eyes on any "photographs, videos, communications with any attorneys," or communications between the two of them.
In addition, the trustee was required to sign an extensive nondisclosure agreement, obtained by Radar, which bars him from revealing anything that he finds that is not immediately relevant to the case.
The Martins unusual relationship with the Smiths first came to light in 2011, when Star magazine caught Will and Duane vacationing together on the Caribbean island of Trinidad — without their wives.
According to the report, they partied at DRINK! nightclub in late November of that year, before moving on to hotspot 51 Degrees to party with an all-male crew until 4 a.m. The next day, Duane and Will enjoyed a private boat cruise before dinner at Chaud restaurant that night.
Article continues below advertisement
Just days later, their extended vacation continued at Art Basel in Miami. They were spotted together again at an opening party on November 30, and the Red Dot art fair on December 1. Jada finally met up with them at LIV nightclub, on December 2.
Both men have always insisted that they are just friends, but the outrageous possibility that they are gay lovers has persisted on social media and urban blogs for years.