Strippers & Lies Exposed: Drama Explodes When Rob Meets Chyna's Family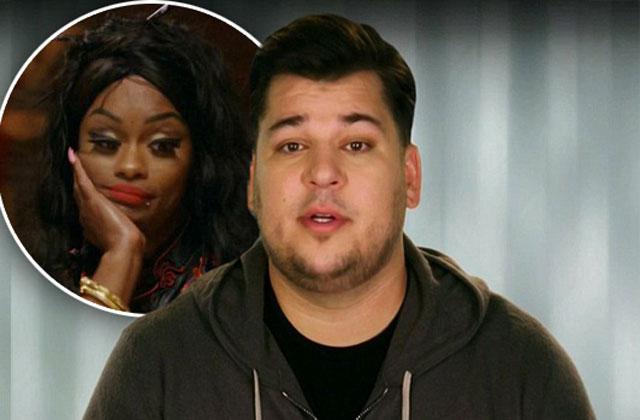 Getting to know a new girlfriend's family is challenging in any relationship. But on the latest episode of Rob & Chyna, Rob Kardashian truly had his hands full with meeting fiancée Blac Chyna's huge brood back in her hometown of Washington, D.C.
Though Rob, 29, initially didn't want to go on the Independence Day trip, Chyna eventually wore him down into agreement. And it's a good thing he got on board.
Article continues below advertisement
"If Rob doesn't go, this could be a make or break in our relationship," she huffed to the cameras.
After arriving in the nation's capital, Chyna, 28, immediately threw Rob into the deep end with a family dinner involving both her parents, bitter nemeses who hadn't spoken in more than a decade.
In another bizarre twist, Chyna's outspoken mom, Tokyo Toni, had never even met any of Chyna's 11 half-siblings before the group outing. (Only three, Camille, Brittany and Eric Jr., made the dinner.)
Beforehand, Chyna prayed that her mother, infamous for her online fights, would behave.
"She's known for not giving two f***s," the model admitted. "I'm just hoping she can keep it together and we can have a good dinner."
Of course, Toni was immediately offended upon learning that sisters Chyna, Camille and b were all born within five months of each other. Nearly three decades later, the secret was out about her "player" ex.
Article continues below advertisement
While Eric Sr. stuffed dollar bills into a stripper's panties, Toni twerked near the stage. Peace was finally restored after a decades-long feud.
So, how did recluse Rob cope with the chaos?
He was actually the happiest Kardashian fans had seen him in years.
"I definitely felt comfortable," he told the cameras. "Throwing myself in uncomfortable situations is what I have to do to be happy. I'm realizing that not everyone is judging me."
Article continues below advertisement
Chyna was relieved that her man mixed well with her family.
"I'm exited that Rob is out and about and I hope we can keep this up when we get back to LA.," she dared to dream.
There was one teensy bump when Toni confronted Rob about his trust issues with Chyna.
"You can't do what you're doing," she said. "You're going to ruin it!"
Will Rob and Chyna make it to their baby girl's birth? Keep watching the E! spinoff show to find out.
We pay for juicy info! Do you have a story for RadarOnline.com? Email us at tips@radaronline.com, or call us at (866) ON-RADAR (667-2327) any time, day or night.