Cleaning Toilets! Jodi Arias' Dirty Prison Job Revealed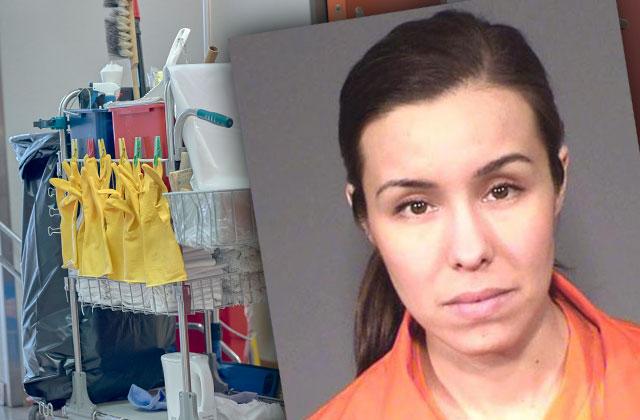 Killer Jodi Arias is locked behind bars for life without the possibility of parole, but RadarOnline.com has exclusively learned that her life just got even worse! Arias was recently assigned a shockingly gruesome job behind bars.
The 36-year-old was found guilty of the first degree murder of Travis Alexander after she stabbed him 29 times, slit his throat and shot him in the head.
Now, Arias, who spends her time in the Perryville Prison in Arizona shopping for sex toys , zit cream, Beano and cans of sardines, has been assigned the prison job of "porter."
Article continues below advertisement
Housing porter could include being part of the trash pickup crew, or the bathroom cleaning crew, or the general area cleaning crew, according to the prison.
No matter which crew, however, Arias is going to be working for 32 hours per week and will be paid only $0.10 per hour, according to the Arizona Department of Corrections guidelines.
She will be eligible for a raise if she "Exceeds ratings (overall) for six consecutive months."
"An inmate may receive a five cent pay increase, subject to funds availability, if the inmate has: 1.3.5.1.1 Achieved an overall 'exceeds' rating, including no 'unsatisfactory' ratings, for the past 12 months," prison materials state.
However, based on her past behavior that doesn't sound likely. Less than a year into her prison sentence, Arias was found guilty of a disciplinary violation when she called a guard a "c**kblocker," and was sentenced to 180 days of no-contact visits, as Radar exclusively reported.
Guards even used dogs to search her cell after the violation.
What do you think about Jodi's new job? Sound off in comments below.