Exclusive
'Hillary Lied!' New Claims Clinton Fudged Law School Bullies Story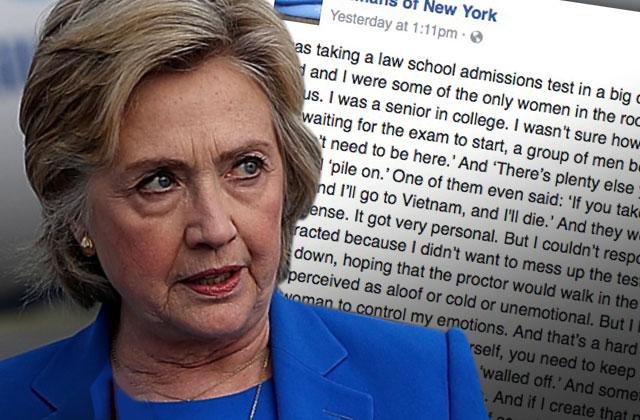 Article continues below advertisement
https://www.facebook.com/humansofnewyork/photos/a.102107073196735.4429.102099916530784/1362236273850469/?type=3&theater
But RadarOnline.com can reveal that several aspects of her story don't quite pass a basic fact check.
First, Clinton said, "one of the men even said: 'If you take my spot, I'll get drafted, and I'll go to Vietnam, and I'll die.'" And while it's true that law students were exempt from the draft up until February 16, 1968, but Clinton graduated from Wellesley in June 1969. Therefore, she would have taken the LSAT in 1969 or late 1968 — in both cases, long after she could have been accused of taking someone's "spot."
Former Clinton aide Dick Morris told RadarOnline.com, "Good, story, but it's a made-up yarn!"
Morris said the tale was a "whopper," a "blatant lie designed to make her look more human and vulnerable."
Indeed, in her memoir, Living History, Clinton does not mention the supposedly scarring incident at all, merely writing, "I took the law school admissions test and applied to several schools."
Said Morris, "As always, her story makes her out to be a hero, battling against a cold cruel world."
Article continues below advertisement
Indeed, this is hardly the first time that Clinton's been caught fudging the truth to make herself the victim.
In one incident, she claimed to be named after Mt. Everest climber Sir Edmund Hillary. Only problem? He climbed the great peak five years AFTER she was born!
She once said she "followed her heart" to move to Arkansas to practice law, but it was then revealed that she flunked the DC Bar and the Arkansas Bar was the only one she passed.
But perhaps the most famous fib was exposed in 2008: Clinton recalled "landing under sniper fire" in Bosnia in 1996, during a speech at George Washington University. Almost immediately, the Washington Post published photos of the landing, which showed her happily receiving flowers from local children — and definitely not a sniper in sight.
Said Morris, "Now, she is under pressure from her campaign staff to soften her image and humanize herself. So she did what she always does: She lies and makes up a story."