Presidential Election 2016
Gross! Hillary Clinton Caught Coughing Phlegm Wad Into Glass At Rally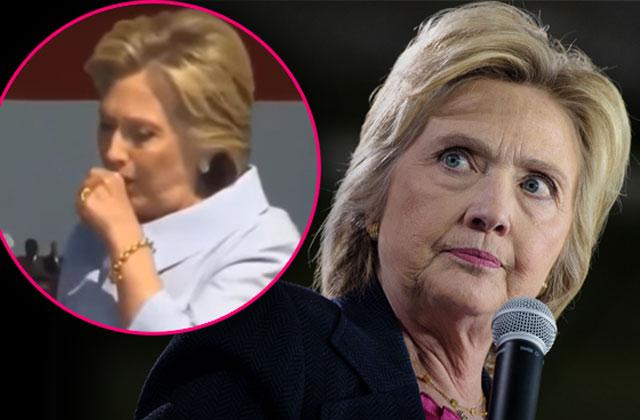 Hillary Clinton is raising concerns over her health after a recently scrutinized video shows the Democratic candidate spitting out a mystery substance after having yet another coughing fit.
RadarOnline.com previously reported on Clinton's latest coughing attack at an Ohio rally this week, but a closer examination of the footage from a YouTube user shows the presidential candidate spitting out a strange material as she drinks from her glass of water.
Article continues below advertisement
"I've been talking so much," Clinton said after drinking. "Every time I think about Trump, I get allergic."
Though it has yet to be confirmed just what Clinton was coughing up, the YouTube user made the claim that she appeared to "cough up two masses of bloody tissue."
Adding further fuel to the raging rumors is a man who has been photographed several times with Clinton in recent weeks.
The former secretary of state experienced two major coughing attacks on Monday, one at the rally and the other aboard a plane while speaking with reporters. At the latter event, a man "dressed like a secret service agent" appeared, the Gateway Pundit reported.
The same man had rushed to Clinton's side at an August rally, telling her to "keep talking" and patting her on the back as protesters began to demonstrate, ABC News reported.
The Gateway Pundit said that "Secret Service agents would not touch a candidate in the manner that this individual did, and especially Hillary Clinton." The report claimed that the "man who touches Hillary may be a member of Hillary's close staff – but he is NOT a Secret Service agent."
Author Mike Cernovich speculated that the mystery man was "clearly not" secret service. He also said that the same man seems to carry a Diazepam pen, which could be for Clinton, but has yet to be proven, according to snopes.com.