Steady, There! Hillary Clinton CAUGHT Gripping Staircase Railing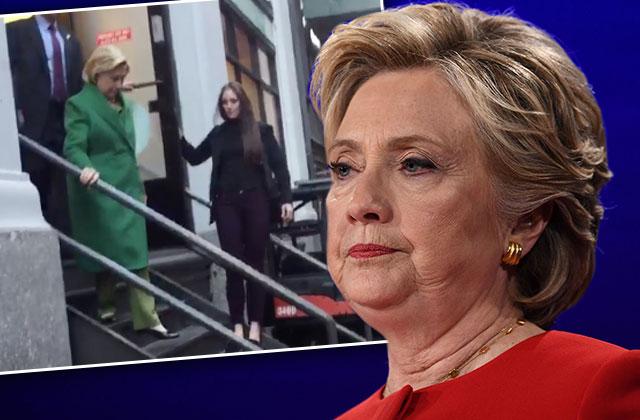 Hillary Clinton knows how to put on a good fakeout! Amid growing concerns about her health, she was caught looking unsteady on her feet yet again in NYC this week, but pulled it together once she spotted a camera.
The Democratic nominee was caught slowly descending a flight of stairs in New York a day before the debate, clad in her heavy green coat on a warm city day.
As soon as ABC News' Liz Kreutz turned her to camera in Clinton's direction, the former secretary of state smiled, changed her demeanor, and said she was "getting ready" for the debate.
Article continues below advertisement
She then tightly grasped the handle in getaway van, also known as "scooby," and pulled herself in.
Kreutz later tweeted her interaction with Clinton, writing "Clinton just left 'Apple Seeds' kids center in Flatiron. Feeling good about debate? 'Getting ready, getting ready!'"