The Ties Between The Beach Boys & Charles Manson EXPOSED In New Tell-All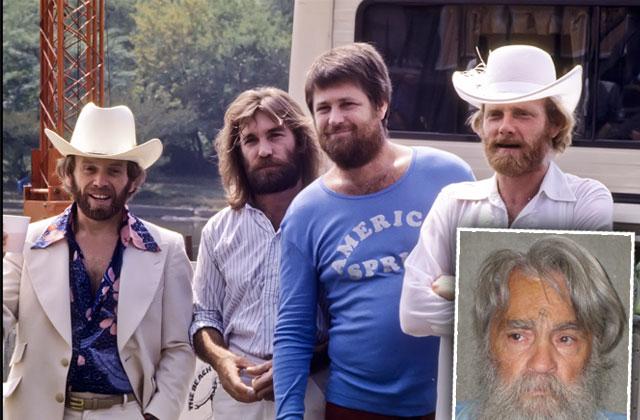 The brutal murders of Sharon Tate and seven other victims shocked the nation and landed Helter Skelter mastermind Charles Manson in prison for life. But according to Beach Boys band member Mike Love, he may be responsible for even more crimes!
Love has claimed that his cousin Dennis Wilson witnessed Manson kill a man in cold blood during the heydays of the Manson cult in his new book Good Vibrations.
Article continues below advertisement
Dennis, who drowned in Marina del Rey, Calif. on Dec. 28, 1983, was racked with guilt for introducing Mason to music producer Terry Melcher, who previously lived in the home where Tate and the others were murdered.
"Dennis carried that guilt with him for the last 14years of his life," Love said.
"My cousin's interest in Manson now seems inexplicable, but in reality Manson tapped into parts of Dennis that make it all too explainable," Love wrote in his book.
After meeting the girls who lived with Manson and then the cult leader himself, Wilson was soon allowing them to live with him.
"Dennis was the perfect mark — a famous, well-connected entertainer who could help a musical neophyte get discovered. Dennis lived in a luxurious house, on three acres, with a swimming pool and plenty of guest rooms. Guileless about others, indifferent about his own possessions, Dennis was all too happy to allow Manson and his girls to move in, use his charge cards, take his clothes, eat his food, even drive his Mercedes. Manson, after all, had something for Dennis—a stable of young women who catered to his every desire," the book claimed.
Article continues below advertisement
"Finally, while Dennis had been drinking heavily for a number of years, he had also developed an appetite for drugs, including LSD, and Manson's blending of psychedelics, sexual servants, rock music, and new-age rhetoric was too much for Dennis to resist and he joined the family," he wrote.
Love wrote that after drug fueled orgies and ultimately moving out of the house where he had allowed the Manson girls to move in with him, Wilson came home from a visit to the family compound never to be the same again.
"Dennis's illusions about Manson finally ended, when he paid a visit to Spahn Ranch. Upon his return, Dennis stopped by Brian's house, where I was working in the studio," Love wrote. "Dennis was visibly shaken, and I asked what was wrong. 'I just saw Charlie take his M16 and blow this black cat in half and stuff him down the well,' he said, referring to a black man."
According to Love, he kept this murder a secret. "Dennis was too frightened to go to the police," he claimed. "I think he was just hoping that Manson and his family would disappear, but his entanglement could not be undone. Dennis had introduced Manson to Terry Melcher."
Article continues below advertisement
He claimed that Manson "accompanied Terry and Dennis on several of their club outings. Manson was also in the car one day when Dennis dropped Terry off at his rented home at 10050 Cielo Drive, at the top of a steep hill in the Benedict Canyon area. Terry lived there with his girlfriend, the actress Candice Bergen."
But Melcher had moved out of the home when Manson family members arrived for the slaughter and killed pregnant Sharon Tate and the other occupants in the home instead. The next evening, the group killed the LaBiancas.
"Neither Dennis nor I nor anyone associated with the Beach Boys had any idea that Manson was involved in these murders. In November, three months after the murders, the case finally broke," he explained.
"Dennis was shaken to the core. To my knowledge, he never told the authorities that he saw Manson murder that 'black cat' at Spahn Ranch, and he certainly couldn't testify in court, where he would have had to look Manson right in the eye."
Governor Jerry Brown recently denied probation for Manson family member Leslie Van Houten. Each time Manson has petitioned for parole he has been denied.
Good Vibrations hits bookstores on September 13.
We pay for juicy info! Do you have a story for RadarOnline.com? Email us at tips@radaronline.com, or call us at (866) ON-RADAR (667-2327) any time, day or night.