Exclusive
Angie's Family Reveals New Divorce Details: 'This Is A Wake-Up Call For Brad'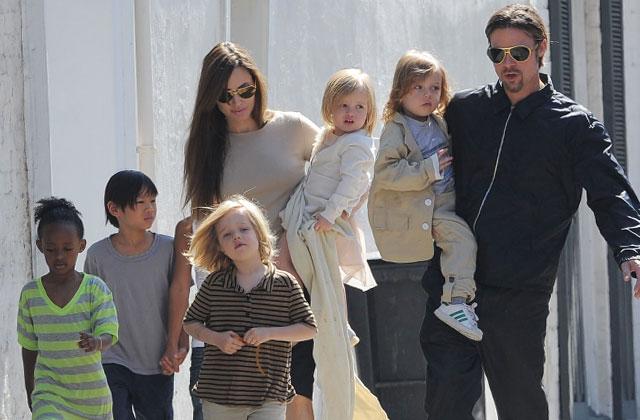 Angelina Jolie's decision to divorce Brad Pitt was for the safety of her kids, according to her godmother who told RadarOnline.com that the mother of six is "very protective of her children."
Jade Dixon, Jolie's mother Marcheline Bertrand's best friend, opened up about the demise of her goddaughter's marriage.
"It's very sad, but she is a very strong woman," she told RadarOnline.com.
The 41-year-old actress filed for divorce from Pitt on September 19, 2016 and requested full physical custody of the children, a move that would mean their father would only have visitation rights with them.
Article continues below advertisement
"Everything was good the last time I spoke with her," Dixon said. "This all came all out of left field."
As RadarOnline.com exclusively reported, Pitt's drinking and pot smoking were contributing factors to the end of Hollywood's most famous relationship.
Dixon said that she was unaware of his use of drugs or alcohol, but said she would not have tolerated excessive drinking or smoking pot.
"But I do know she is like her mom and very protective of her children. As much as she loves Brad, she will always put the children first and their safety if there is some issue like that. If nothing else to get his attention to get help."
Dixon told RadarOnline.com that knowing that Pitt has publically admitted to smoking pot was a warning sign.
"I guess it's one of those things that can be a danger and when so many states are legalizing it we think is a harmless drug, but like with anything you ingest and it changes your mood it can be dangerous especially when you have children."
But Dixon hasn't lost hope for the marriage just yet, telling RadarOnline.com: "I'm hoping they will patch things up and he'll get some help.
Article continues below advertisement
"Good lord, tons of people go into treatment programs and get help. Maybe this is a big wakeup call to get help."
Dixon said that she hoped the situation would change. "This is a wake-up call for him and maybe it will shake him up a bit."
A mother to six, Maddox, Pax, Zahara, Shiloh, Vivienne and Knox Jolie Pitt, the Oscar winning actress takes her parenting responsibilities seriously.
"She obviously is a great mom," Dixon explained, and said that she wouldn't tolerate Pitt misbehaving. "As much as she loves him she won't put up with anything. She is going to be fine and she'll make sure the children will be too."
Dixon, who is the mother to a son, was in a relationship with Def Leppard drummer Rick Allen and told RadarOnline.com that she spoke with Jolie about her past, including being a part of an abusive relationship.
"We have talked about that before and when these things happen they can escalate and get worse quickly and when children are involved you have to take action quickly."
She told RadarOnline.com that she supports Jolie's decision to file for divorce: "I think she is doing the right thing. I don't think she would take anything lightly."
Article continues below advertisement
Dixon also told RadarOnline.com more about the marriage between Pitt and Jolie.
"I never heard he Brad was violent. But that's one of those things that if you are drinking or smoking things can escalate very quickly. And the children are now at ages when they are aware of what's going on."
"I'm sure her mother Marcheline would say the same thing," she added. "If things are out of hand, she needed to make moves for the kids."
We pay for juicy info! Do you have a story for RadarOnline.com? Email us at tips@radaronline.com, or call us at (866) ON-RADAR (667-2327) any time, day or night.