Exclusive
'View' Drama: Rosie & Whoopi 'Went To War' Over New Host Sunny Hostin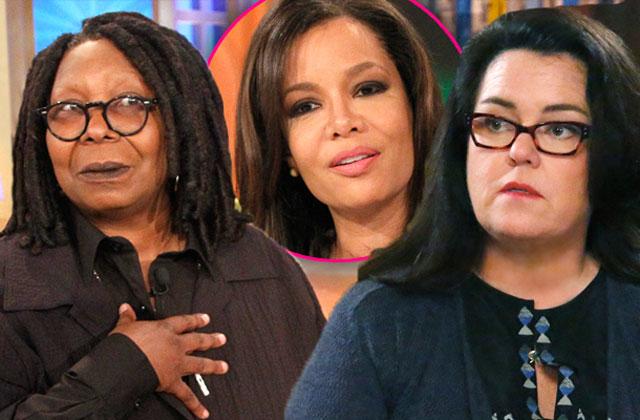 ABC just announced Sunny Hostin as a permanent new addition to The View for its upcoming season, but RadarOnline.com has exclusively learned that there was plenty of drama leading up to the decision — thanks to veteran hosts Rosie O'Donnell and Whoopi Goldberg!
According to an insider on set of the hit daytime show, O'Donnell and Goldberg, who are known for their disagreements, went head-to-head over the next round of View newcomers.
Article continues below advertisement
"Sunny was the choice before Rosie O'Donnell picked Lauren Sanchez," a source close to production told RadarOnline.com exclusively. "That's what knocked Sunny out of position."
"Then Rosie and Whoopi went to war, Lauren wasn't the choice anymore and Sunny was still waiting," the insider continued. "Then they decided to go with Raven Symone. It's been a mess of back and forth."
But times are changing in the world of The View, presumably for the better.
"Execs feel like they are at a place where there is a real reset on the show," RadarOnline.com's source revealed. "They're not panicking anymore about the show tanking."
Interestingly, the show's notoriously bossy old-timers are even relinquishing some control.
"Whoopi doesn't feel threatened and has given execs the ability to pick people who are good for the format and elevate it beyond petty cat-fighting," the show insider said. "They are excited this will elevate the panel. The chemistry will be different."
But can Hostin handle her high-powered costars? According to RadarOnline.com's source, she's more than ready.
"Sunny is a smart woman who wants the job and understands what it entails," the source insisted. "She has been the go-to girl for so many years and knows what she has to deal with."
This season has all the ingredients to be smooth sailing for the staff.
"Execs feels like they will get a breather," said the source. "Everyone even on set staff are excited they're going to have a stable environment as opposed to everyone undermining and backstabbing each other."