Shannon Beador & Husband David Renew Their Vows After Shocking Cheating Scandal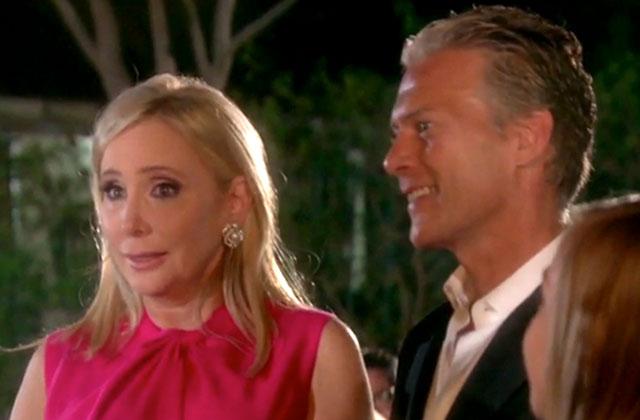 After an explosive night at their sushi dinner during last week's episode, Heather Dubrow and Tamra Judge discussed newcomer Kelly Dodd's volatile behavior, agreeing to socially shut her out for the time being.
"I could not sit there," Heather said of Kelly's rage fest, incredulous to be a part of such a "vulgar situation."
"I felt bad for her, not because of her behavior, but because something's wrong," Tamra replied, gesturing to her head in a "koo-koo" motion.
Article continues below advertisement
"How do you invite her to something ever again?" Heather asked, exasperated. "I just can't see how I could ever be around her."
Meanwhile, across town, Kelly desperately turned to Meghan King Edmonds — who just took the next crucial step in her IVF process — for some advice. Instead, she received some tough love.
"I'm gonna be completely blunt and honest with you, I'm on Shannon's side with this one," Meghan told her straight. "It was completely hypocritical; You're afraid of people calling you a prostitute. . .but you're giving yourself a reputation for calling people c*nts."
"I was honest to God embarrassed to be your friend at that moment," Meghan added unforgivingly.
"It was completely awful for me to say that," Kelly cried. "I've never had a group of girls attack me like that, and I felt the need to be defensive. You don't have a kid yet, so you don't know."
Meghan quickly shut the kid comment down, however, dishing in confessional: "Kelly is so out of line on this one."
Article continues below advertisement
In the end the girls hugged it out, with Meghan reassuring Kelly that "it's gonna be okay."
Watch the Video on RadarOnline.com:
Later, on a happier note, Shannon experienced a night full of birthday surprises with family and friends, all thanks to husband David.
As RadarOnline.com readers know, David was caught having an affair a few seasons prior, rocking the couple's marriage to the core. But now, they've come back stronger than ever.
"I feel really loved," Shannon gushed was she quickly packed for the surprise getaway to their wedding location.
Little did Shannon know, all of her pals were there waiting to watch their surprise vow renewal. Well, everyone except Vicki Gunvalson and Kelly Dodd, that is.
Back at home, the official RHOC outcasts banded together with a party of their own, bonding over their roles as the "odd women out."
Article continues below advertisement
"They hate us cause they can't be us!" Kelly toasted Vicki as they secretly pouted over their drinks.
"A year ago, I was Shannon's best friend. I mean, she called me daily," Vicki told Kelly, dishing on her longtime complicated friendship with Beador.
"I tried to make amends. . .and be the bigger person and she pressed my buttons," Kelly agreed, before admitting that her name-calling was "completely out of line."
"Kelly flies off the handle and I feel like I can be a mentor to her," Vicki told cameras in confessional, perhaps a little too confidently.
Do you think Vicki will be able to mentor Kelly, or will their friendship go up in flames? Let us know in the comments below!