Exclusive
Malia Obama's Party Pal Ordered Back To Court For Probation Violation!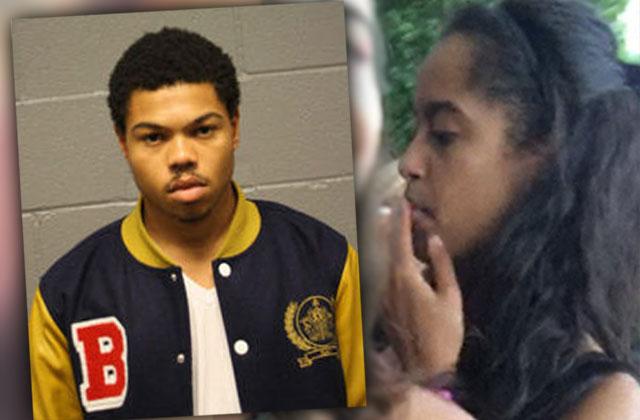 The man who was by Malia Obama's side during her wild weekend of smoking and twerking last month in trouble with the law again, RadarOnline.com has exclusively learned.
As Radar reported, rapper Taylor Bennett, 20, was arrested and charged with aggravated battery in 2014, after he brutally beat a man at a party.
At the time, Bennett was given summary probation, according to the Cook County clerk of the court.
Article continues below advertisement
But by August 4, 2016, just days after his weekend at the Lollapalooza music festival with Malia, the court received a "Notification of Motion," that informed the court about his "violation of supervision."
Bennett was ordered back into court for a probation violation just before he partied with the president's daughter.
"Please be advised that your presence is required," a letter from the court informed Bennett on July 14, 2016.
EXPLOSIVE VIDEO: Malia Obama CAUGHT On Camera Smoking 'Pot'
"At this hearing, the Assistant State's attorney will seek leave to file a petition alleging a violation of supervision," the letter obtained by Radar stated, further ordering him to appear in court.
According to the Clerk, Bennet's August 10, 2016, hearing was continued to later this month.
The victim of the brutal attack that sparked Bennett's legal issues was left with "bleeding on the brain," when Bennett and a friend fled the scene. He turned himself in to police a month later, according to the police report obtained by Radar. He was charged with a felony and two misdemeanors and pleaded no contest in April 2016, in exchange for his probation.
Bennett is the younger brother of Chance the Rapper and son of a politically connected dad who worked for both President Barack Obama and Mayor Rahm Emanuel.
Stay with Radar for updates to the story.